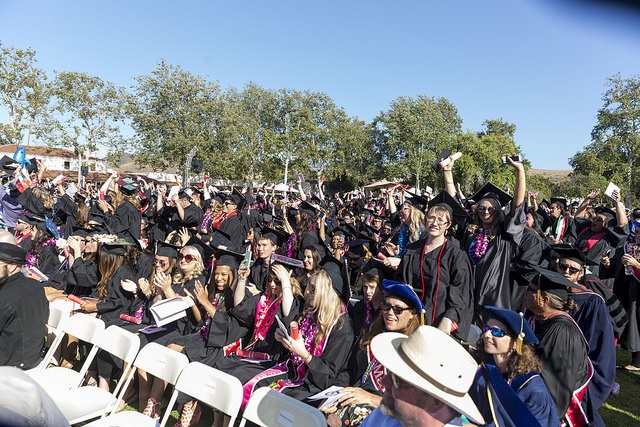 May 15, 2017 – CSU Channel Islands (CI) candidates for graduation will receive degrees in separate morning and afternoon ceremonies on Saturday, May 20. With 2,261 students eligible to receive degrees or credentials, candidates include those who have completed their degree programs during fall 2016, spring and summer 2017.
The morning ceremony will begin at 9 a.m. and will include the following academic programs:
Anthropology, Art, Chicana/o Studies, Early Childhood Studies, Education, English, Global Studies, History, Liberal Studies, Performing Arts, Political Science, Psychology, and Sociology.
The afternoon ceremony will begin at 3 p.m. and will include the following academic programs:
Applied Physics, Biology, Biotechnology & Bioinformatics, Biotechnology/MBA, Business,  Chemistry, Communication, Computer Science, Economics, Environmental Science & Resource Management, Health Science, Information Technology, Mathematics, Nursing, and Spanish.
Additionally, an honorary Doctorate of Humane Letters (L.H.D.) will be awarded to Ventura County Office of Education migrant education director Joe Mendoza during the morning ceremony.
A live Web streaming of the ceremonies will be available by visiting: http://go.csuci.edu/live. Students and guests attending the ceremonies can use #cigrad on Twitter, Instagram, Facebook, App.net, Vine, and Google+ to be featured on our official Tagboard at http://go.csuci.edu/cigrad.
For additional information, contact commencement@csuci.edu or 805-437-3100, or visit www.csuci.edu/commencement. Tickets are not required for guests; however, parking is limited to those holding a University-issued Commencement parking pass. Limit of two (2) parking passes per graduate. We ask that you please make carpool arrangements and/or utilize the complimentary shuttle service from the Camarillo Metrolink station. For more information, visit transportation.
MASTER'S
Karin Aldridge, David Allison, Catalina Arguiles, Katherine Armstrong, Steven Auclair, Samir Azizi, Steven Baker, Kevin Baroudi, Arnold Barreras, Sabrina Beattie, Kathryn Becker, Chandrakumar Reddy Bogguri, Jeffrey Brown, Michael Brown, Phillip Bryant, Jennifer Buckley, Jason Carroll, Orlando Chirikian, Joseph Cisneros, Dana Cochran, Andrew Conley, Stephanie Cruz, Karina Cruz Bautista, Mona Damavandi, Katelyn Davis, Timothy Davis, Raquel De Los Santos, Johnathon Dean, Robert Dennis, Chris Denove, Gaurav Dhapola, Margaret Drew, James Dunn, Mark Edwards, Magda Escalante, Martha Etchart, Oleg Evgrafov, Nicole Familiari, Mohamed Faynus, Jan Fischer-Zernin, Katharina Fischer-Zernin, Benjamin Fox, Krystal Freedom, Jonathan Freking, Hita Raj Gambheer, Jonathan Gonzalez, Georgia Grensing, Briana Griego, Gabriel Guillen, Gregory Guzman, PhiVan Ha, Preeti Hadavale, Maryam Halimi, Elisabeth Harrell, Lashelle Harris, Becky Hathaway, Farah Hauser, Joel Helling, Beitris Hernandez, Brandi Hull, Troy Jasso, Evan Jenkins, Erica Jimenez, Lance Johnson, Michael Kaiser, Diba Kamali, Adam Klein, Andrew Komutrattananon, John Kovach, Swati Kumar, Christopher Kuske, Kamala Lakamsani, Steven Lancaster, Briana Linares, Jezreel Alberto Lobos, Sara Majidian, Donna Manley, Neda Marhamati, Angad Maroke, Carolina Martinez, Mark Mata, Pranav Mathkar, Michael Mazmanian, Francesca Medina, Nidia Mejia, John Middleton, Alicia Milanowski, Maricela Morales, Marina Morales, Janeth Moran Cervantes, Adrian Mummey, Ashlie Munoz, Christopher Murphy, Bradley Neill, Khoi Nguyen Nguyen, Monica Ocampo, Beatriz Ortiz, Ryan Osinski, Nicolas Palacios, June Palazzo, Angelica Palomares, Dhruv Pandya, Shelby Parris, Ramya Keerthi Pasupuleti, Parthkumar Patel, Brittany Pedersen, Ana Lilia Perez, Leticia Perez-Garcia, Andreya Peru, Tara Petersen, Alva Quintero, Kelpie Raftery, Faranak Ravan, Danielle Rios, Michael Roach, Brenda Rodriguez, Mailene Rodriguez Jimenez, Joshua Rubin, Michael Ruiz-Summers, Mayra Sahagun, Katarina Sandorova, Angelita Sandoval, Katie Scott, Kevin Scrivnor, Aditi Shankar, Richard Sharpe, Noel Silva-Dominguez, Scott Silver, Simrandeep Singh, Vijay Singh, Claudia Sitlington, Suzan Smith, Jeremy Stacy, Allison Steltz, Michael Stensrud, Amy Stevens, Brady Stevens, Peter Sylvester, Nikhil Tangirala, Lauren Taylor, Priya Tejra, John To, Babak Tofig, Damoun Torabi, Ashley Toston, Tuan Tran, Andrea Treptow, Tracy Trieu, Laura Uchiyama, Madhuri Vangipuram, Jarred Vargus, Jesse Vasquez, Johnny Vasquez, Rachana Vengarai, Sneha Venkatraman, Jonathan Verham, Fnu Yogendra Verma, Giselle Victoria, Paolo Villagomez, Don Vo, Jonathan Wall, Nicole Watson, Alan West, Tristyne White, Cody Wolterman, Tanya Yancheson, Sumanth Yaratha, Danielle Zapparelli, Jennifer Zapparelli
CREDENTIALS
Shaynie Abeson, Andrea Aguirre Betancourth, Itzel Alarcon, Bartley Allan, Lyndsi Alvarez, Neesha Aziz, Monica Barrios, Tabitha Beairsto, Amanda Boniface, Valori Book, Rebecca Braziel, Ming Jun Brown, Casey Buratto, Danielle Burton, Andrea Carrillo, Enrique Cazares, Jazmine Chai, Sarah Chenez, Raymond Clayton, Alison Cosgrove, Katy Crittenden, Laura Cuellar, Lauren Dalton, Robert Louis  Decandia, Haley Desenberg, Korynn Dransart, Jessica Dueker, Tiffany Anne  Dyer, Katherine Ellgass, Josiah Fernandez, Lara Colleen  Filgas, Robyn Finch, Kristen Flores, Susan Frye, Adrian Garcia, Marissa Garcia, Belinda  Garcia Pintor, Olivia Geckle, Rebecca Goldsmith, Nancy Gomez, Sonia Gonzalez, Karin Gramckow, Jonathon Griffin, Dane Groh, Kerstin Guenther, Marlisa Guevara, Taryn Harrington, Evelyn Herrera, Kenya Higgins, Morgan Hochberg, Antonia Houston, Nathan Inouye, Danielle Irvine, Christine Johnston, Valerie Jones, Jaime Lapper, Brianna LaSpada, Anne Marie Lassaline, Alison Leary, Brittany Logan, Barbara Long, Michael Lozano, Gordon Maag, Sean Malis, Shelby Maloney, Jazmin Martinez, Andrea Masterson, Lauren Masterson, Anne Matthews, Jacqueline Monroe, Andreina Montelongo, Taylor Moore, Marina Morales, Jovan Mosby, Ruby Munoz, Katy Novoa, Michelle Marie  Ochoa, Natalie Ohrt, Alexander Perry, Anya Pidduck, Stephanie Pixley, Amabel Puga, Brenda Rivas, Jennifer Rivas, Michelle Dolores  Robledo, Bethany Rogers, Erica Rosser, Faye Saechao, Mayra Sahagun, Katherine Sharp, Taylene  Shuster, Natalie Small, Kristen Smith, Christin St. Pierre, Sommer Sturgill, Candee Teranova, Mario  Torres Jr, Kailynn von Kronemann, Christopher Warden, Michael Winter, Brianne Wohlfahrt
BACHELOR'S
Shantel Abayon, Minerva Abboud, Shireen Anne Abdallat, Bradley Abert, Gabrielle Abramson, Samantha Abrego, Stephanie Abundis, Lorely Acevedo, Lisa Acquisto, Eric Acrich, Otoma Agnew, Aime Aguayo, Amy Agudo Arredondo, Adrienne Aguilar, Lauren Aguilar, Yahdira Aguilar, Christian Aguilera, Nereida Aguilera, Maria Ajungo, Rachel Alan, Diana Rosa Albarran, Phillip Alexander, Ana Alfaro, Araceli Alfaro, Jonnathan Alfaro, Michael Alfaro, Elmira Alitabar, Mahayan Alkaslasi, Colin Allen, James Allen, Madison Allen, Jamie Allison, Evelyn Almaraz Perez, Andy Almazan, Brogan Alonzo, Isaac Alonzo, Keila Altamirano, Britney Alton, Annaleen Alvarado, Samantha Alvarado, Joanne Alvarez, Roberto Alvarez, Vania Alvarez, Jennie Alvary, Jazmin Amaro, Lindsey Amaya, Matthew Ambriz, Preston Ames, Martin Amezquita, Danielle Anderson, Ryan Anderson, Shelby Anderson, Stephanie Anderson, Adan Andrade, Hannah Andre, Laci Andrich, Courtney Angel, Christal Angeles, Nallely Angeles Rios, Auddy Anilao, Bryan James Anilao, Sara Anis, Lauryn Ankney, Jerald Anloague, Joseph Antak, Pamela Anzaldua, Kristina Aparicio, Carlos Apodaca, Christine Apperson-Chavez, Veronica Arana, Tyler Arauza, Alain Christian Arbolante, Yanel Arciga, Isabel Arechiga, Kristine Arechiga, Alejandra Arechiga Flores, Jarelyn Arellano, Marissa Arellano, Victoria Arevalo, Eden Arguello-Cooper, Angelica Arias, Maria Arias, Jenna Armstrong, Robert Armstrong, Danielle Arnold, Jack Arnold, Claudia Arriaga, Frank Arriola, Miriam Arriola, Jacqueline Arroyo, Jasmine Arroyo, Marissa Artiles, Masieh Assadollahi, Sarah Assar, Ana Avendano Torres, Kendall Avery, Claudia Avila, Katie Avila, Stephany Avila, Michelle Avilez, Christine Awad, Berenize Ayala, Sandra Ayala, Jonathan Baek, Jade Baer, Genevieve Baker, Vineesha Bakrania, Mostafa Balegh, Stefanie Balmanoukian, Vicente Balmoja, Lizbeth Banales, Brittany Banda, Brandon Banducci, Michael Banks, Maria Barajas, Gabriela Barajas- Portillo, Wafa Barakat, Timothy Barbour, Noah Barlow, Robert Barner, Derek Barnes, Lindsey Barnes, Lauren Barnett, Kyle Barone, Julian Barragan, Alexander Barrick, Ezekiel Barrios, Amelene Bartlett, Clint Barton, Caroline Bartusch, Megan Barukh, Jubyanne Basa, Sophie Basarich, Holly Baskett, Ashley Basquez, Olivia Bass, Blessing Bassey, Philip Bast, Lee Bates, Ricky Bates, Alexandra Battenburg, Nazareth Bautista, Darin Bayer, Melissa Bayless-Godinez, Mackinnon Beaton, Chandler Beaudette, Fernando Becerra Cruz, Caidy Becerril, Abigail Beckert, Gabriella Bedolla, Joanna Beinfeld, Samantha Belgarde, Christopher Bell, Grant Belote, Jeremy Benavidez, Deirdre Bence, Elliot Bender, Ermelinda Bendy, Elizabeth Bennett, Shane Bennett, Jessica Bens, Hayley Berg, Jake Berman, William Bernd, Marisa Bertaud, Travis Berzon, Andrew Betancourt, Ulyana Biloskurska, Nathan Bingham, Samantha Birch, Tyler Bishop, Wyatt Bishop, William Black, Willie Black, Ciara Blackwell, Brandon Blair, Breanna Blair, Brittany Blair, Megan Blakely, Darlene Blanco, Sarah Bland, Trenton Bland, Kevin Blankenhorn, Miles Blum, Dennis Bly, Amber Bock, Nancy Boeck, Stephanie Boeshaar, Liliana Bolanos, Larry Boman, Savanna Bomer, Justine Bonaobra, Selena Bonser, Thomas Boone, Mariah Boos, Stephen Borel, Calle Borjesson, Zackery Borough, Mauricio Borrego, Mia Borrego, Elizabeth Bortel, Monica Botello, Christopher Botsch, Lucy Bovee, Ashley Bowman, Rachael Bowman, Isabella Boyadjian, Amy Boyer, Sean Bradley, Melanie Brand, Juan Bravo, Sandra Bravo, Sandra  Bravo, Jasmin Bravo-Rangel, Tammany Braxton, Aaron Bray, Joseph Brazil, Jaimie Breece, Bryson Bregen, Erik Brenner, Audrianna Bretz, James Brewer, Jordan Brewer, Anthony Brice, Jordan Briers, Danielle Brim, Danielle Brooks, John Brooks, Christina Brown, Jasmine Brown, Melinda Brown, Nicole Brown, Tayli Bruenecke, Justice Bublitz, Shannon Buck, John Buckley, Zachary Buckley, Ashley Buelna, Brittany Bueno, Taylor Bugbee, Emily Bugielski, My Bui, Alexander Bultman, Nicholas Burgess, Connor Burke, Brandon Burns, Kaylei Burns, Jennine Burnside, Adriana Bustillos, Emma Butterfield, Logan Bytheway, Ezra Cabral, Antonio Cabrera, Daniella Caccavalla, Leslie Calan, Holly Calantog, Luis Camacho, Vanessa Camacho, Cinthia Camarena, Robert Camin, Clayton Cammack, Claire Campagna, Julian Campat, Ashley Campbell, Frankay Campbell, Jenelle Campbell, Kaitlin Campbell, Monica Campos, Aldo Campos Garcia, Paul Camposagrado, Debbie Canas, Emanuel Canez, Erica Canley, Daniel Cano, Liliana Cano, Raechel Cano, Jacqueline Capaldi, Esther Cardenas, Jasmine Cardenas, Marlena Cardenas, Nicole Cardinale, Regina Cardona, Genezaret Cardoso, Thao Carey, Carl Carino, Sean Carlisle, Griseld Carmona, Graham Carpenter, Monique Carpio, Sarah Carrell, Keegan Carrico, Tianna Carroll, Thomas Carty, Jea Carungcong, Karina Casarez, Yadira Casarrubias, Matthew Casas, James Cascio, Sean Casey, Danielle Casias, Richard Casillas, Shauntay Casper, Jennifer Cassaro, Adrian Castaneda, Alberto Castaneda, Andrew Castaneda, Crystal Castaneda, Jennifer Castaneda, Lauren Castaneda, Alejandro Castellanos, Jocelynne Castellanos, Lizette Castellanos, Adrianna Castelo, Mishelle Castiglioni Pena, Hugo Castillo, Luis Castillo, Gabriela Castro, Samantha Castro, Christina Cavadias, Myrna Cazessus, Joel Ceja, Jose Ceja, Fanny Ceja Navarro, Ashley Cekov, Gabriela Celis, Esmeralda Ceniceros, Jessica Centeno, Yesenia Centeno Sanchez, Arturo Cervantes, Betzayra Cervantes, Valeria Cervantes, Roberto Cervantes Anaya, Dalilah Chabbouh, Joseph Chacon, Courtney Chappell, Claudia Chavarin, Rigoberto Chavarin, Alexander Chavez, Alissa Chavez, Chantala Chavez, Eduardo Chavez, Lizbett Chavez, Marissa Chavez, Danielle Chennault, Joseph Chilcutt, Brandon Chin, Christina Chin, Kyley Chouinard, Kelly Chow, Barbara Christianson, Cathy Christman, Jarrod Chudacoff, Jacob Chun, Chelsea Ciardullo, Anna-Halina Ciesiul, Desiry Cisneros, Brandon Clark, Brian Clark, Jody Clark, Karalee Clark, Marcella Clark, Ashley Claro, Kimberly Cloney, Stephanie Coghlan, Dallas Cohen, Emily Cohen, Emma Cohen, Emory Colborn, Kelly Coleman, Joceline Colin, Ryan Collins, Anthony Colorado, Gregory Combes, Ashley Combs, Taylor Comden, Casey Comer, Maria Contreras, Irisela Contreras Magana, Michelle Cooley, Gabrielle Coomes, Liana Coppola, Vanessa Cordova, Marcus Cormier, Caroline Corp, Giselle Corpus, Amy Corr, Gina Corrie, Ingrid Cortave, Roger Cortes-Chacon, Adriana Cortez, Anthony Cortez, Ignacio Cortez, Suzanna Cortez, Amanda Cosico, Matthew Costa, Patrick Costa, Ashley Costello, Aspen Coty, Santos County, Shyann Cox, Cody Craig, Mariah Craig, Candice Crandall, David Crane, Diane Cristobal, Amanda Crockett, Morgan Cruelle, Camille Cruz, Hillary Cruz, Sandra Cruz Ocampo, Carmen Cuevas, Giovanna Cuevas, Emily Cuilty, Scott Cummings, Marissa Cuomo, Isabella Curtoni, Kellie Dade, Alessandra Dake, Brendan Dalbey, Toni D'Ambrosia, Allison D'Andrea, Lilian Daniels, Alanna Dantona, Tiffany Darden, Sean Darter, Emily Davine, Dayna Davis, Adam Dawoodjee, Jacqueline De Anda, Ramir De Castro, Naomi De Jesus, Nicole De La Pena, Gloria De Lira, Brittany de Seriere, Jeffrey Deems, Emily DeFore Meyer, Adriana Del Campo, Alyson Del Poso, April Del Rosario, Precious Grace Dela Cruz, Kelsea Delaney, Jessica Delaway Carrasco, Carime Delgado, Rafael Deligio, Bianca Delopez, Catherine Delorey, Dominique DelValle, Brianna Demirci, Michael Denton, Samantha DeVerse, Amanda Deverson, Monique DeVous, Laura Di Tomaso, Andres Diaz, Annie Diaz, Cintya Diaz, Daniel Diaz, Jillian Diaz, Monica Diaz, Taylor Dinkins, Heidi Dittmar, Ari Dixon, Rachel Dixon, Renee Dixon, Sydoney Dixon, Jenny Do, Amanda Dobbs, Kristi Dollison, Bea Patricia Domingo, Magdalena Domingo, Maria Dominguez, Lucy Donis, Beatriz Dorado, Christine Dorrity, Kaitlin Dorstewitz, Kailin Doucette, Carla Doudoumian, Jacob Douglas, Larissa Downing, Amanda Doyle, Carley Doyle, Bryce Dozier, Taylor Dranow, Dana Driggs, Udit Dub, Inah Ysabelle Ducos, Carmen Duenez, Kristine Duff, Alyssa Duffield, Rachael Duncan, Andrea Dunphy, Nathalie Duong, Abel Duque, Esmeralda Duran, Rosa Duran, Delaney Dziwak, Wade Ebel, Mallory Eckerson Perry, Noreen Ednave, Debra Edwards, James Edwards, Matthew Ehlers, Debora Ehrich, Shana Ehsani, Segev Eidan, Meghan Eisberg, Erika Eklund, Hannah Eldridge, Deiandra Elias, Alejandra Elizalde, Elsa Elizalde, Alexa Ellen, Alexander Elliott, Dedreiana Elliott, Helen Eloyan, Juan Enciso, David Enriquez, Bernadette Entezami, Kasey Esgar, Denise Esparza, Melina Esparza Moreno, Jevellene Espejo, Dana Espina, Daniel Espinoza, Elizabeth Espinoza, Kimberly Espinoza, Mariana Espitia, Genesis Estrada, Paul Estrada, Halee Etter, Tiffany Evans, Evelyn Evjen, Norvek Eyvazi, Genesis Fabian, Dylan Fadich, Joel Fagundes, Katlyn Fahl, Aimee Fair, Taiana Fakatoufifita, Dylan Falls, Ashley Farokhirad, Clifton Farrar, Chelsea Faulkner, Christopher Faurlin, Abigail Favela, Robert Felix, Jeyla Fendi, Brittnie Ferguson, Christy Ferguson, Patrick Ferguson, Alejandro Fernandez, Franz Fernandez, Sean Fernandez, Thalia Fernandez, Daniel Fernandez-Castaneda, Allison Fiacco, Brittany Fictoria, Karle Figueroa Alvarez, Cindy Filmardirossian, Jacob Fisch, Morgan Fischer, Cassandra Fisher, Taylor Fitzpatrick, Emma Fitzsimmons, Nadav Fleisher, Amanda Flores, Carmen Flores, Jessica Flores, Jonathan Flores, Marco Flores, Marina Flores, Marisa Flores, Rene Flores, Rocio Flores, Saray Flores, Zenaida Flores, Jhearlyn Flores Torres, Efrain Flores-Guerrero, Isabel Fong Wu, Lucas Fonzi, Jasmine Ford, Peter Forest, Zachary  Forman, Francesca Forner, Evangeline Forster, Michael Fox, Sara Fox, Delanie Frame, Sarah France, Darren Francisco, Mesha Franco, Breanne Francois, Lauren Franke, Sarihn Franklin, Valeria Frausto, Veronica Frausto, Noel Frawley, Tammra Freistadt, Riley Friedl, Brian Frohnauer, Angelique Frost, Esmeralda Fuentes, Ilse Fuentes, Kimberly Fuentes, Sarah Fuller, Katherine Furlong, Florencia Gadano, Monica Gagne, Joseph Gahbrielson, Luis Gaitan, Luis Galang, Derek Galbraith, Byron Galentine, Daniel Gallardo, Esther Gallardo, Natalie Gallardo, Haile Gallegos, Rosa Gallegos, Layne Gallimore, Chance Gallo, Adam Galper, Yanixsa Galvan, Mariela Galvez, Marisela Gamez, Aileen Garcia, Angel Garcia, Breanna Garcia, Christopher Garcia, Cindy Garcia, Corinna Garcia, Cristian Garcia, Cynthia Garcia, Elizabeth Garcia, Enid Garcia, Evelyn Garcia, Frank Garcia, Jonathan Garcia, Luis Garcia, Marcela Garcia, Mariacruz Garcia, Martin Garcia, Mirella Garcia, Mirna Karina Garcia, Rachel Garcia, Samantha Garcia, Sophia Garcia, Tiffany Garcia, Vivian Garcia, Angela Garelick, Zachary Garfinkel, David Garin, Rochelle Garlow, Abigail Garza, Michael Gebhart, Zosimo Geluz, Angelea Gephart, Baylee Gerardo, Miranda Gerda, Brenda Gerdes, Kelly Germany, Broc Gerritsen, Briena Gery, Joseph Giambo, Nicholas Giannakopoulos, Derek Gibbins, Delaney Gibson, Guinevere Gibson-Blunt, Karina Gilad, Samantha Giles, Viren Gill, Lluriviana Gil-Lopez, Chandler Giusti, Holly Given, Ralph Glass IV, Daniel Glassman, Amy Gleason, Kristen Ashley Godinez, Alejandra Goff, Danielle Gold, Jennica Gold, Samantha Goldberg, Brett Goldman, Twyla Gollery, Anthony Golpashin, Amber Gomez, Anel Gomez, Bobbi Gomez, Carlos Gomez, Cory Gomez, Daisy Gomez, David Gomez, Gabriel Gomez, Keeley Gomez, Lena Gomez, Michael Gomez, Noemi Gomez, Perlita Gomez, Vanessa Gomez, Krystal Gomez  , Jose Gomez Valdez, Darcy Gomez Young, Kelsy Gompert, Jiana Gonchoroff, Alyssa Gonzales, Beatriz Gonzales, Hildy Gonzales, Samantha Gonzales, Agustin Gonzalez, Alexa Gonzalez, Brenda Gonzalez, Claudia Gonzalez, Dominique Gonzalez, Jeffrey Gonzalez, Karina Gonzalez, Keren Gonzalez, Michael Gonzalez, Rafael Gonzalez, Samantha Gonzalez, Vanessa Gonzalez, Axel Gonzalez Juarez, Carina  Gonzalez Ramirez, Megan Goodwin, Donald Goodyear, Reginald Gordon Jr, Brooke Gould, Jason Gould, Eugene Gragg, D'Arcy Gray, Kelsey Green, Marleigh Green, Nicole Greenberg, Sarah Greinke, Matthew Greschl, Joseph Griffin, Rebecca Griffin, William Griffith, Emilee Grochowski, Andrew Groom, Theodore Grunt, Gabriela Guardado Portillo, Graysen Guercio, Dylan Guerineau, Darlene Guerrero, Rubi Guerrero, Jessica Guetzoian, Tracy Guevara, Alyssa Gugala, Sarah Guinn, Kathleen Gulden, Marianne Gunn, Jade Gunnarson, Donna Gustafson, Carl Gustavsson, Megan Guthrie, Andres Gutierrez, Brittany Gutierrez, Marissa Gutierrez, Kristina Guzman, Yvonne Guzman, Noel Hagins, Sara Hall, Lucas Hamer, Thomas Hamlin, Mark Hanlon, Lauren Hanna, Rebekka Hansen, Sebastian Hansen, Luke Hardeman, Laura Harlan, Michelle Harmon, Nicolas Haro, Samantha Harper, Samantha Hart, Casey Hartigan, Norton Hatfield, Markeita Hatter, Evan Hauck, Sanad Hawatmeh, Courtney Hawkes, Kathryn Hawkins, Rachel Hemmelder, Alexandra Henderson, Carlys Henderson, Alinda Heng, Shawn Henner, Kevin Henry, Gary Hensley, Alejandra Hernandez, Alexandra Hernandez, Amanda Hernandez, Brenda Hernandez, Bridgette Hernandez, Fatima Hernandez, Juan Hernandez, Karina Hernandez, Mari Tere Hernandez, Sergio Hernandez, Stephanie Hernandez, Yvette Hernandez, Regina Hernandez Vivanco, Ariana Herrera, Benjamin Herrera, Briana Herrera, Darian Herrera, Elizabet Herrera, Elizabeth Herrera, Jeannette Herrera, Yvonne Herrera, Barbara Herscovitz, Megan Herskowitz, Matthew Hertz, Darrell Hewitt Alvarez, Emily Hidalgo, Matthew Hill, Nathan Hill, Moriah Hillyer, Diana Ho, William Ho, Adel Hochberg, Rachelle Hoffman, Brittany Holmes, Lindsay Holt, Melissa Holt, Jonathan Hooton, Julia Hornbeck, Chad Houser, Robert Hovious, Emily Howard, Pierre Huambachano, Mattias Huber, Lesly Huerta, Bradley Hughes, Kevin Hulle, Jasmin Humble, Benjamin Humphries, Linda Huynh, Suzy Hwang, Benjamin Hytrek, Alex Ibarra, Sadiya Ibrahim Hassan, Mirza Nayelly Ineyra, Michelle Inglis, Monica Iniguez, Jennifer Iparraguirre, Ian Isaacs, Sami Issa, Alex Izaguirre, Eric Izaguirre, Shannon Izquierdo, Ondine Izuno, Alireza Jabalameli, Timothy Jackson, Brandon Jaeger, Stephanie James, Leticia Jauregui, Matthew Jeane, Samuel Jefferson, Clifford Jeffrey, Caitlin Jennings, Brent Jensen, Sora Jeon, Jessica Jesu, Kenya Jett, Brenda Jimenez, Daniela Jimenez, Edgar Jimenez, Jennifer Jimenez, Linda Jimenez, Maria Jimenez, Marlene Jimenez, Michelle Jimenez, Ramiro Jimenez, Yvette Jimenez, KyungJun Jin, Maria Johnson, Ryan Johnson, Shawna Johnson, Vikram Johnson, Brittany Jones, Katherine Jones, Jade Jordan, Sarah Jordan, Maria jothier Ojeda, Lorani Juarez, Luke Juarez, Rocio Juarez, Rogelio Antonio Juarez, Melissa Juetten, Monique June, Doroteja Jurisic, Alexandra Kaden, Chanel Kallman, Yasmin Kamani, Elizabeth Kammen, Rachel Kandel, Collin-Ross Kapigian, Kayla Kaplan, Rachel Karajgi, Maida Karamehic, Rebecca Karathanas, Parveen Kaur, Jake Kavanagh, Behcet Kaya, Tessa Kaye, Taylor Keaster, Alexa Keefer, Samantha Keeler, Chandler Keeton, Zachary Kelem, Ian Kelley, Jennifer Kelley, Taylor Kelly, Chad Kendall, Kellie Kennan, Brittany Kenney, Shaina Keough, Natalie Keshishian, Kylie Keyser, Taylor Kidd, Ashley Kim, Catherine Kim, Heidi Kim, Zachary Kimble, Joseph Kinberg, Bruce Kincaid, Deric King, Kelley Kingsley, Ariella Klein, Jenna Kleinberg, Frances Klingenberger, Nathan Knecht, Melissa Knuppel, Stephanie Kocipak, Daniell Koepke, Allison Kolb, Nicholas Koler, Jason Kolodziej, Joshua Komie, Yvette Kontogiannis, Houman Kouroshy, Sever Koutianov, Sean Kramer, Jordyn Kreitz, Danielle Kumanchik, Jason Kurilla, Elise Kurkjian, Alison Kusay, Jenna Kushigemachi, Taylor Kutin, Spencer Labbe, Luke LaFountaine, Thomas LaGrange, Sarai Laguna, Tsz Lok Lai, Polette Lainez, Tommy Lam, Jacklyn Lamphere, Rosaleen Lancet, Natalya Lande, Alejandra Landeros, Alvaro Landeros, Kelly Landon, Scott Lang, Kelsea Lange, Logan Langston, Dakotah LaPrelle, Anthony Lara, Dayana Lara, Laurie Lara, Estela Larios, Dustin Larrieu, Dane Larson, Emily Larson, Erik Larson, Christian Laserna, Nicholas Laszlo, Amanda Lauahi, Tayler Laughlin, Niklavs Laumann, Eboni Lawrence, Nicholas Lawrence, Allyssa  Leary, Lucero Ledesma, Noreen Lednum, Felix Lee, Samantha Lee-Hernandez, Kali Lemon, Dominique Lendin, Megan Lenko, Deborah Leonard, Michael Leonard, Edward Leopold, Andres Lepe, Brooke Leveille, Amanda Lewis, Arthur Lewis, Dane Lewis, Jacqueline Lewis, Kevin Lewis, Ryan Lewis, Holly Le-Wong, Ashley Leyva, Peiying Li, Courtney Licata, Brenda Lievanos, Brandon Lim, Jessica Limon, Ralph Lina, Brandy Linares, Jessica Linares, Kiara Linares, Jessica Lincoln, Melissa Lincoln, Kayla Lindquist, Connor Lindsay, James Linton, Kaylie Linton, Rebecca Lipthay, Lauren Little, Jason Liu, Ricardo Lizarraga-Ochoa, Justine Llanes, Erick Llerena, Kimberly Lobos, Natalie Lodwig, Grace Loeffler, Ivy Lohff, Jonathan Loiacono, Rachel Lona, Taran Longo, Alejandro Lopez, Carolina Lopez, Cynthia Lopez, David Lopez, Desiree Lopez, Dulce Lopez, James Lopez, Jennifer Lopez, Laura Lopez, Lorena Lopez, Mairely Lopez, Manuel Lopez, Melina Lopez, Salvador Lopez, Shirley Lopez, Tearney Lopez, Wendolyne Lopez, Felipe Lopez Diaz, Ana Lopez Tostado, Stephanie Lora, Daniela Loredo, Manuel Lorenzo, Ashley Lovell, Stephanie Lovos, Christian Low, Destiny Lowden, Colleen Lowe, Lauren Lowry, Erika Loya, Ashley Lozano, MacKenzie Lubratich, Vincent Luciani, Molly Lueck, Ana Maria Lugo, Laura Lugo, Marisol Luis, Judith Luna, Marlene Luna, Carlos Luna Espinoza, Kelsey Lundy-Freeman, Cassandra Luney, Jennessee Maye Lustina, Tess Lynch-Silvestri, Sara Lynn, Michael Lyon, Casey Lysdale, Justin Mabee, Andrew MacDonald, Anaisabel Macias, Samantha Mackie, Koah Mackley, Bret Maddux, Semehi Madrigal, Stephanie Madrigal, Christian Magana, Gabriela Magana, Jaqueline Magana, Rebecca Magana, Megan Magbee, Edrio Magtalas, Dylan Maguire, Gabriel Makinano, Justyn Mallas, Staci Mallett, Kasey Mandelbaum, Erielle Manhart, Jovy Mann, Matthew Mann, Alexander Manning, Rachel Mantor, Ashley Marcellini, Jorge Mares, Katherine Mares, Joshua Maresca, David Margarito, Gabriel Marin, Katey Marin, Elisa Marinero, Alan Marinez, David Marmor, Irma Marquez, Juliana Marquez, Alyson Marrs, Hannah Marshall, Diana Martin, Roger Martin, Sarah Martin, Timothy Martin, Adrianna Martinez, Alfredo Martinez, Amber Martinez, Cassandra Martinez, Christine Martinez, Corina Martinez, Danielle Martinez, Diana Martinez, Edgar Martinez, Frida Martinez, Haley Martinez, Jared Martinez, Karina Martinez, Liliana Martinez, Maria Martinez, Ramon Martinez, Sarah Martinez, Stephanie Martinez, Tiffany Martinez, Vanessa Martinez, Vanessa Martinez, Yajaira Martinez-Garcia, Jeffrey Marzec, Maria Marzicola, Reymundo Massie, Paul Mauricio, Brandon Maxion, Devin Maxwell, Courtney Mayhew, Kelly McAfee, Madison McBride, Morgan McBride, Meryl McBroom, Kelsi McCarter, Bridget McCarthy, Mia Rose McCarthy, Melissa McCarty, Patrick McCoy, Lauren Mccullough, Gabriela McDaniel, Kim McDonald, Patrick McEvoy, Kate McGreevy, Mary McKenzie, Tasha Mckissack, Inga McManus, Danielle McMichael, Mya McMillon, Hayden McPherson, Morgan McReynolds, Elizabeth McVicker, Michael Meade, Zachary Meadors, Ashley Medina, Christie Medina, Brianna Medrano, Molly Medve, Amber Meek, Dani Meek, Jessica Mehle, John Mehm, Margaret Mehrali, Christina Mejia, Iris Mejia, Roxanne Melendez, Laura Melendez Munoz, Amanda Melgoza, Carla Mena, Kimberly Mendenhall, Cristina Mendez, Norma Mendez, Sarai Mendez, Shirley Mendez-Noriega, Marissa Mendonca, Adrian Mendoza, Andrea Mendoza, Breanna Mendoza, Elias Mendoza, Francisca Mendoza, Nadia Mendoza, Zachary Mendoza, Heidi Mercado, Matthew Mesick, Katie Messerly, Amanda Messervy, Alyssa Meyer, Katie Meza, Natali Meza, Jenna Miani, Melanie Milam, Daniela Miles, Colette Militello, Elisa Miller, James Miller, Sarah Miller, Kymberly Milstead, William Milton, Megan Mimiaga, Stanley Min, Melissa Miner, Sarah Minjares, Nallely Miranda, Lisa Miskiewicz, Chelsea Mitchell, Samantha Mitchell, Sarah Mitchell, Mehran Mizan, Michelle Mizuba, Ani Mkrtchyan, Nancy Moctezuma, Jacob Mogul, Tania Molina, Evan Molinelli, Brooke Monahan, Stephanie Montano, Tasha Montano, Gustavo Montelongo, Esteban Montes, Yolanda Montes, Jennell Montgomery, Francisco Moo, Kelly Moody, Kalaya Moore, Jessikah Morales, Laura Morales, Vanessa Morales-Felix, Karina Moran, Randy Moran, Bryce Morelli, Jacob Moreno, Janette Moreno, Maria Moreno, Maria Moreno, Mariadel Moreno, Raymond Moreno, Rosa Moreno, Imani  Morgan, Mahika Morin, Christian Morris, Clayton Morris, Shannon Morris, Brian Morrison, Carlee Morton, Keith Moss, Kristina Moulton, Alicia Mouwen, Kristina Moyao, Joe Muniz, Karla Muniz, Anna Maria Munk-Baker, Arnulfo Munoz, Jon Murray, Miracle Murray, Julianne Musard, Jared Musich, Sabina Mustafayeva, Joshua Mytych, Andrew Naberhaus, Tyler Najera, Andrea Naranjo, Rafael Narcia, Jason Nash, Lorena Nateras, Jennifer Nava, Lucero Nava, Elizabeth Navalta, Juan Navarro, Victoria Navarro, Ruben Navarro Jr, Kathryn Navor, Rozelle Gaye Nebran, Neysa Neely, Zoe Neil, Jaqueline Nembhard, Kimberly Neptune, Paola Nevarez, Andrea Newman, Vanna Ngo, Camhong Nguyen, Danielle Nguyen, Khoi Nguyen, Maggie Nguyen, Mikhail Nguyen, Alicia Nichols, Amanda Nichols, Daniel Nieto, Jessica Nieto, Lizette Nieto, Rocio Nieves, Shaylyn Noel, Ferlyn Marie Nogoy, Claire Nolan, Delanie Nolan, Ryan Nolan, Vanessa Nong, Natalie Nordberg, Natalie Noriega, Sarah Novak, Trudy Novak, Michelle Noyes, Alejandrina Nunez, Guadalupe Nunez, Anna Nuss, Anthony Nzeribe, Victoria O Cinnseala, Eric Oaks, Vanessa Ocampo, Jordan Odle, Samantha Ofina, Eunice Oh, Daniella Ojeda, Neil Olipani, Adriana Olivas, Yadira Olivas, Lindsay Oliver, Anthony Oliveras, Yosemite Olivo, Patricia Olmedo, Daniel Olmos, Taylor Olmstead, Ashley Olvera, Anabel Ontiveros, Jacqueline Ormsbee, Joshua Oropeza, Cinthia Orosco, Yuliana Orozco, Adam Orta, Luis Ortega, Ruby Ortega, Brian Ortiz, Gabriel Ortiz, Jovana Ortiz, Giselle Ortiz-Ante, Cale Osburn, Kenia Oseguera, Gabriel Ospina, Karina Osuna, Tracy Overly, Kristen Owens, Stacey Ozuna, Leslie Pacheco, Tonisha Pacheco, Mary Padden, Austin Palmer, Ana Palomares, Yessica Pantoja, Lindsay Pappalardo, Chanell Paris, Christina Park, Amanda Parks, Bianca Parra, Lucia Pasca, Madeline Pascal, Britney Pasley, Lucas Pastis, Taylor Pastrano, Susana Patricio, Melissa Patton, Katherine Paules, Robert Paull, Tasha Paulsen, Shannon Payette, Jacqueline Paz, Karla Paz, Elizabeth Pedraza, Gloria Pedrero Hernandez, Shaunna Pedroza, Cheryl Peel, Marlene Pelayo, Courtney Pena, Esteban Pena, Leomaris Pena, Michelle Pena, Genesis Peralta, Omar Peraza, Alexander Percz, Katie Perea, Paola Pereira, Aaron Perez, Brenda Perez, Cristal Perez, Daisy Perez, Danaly Perez, Elizabeth Perez, Jacqueline Perez, Maricela Perez, Oliver Perez, Yaneli Perez Lopez, Cory Perkins, Donald Pesicka, Meghan Pesta, Danielle Petersen, Jennifer Petersen, Kasey Peterson, Preston Peterson, Victoria Peterson, Andrea Petriella, Ashley Pettet, Douglas Peyton, Kristin Pezzuto, Sabrina Phelps, Shanel  Phillippe, Kourtney Phillips, Jocelyn Piche, Ellen Pilato, Maria Pimentel, Jackeline Pina, Mayrani Pineda, Reyna Pineda-Arana, Emily Pinneri, Allison Pino, Julian Pino, John Pipolo, Victor Pitones Loera, Kalee Pizarro, Emily Pode, Kristen Pohina, Michael Pollock, Spencer Pomeroy, Sandra Ponce, Michael Pontecorvo, Vanessa Popoca-Espinoza, Nathan Porter, Ryan Porter, Christian Portillo, August Poulos, Chloe Powell, Cassandra Pozos, Juliet Prado, Dody Pratama, Kellie Prather, John Prehatny, Philip Press, Kaitlin Priebe, Rebecca Prieto, Abigail Puczkowski, Zachary Puente, Trent Pugmire, Jamie Lorraine Pullen, Sierra Puntorno-Carlberg, Jacob Purcell, Janelle Purnell, Madeleine Quackenbush, Arlene Quan, Michael Quill, Angalena Quintana, Leo Quintanar, Olivia Rada, Brian Radomski, Joshua Radon, Omar Rady, Tait Rains, William Ralph, Angelica Ramirez, Anicia Ramirez, Benjamin Ramirez, Catalina Ramirez, Cecilia Ramirez, Christy Ramirez, Diana Ramirez, Dulce Ramirez, Gabriela Ramirez, Jonathon Ramirez, Joshua Ramirez, Julian Ramirez, Karen Ramirez, Michelle Ramirez, Rachel Ramirez, Ryan Ramirez, Stephanie Ramirez, Susana Ramirez, Vanessa Ramirez, Victor Ramirez, Miguel Ramirez Ruelas, Briana Ramos, Carla Ramos, Cristina Ramos, Crystal Ramos, Christina Rance, Brooke Randolph, Sarah Randolph, Julie Rangel, Richard Rauhut, Konstanze Rausch, Cooper Ravetch, Lorna Razo Gomez, Jessy Razzouq, Walker Reade, Alexandra Real Padilla, Jose Rebolledo, Christopher Reddick, Jessica Redding, Brittnie Reeser, Diana Refugio, Kevin Reichenthaler, Cristobal Rendon Acosta, Anthony Resendiz, Mandy Reupsch, Brian Reyes, Melissa Reyes, Sebastian Reyes, Yesenia Reyes, Valerie Reyna, Brittany Rhone, Trever Richardson, Selina Rico, Gabrielle Ricord, Kelsey Riley, Victor Ringgold, Christopher Ringor, Alejandro Rios, Amanda Ritchie, Alejandro Rivas, Pedro Rivas, Danitza Rivera, David Rivera, Evelyn Rivera, Maria Rivera, Maria Rivera, Priscilla Rivero, Margaret Roa, Devyn Roadhouse, Cody Roberts, Kurt Robinson, Cristina Robles, Jose Robles, Magdalena Robles, Jorge Robles Garibay, Marcia Rocha, Roman Rocha, Sabrina Rocha, September Rocha, Shaini Rodrigo, Alejandra Rodriguez, Ana Rodriguez, Angelina Rodriguez, Ashlee Rodriguez, Ashley Rodriguez, Ashley Rodriguez, Concepcion Rodriguez, Cynthia Rodriguez, Desiree Rodriguez, Eric Rodriguez, Gary Rodriguez, Marcos Rodriguez, Mayra Rodriguez, Melissa Rodriguez, Natalie Rodriguez, Paula Rodriguez, Yaqueline Rodriguez, Jo Ann Roettgen, Lauren Rogers, Marcus Rogers, Philip Rogers, Savannah Rogers, Jennifer Rojas, Tylie Roman, Andrea Romero, Benjamin Romero, Carolina Romero, Joshua Romo, Elainna Root, Edgar Roque, Maiya Roseff, Caylin Rosenthal, Lindsey Rosete, Natalie Rosso, Michael Rostad, Jacqueline Roteck, Jason Rothluebbers, Clarisse Roux, Morgan Roverud, Danielle Rowe, Noah Rubino, Lauren Rubottom, Caitlin Rubow, Andres Ruiz, Ryan Rush, Jason Russak, Jim Ruvalcaba-Rodarte, Alejandra Saavedra, Emily Safdeye, Nicholas Sagely, Noelia Sainz, Travis Saks-Rudd, Crystal Salazar, Kyara Salazar, Albert Salcido, Elizabeth Salgado, Jasmine Salgado, Christopher Salvio, Tyler Salzberg, Sasan Samadzadeh, Evan Sampson, Ryan Samson, Adilene Sanchez, Andrea Sanchez, Jessica Sanchez, Jesus Sanchez, Miguel Sanchez, Monica Sanchez, Ramon Sanchez, Vinicio Sanchez, Luis Sanchez Bermudez, McKenzie Sanders, Phillip Sanders, Guisela Sandoval, Maria Sandoval, Amy Sands, Virginia Santiago, Christopher Santillo, Gina Santillo, Pamela Santos, Eric Sapien, Cynthia Saras, Ksenia Sarkisova, Alexander Sattler, Marzea Sattwhite, Priscilla Saucedo, Tiana Scanlan, Keana Scelsi, Rachel Schienbein, Kayla Schlender, Chelsea Schlesinger, Karl Schmidt, Tyler Schmidt, Bryce Schmitt, Tristan Schneidereit, Linda Schoch, Kenzie Schoneman, Lucas Schoonmaker, Alana Schottel, Robert Schuett, Kyle Schumacher, Caitlin Schwanke, Emily Schwartz, Megan Schwartz, Noah Scoville, Jenna Segrue, Mark Seketa, Amber Sendlak, Malida Sengamphan, Kayla Serrano, Crystal Serrato, Leticia Serratos, Sarah Shah, Serge Shahbenderian, Jeremy Shannon, Skyler Shapiro, Kylea Sheils, Zacharia Shellabarger, Selefana Shenouda, Amanda Shepherd, Kiriana Sherk, Gregory Shinn, Jana-Maria Shumaker, Grace Siegel, Christopher Sierra, Aaron Sikes, Julieta Silva, Heaven Silveira, Cheyenne Silver, Laverne Silvestre, Deja Simon, Connor Simpson, Tahli Singer-Englar, Chiara Singh, Rachel Singh, Ravneet Singh, Melissa Sixbey, Emily Skaar, Shawna Skowrup, Danielle Smith, Emilie Smith, Grant Smith, Jaclyn Smith, Lauren Smith, Rebecca Smith, Robert Smith, Ryan Smith, Timothy Smith, Dylan Smithson, Tyler Smock-Lombardi, Shane Snow, Patrick Snowling, Autumn Snyder, Sheridan Soderstrom, Ashley Soebbing, Erin Soebbing, Celina Solis, Ulysses Solis, Destiny Solorio, Katheryn Solorio, Shenie Solorzano, Roberto Soltero, Allison Sommars, Katie Son, Vita Sondors, Parker Sorensen, Alondra Soriano, Stephanie Soriano, Cristian Soto, Erik Soto, Gabriela Soto, Alexander Spadoni, Anthony Specioso, Sarah Specker, Serena Spencer, William Spires, Andrew Spyrka, Sandya Sriram, Tim Standridge, Joshua Stapel, Corinne Stapenhorst, Scott Starting, Jamesine Staubitser, Karissa Steele, Kurt Steigerwalt, Roseannah Sterkel, Micah Stetz, Andisha Steward, James Stewart, Clay Stickel, Rebecca Stift, Paul Still, Tyler Stillwagon, Elizabeth Stoddard, John Stone, Tucker Stone, Raquel Strobel, Nancy Stueben, Teresa Suarez Ontiveros, Chianti Sumaran, Supoya Summers, Josue Suryabanshi, Courtney Sutherland, Kendra Sutherland, Taylor Swanson, Alexa Szekely, Dustin Taetsch, Rafia Tahir, Arely Tamayo, Cindy Tanory, Maria Tapia, Monique Tapia, Forrest Tappan, Euvera Tatunay, Meleddy Tavarez, Brock Taylor, Matthew Taylor, Luise Teesalu, Matthew Tekeste, Pedro Telles Vasquez, Jennifer Temple, TyOna Teninty, Christine Thomas, Lauren Thomas, Katelynn Thompson, Kwameisha Thompson, Tori Thompson, Kara Thorn, Rebecka Thorsen, Joshua Tignac, Mia Tippet, Rebekah Tipton, Erika Tirado, Saiyidah Zahraa Tirmizi, Natalie Titcomb, Trena Tobin, Genelyn Tolentino, Christine Tolman, Miles Tomlinson, Sher Toor, Andrea Torres, Daritza Torres, Lizette Torres, Selena Torres, Yuliana Torres, Miyen Torres Contreras, Michelle Tostado, Laura Tougas, Matanous Touma, Madison Towers, Danielle Townsley, Cindy Tran, Oanh Tran, Elisabeth Trask, Paul Trevino, Camilo Triana, Robert Triplett, Jaleni Trotter, Ryan Trude, Silvia Trujillo, Natalie Tucker, Christopher Tumbeiro, Jeremy Turchik, Daniel Turek, Auston Turman, Blake Turner, Bradye Turner, Rachelle Turner, Kirsten Tyler, Natalie Tyson, Rikki Ugale, Amber Ulmer, Catherine Urbina, Diego Uribe, Rosie Uribe, John Urrutia, Christian Usher, Erik Utermohlen, Lynn Utley, Aaron Vad, Daisey Valadez-Miguel, Henry Valdez, Vaughn Valdez, Frankee Valdivia-Minsal, Cindy Valdovinos, Brenda Valencia, Joanna Valencia, Mary Mallory Valencia, Gabrielle Valenti, Eric Valenzuela, Elline Valiente, Patricia Vallarta, Darlene Van Dueck, Richard Van Duzer, Vanessa Van Heerden, Amanda VanBuskirk, Gregory Vance, Olivia Vannelli, Eric Varela, Genesis Vargas, Kennya Vargas, Emely Vasquez, Louis Vasquez, Jasmine Vasquez Saldivar, Steve Vasquez Valencia, Dominic Vaughn, Adriana Vazquez Guzman, Ivan Vazquez Rojas, Natalie Vazquez-Perez, Adam Vega, Melissa Velasco, Kaitlyn Verdiell, Glenna Verdugo, Stephanie Verduzco, Chandra Vermeesch, Chad Vickrey, Estefanie Vidaury, Janet Vielmas, Evelyn Vilchez, Marissa Villa, Robert Villa, Erika Villalpando, Elmis Villalta-Velasquez, Jared Villani, Jay Villanueva, Patrick Villanueva, Jonathan Villicana, Ana Viramontes, Victor Virgen, Ramon Visaiz, Jessica Vlahakis, Sarah Volpe, Thomas von Dohlen, Christopher Waelde, Nicole Waeldin, Mark Wahba, Meagan Waldron, Michael Walker, Gracie Wall, Ryan Wall, Ashley Wallace, Rose Waller, Alison Walters, Andrew Walters, Terrence Walters, Yukie Wang, David Warren-Angelucci, Victoria Watkins, Vatina Way, Willie Weaver, Jasmyn Weber, Natalia Weglarz, Jason Wegrowski, Christina Weichel, Tara Weikal, Erin Weilbacher, Matthew Wells, Amie Werner, Haley Werner, Andrew Werre, Delaney West, Lola West, Heather Wetherhold, Brigid Wheeler, Michelle Whitaker, Connor White, Elizabeth White, Gianna White, Jayahna White, Jessica White, Kristin White, Nathan White, Chelsea White-Garcia, Adam Wiesner, Brianna Wileman, Isaac Wilkes, Susana Willeford, Alyson Williams, Marlon Williams, Shantel Williams, Michael Williamson, Savannah Williamson, Shelby Wills, Daniel Wilson, Laura Wilson, Pearl Wilson, Theresa Wilson, William Wilson, Christa Wilson-Bradford, Taylor Wing, Haley Winters, Jacob Wipf, Jennifer Wise, Jessica Wolfe, Nakoi Wolfe, Austin Wong, Nopjira Wongvitoothai, Papatsara Wongvitoothai, Lindsay Wood, Sarah Wood, Tatyana Wooldridge, Hanna Workman, Amanda Wurtz, Morgan Wynn, Shu Xue, Jonathan Yambao, Sarah Yarborough, Caitlin Yarbrough, Eduardo Yniguez, Jessica Yoshinaga, Alexander Young, Graelin Young, Sarah Young, Noelle Yu, Asucena Yzquierdo, Andrew Zager, Lauren Zahn, Viviana Zamora, Jessica Zaragoza, Jessica Zarate-Martinez, Marisa Zaremba, Zacgary Zasueta, Esmeralda Zecua, Christina Zendejas, Monica Zepeda, Shaina Zimdahl, Alexis Zrelak, Richard Zuvala