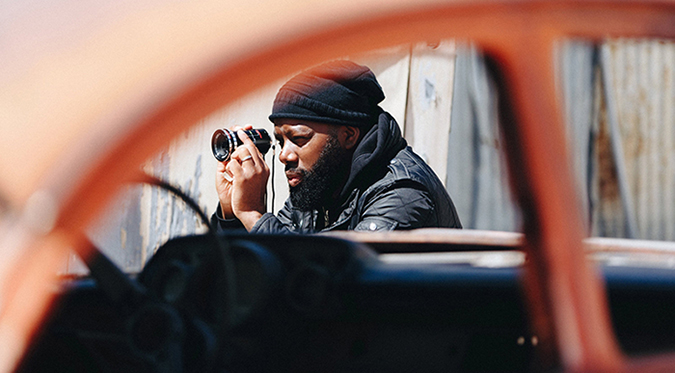 Nov. 8, 2017 — Prolific filmmaker, playwright, author David E. Talbert will discuss diversity on the stage and screen Wednesday, Nov. 15 from 6:30 to 8 p.m. at CSU Channel Islands' (CSUCI) Grand Salon.
"Reflections of Diversity in Theatre, Television and Film" will be a conversation with Talbert about what he has experienced during his 25 years in the entertainment business.
Sponsored by the CSUCI Black Faculty & Staff Association, the event is a timely one, according to one of its organizers, Assistant Professor of Nursing LaSonya Davis, DNP.
"Due to the political and social climate right now, it's important to highlight disparities and injustices," Davis said. "And how people have been able to overcome these injustices and disparities."
Talbert was born the great-grandson of a Pentecostal preacher, and much of his work reflects being raised in an atmosphere of hope, heart and inspiration.
Heralded by the Los Angeles Times as "one of the most prolific theater makers in America," Talbert is often praised for his heartfelt depictions of life and love, mixed with his ability to infuse comedy in the midst of chaos.
Talbert's films, "First Sunday," "Baggage Claim," and last year's holiday blockbuster
"Almost Christmas," have grossed over $100 million dollars in the U.S.
His latest film, "El Camino Christmas," premieres this December in 170 countries.
The NETFLIX Original stars Tim Allen, Vincent D'Onofrio, Luke Grimes, Dax Shepard, and Jessica Alba.
Davis hopes students and the public are inspired by Talbert's story and how he overcame a system that was not always friendly to actors, directors, playwrights and other entertainers of color.
"This is designed to support not just minorities, but all students who strive to attain similar goals," Davis said.
Registration is free for CSUCI staff and students as well as Ventura County School District youth. Admission is $10 for other college students with student ID and $20 for the general public. Proceeds will go toward scholarships and future events.
RSVP required at: http://go.csuci.edu/reflections.
Limited parking is available on campus with the purchase of a $6 daily permit; follow signs to the parking permit dispensers. Free parking is available at the Camarillo Metrolink Station/Lewis Road with bus service to and from the campus.  Riders should board the CSUCI Vista Bus to the campus; the cash-only fare is $1.25 each way. Buses arrive and depart from the Camarillo Metrolink Station every 30 minutes from 7 a.m. to 10 p.m. Monday through Friday. For exact times, check the schedule at www.goventura.org.
For information, contact LaSonya Davis at lasonya.davis@csuci.edu or Kelcey Newman at kelcey.newman@csuci.edu.