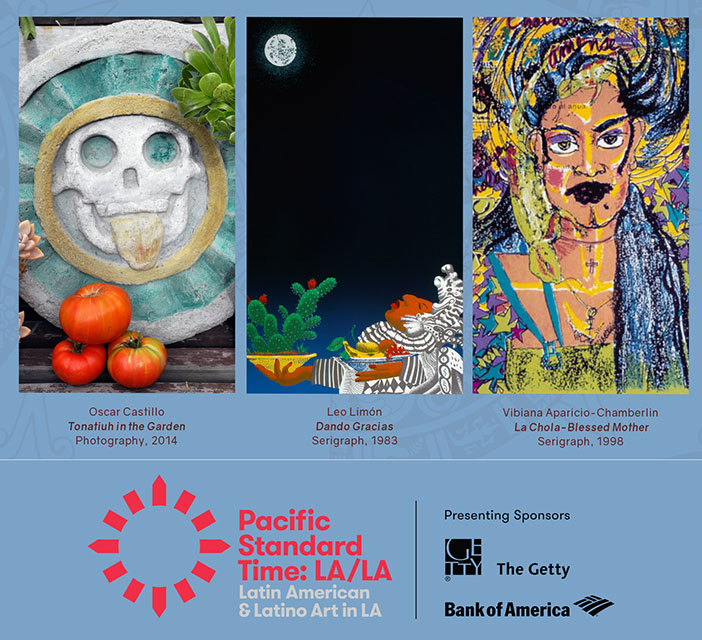 October 19, 2017 — Crocheted tacos, eggs, skulls and pan dulce decorate one of many altars or ofrendas that will be on display at Napa Gallery for the 2017 Day of the Dead celebration at CSU Channel Islands (CSUCI).
The all-day celebration on Wednesday, Nov. 1 is from 9 a.m. to 4 p.m. in front of the John Spoor Broome Library at One University Drive on the Camarillo campus, and the public is welcome.
The celebration is part of the ongoing Getty-led Pacific Standard Time: LA/LA (PST: LA/LA) exhibition taking place at 70+ locations across Southern California.
The day begins at 9 a.m. with the delivery of seven tons of sand at the Broome Library Plaza for a sand sculpture that will be created by Los Angeles artist Leo Limón, called "Vida in sand."  Limón is one of three featured artists in CSUCI's PST: LA/LA exhibition.
"The mural will be created in Mixteco style, from the state of Oaxaca," explained 'Day of the Dead' organizer/curator Denise Lugo, an Art History Lecturer. "The idea of the sand sculpture is that life is ephemeral, and so is a sand sculpture."
The Mixtec are indigenous Mesoamerican people who live in Central Mexico and the Oaxaca region of Mexico. Creating Mesoamerican art is one of Limón's specialties.
With assistance from students and faculty, Limón will create the sculpture with sand, water and tempura paint, emulating the ancient Mixtec hieroglyphs.
At 11 a.m. featured PST: LA/LA artist, Vibiana Aparacio-Chamberlain,
will give a workshop at the Broome Plaza called "Crochet calavera," with instructions on how to crochet Day of the Dead "calaveras" or skulls.
"The symbol of the skull does not mean death or negativity," Lugo explained "It's one of the oldest symbols in the Mexican culture. It reflects life and fertility."
The Day of the Dead is essentially a celebration and remembrance of those who passed that is underscored with ofrendas, or home altars containing items the individual enjoyed in life, such as certain foods, photos, or personal items.
Los Angeles artist/poet Aparicio-Chamberlain created an ofrenda in the Napa Gallery that is decorated with crocheted items—eggs, tacos, pan dulce, a cake, and calaveras. Prominent on the ceiling-high ofrenda are photos of mothers and grandmothers.
"I am emphasizing domestica, celebrating the importance of the woman in Mexican society," Aparicio-Chamberlain said, using a Spanish word linked to the domestic domain, which is traditionally overseen by the woman.
At 1 p.m. Los Angeles photographer Oscar Castillo, best known for his photographic documentation of the Chicana/o civil rights movement of the 1960s, will create an ofrenda using his medium of photography. Castillo calls his photo altar "Galleria Camposanto."
There will be a series of short speeches from all three featured artists; Mexican Consul Roberto Rodriguez; a representative from Reiter Affiliated Companies, a sponsor of the CSUCI exhibits; and representatives from CSUCI.
At 3 p.m. face painting and a craft station will be available courtesy of CSUCI's Intercultural Services.