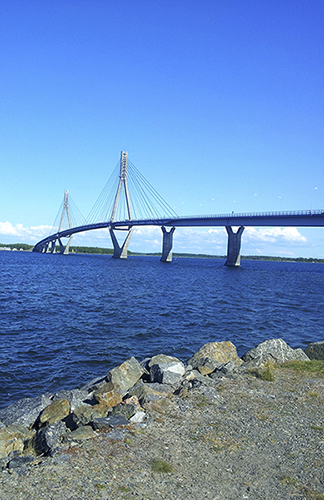 Nov. 8, 2017 — Bordering the former Soviet Union, the small but mighty Arctic nation of Finland has a model system of education and unique diplomacy skills, to say nothing of bragging rights for "Angry Birds."
"Finland is in a precarious location in that it's literally between the East and the West, a bridge between Russia and the European Union (EU)," said Associate Professor of Education and Political Science Tiina Itkonen, Ph.D., who is a citizen of Finland. "It's this interesting low-profile country with expertise in negotiation through diplomacy because of its location."
CSU Channel Islands (CSUCI) will observe the 100th anniversary of Finland's independence with a Nov. 14 event called "Finland 100: Perspectives on Education, Arctic Climate & Politics."
Open and free to the public, "Finland 100" will take place from 4:30 to 7 p.m. in Malibu Hall on the CSUCI campus.
A panel of guests will discuss the politics, education and Arctic environment of Finland with an overview of the triumphs and challenges in each area.
The panel will consist of: Heidi Harju-Luukkainen, Ph.D. Associate Professor of Education from the University of Helsinki and University of Gothenburg as well as a senior analyst at UCLA; CSUCI Biologist and Arctic specialist Amy Denton, Ph.D. and Suvi Aherto, Trade Commissioner for the Ministry of Foreign Affairs of Finland and the Consulate General of Finland, Los Angeles.
Harju-Luukkainen will discuss Finland's educational system, which consistently ranks among the top models in the world.
"Play has a huge emphasis in school," Itkonen said. "Hours in school are shorter. For every 45 minutes of lessons, there is a 15-minute recess. The brain has to rest. A lot of critical thinking relies on play. And there is less emphasis on homework."
Teaching is a respected profession in Finland with just 10 percent of applicants making it into teaching programs, and those who become teachers are well-paid.
Aherto will go into Finland's political history, including its declaration of independence in 1917, when Russia became a communist country and World War I was ending.
Denton will discuss the tiny nation's climate and the threat posed by global warming.
"Finland is one of only eight arctic nations and will be a key player as both climate and geopolitics change at an increasingly rapid pace," Denton said.  "It shares and 800-mile long border with Russia, supports a large indigenous culture (the Saami), and has a deep understanding of scientific, economic and social issues in cold regions."
Finland just began a two-year chairmanship of the Arctic Council, where it will be able to use its considerable expertise to promote sustainable development, environmental conservation, and international security."
"Finland 100" is hosted by the Center for International Affairs & International Programs office.  The event is part of International Education Week at CSUCI, which runs from Nov. 13-17 and includes activities designed to celebrate the multicultural, global perspective that enshrines the curriculum at CSUCI.