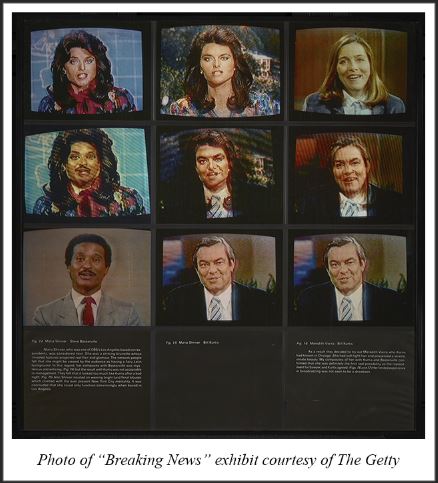 Camarillo, Calif., April 17, 2017 — Spring is the theme of the 2017 "College Night at the Getty," which is organized primarily by students from CSU Channel Islands (CSUCI) with support from some other Southern California universities.
From 6 to 9:30 p.m. Monday night, April 24, any and all college students are invited to a free evening of art, music, activities, free food, and plenty of interactive exhibits at the iconic Getty Museum in Los Angeles.
"Getty College Night is a special night exclusively for college students," said Peter Tokofsky, Senior Public Program Specialist for the Getty Museum. "There will be hands-on art activities, special tours of galleries and personal interaction with curators. The intent of College Night is, in a welcoming way, to make college students aware of what we do."
Working with Tokofsky, a group of CSUCI students enrolled in the Museum course co-taught by Professor of Art History Irina D. Costache and Business Lecturer Michael Seay, created and organized the night, coming up with the "Spring" theme and arranging activities to entertain a crowd of more than 2,500 students ages 18-24.
"We're going to have a flower crown-making installation and an interactive photo booth," said class member Baylee Tyler, 24.
Lush gardens and a spectacular view of Los Angeles are part of the Getty experience, as well as art depicting gardens and the natural world, so the students are working on spring-themed events, which will include drawing from a live model at a Drop-in Springtime Figure Drawing Session.
College Night 2017 highlights two exhibitions: Breaking News: Turning the Lens on Mass Media and Photography and Concrete Poetry: Words and Sounds in Graphic Space at the Getty Research Institute.
Students will be able to voice their own opinions on news and media with a Los Angeles 'Zine Fest workshop, an introduction to self-publishing in which students can use appropriated texts and images to create something original.
In addition, the museum's permanent collection galleries will be open, featuring many of the Getty's most famous works, such as Vincent Van Gogh's "Irises."
The College Night project is part of The Museum: Culture, Business and Education Class, an interdisciplinary course offered at CSUCI since 2003, which has collaborated with the Getty Museum multiple times in the past including on two college nights (in 2010 and 2015).
"What is valuable, about this class, among many other things, is the collaboration process," Costache said. "It helps students understand how a project like this comes together. They see the museum not from the outside, but by understanding the dynamics of the inner workings of a museum. It also offers them an opportunity to present their ideas at a world class institution."
"It is interesting to see how the Art and Business majors come together and realize that the same skill sets are needed in this process. The students realize they are more alike than different; it is truly remarkable how it all comes together through everyone's efforts." Seay said. 
Art History major Juan Paulo Quiatchon, 24, said he likes the idea of inviting his peers to appreciate an art museum like the Getty, a challenge with all of the different forms of entertainment competing for their time.
"You have millennials and they're interested in all sorts of different pursuits," Quiatchon said. "So we need to invite them back into the arts."
Other students who helped create Getty College Night came from Mount Saint Mary's; UCLA; USC; Glendale Community College; CSU Long Beach; CSU Los Angeles; and CSU Northridge.
Admission and parking are free for College Night attendees. Please bring your college ID. Reservations are encouraged. For more information on College Night at the Getty Center and to make a reservation, visit www.getty.edu/collegenight.
# # #
About California State University Channel Islands
CSU Channel Islands (CI) is the only four-year, public university in Ventura County and is known for its interdisciplinary, multicultural and international perspectives, and its emphasis on experiential and service learning. CI's strong academic programs focus on business, sciences, liberal studies, teaching credentials, and innovative master's degrees. Students benefit from individual attention, up-to-date technology, and classroom instruction augmented by outstanding faculty research. CI has been designated by the U.S. Department of Education as a Hispanic-Serving Institution and is committed to serving students of all backgrounds from the region and beyond. Connect with and learn more by visiting CI's Social Media.