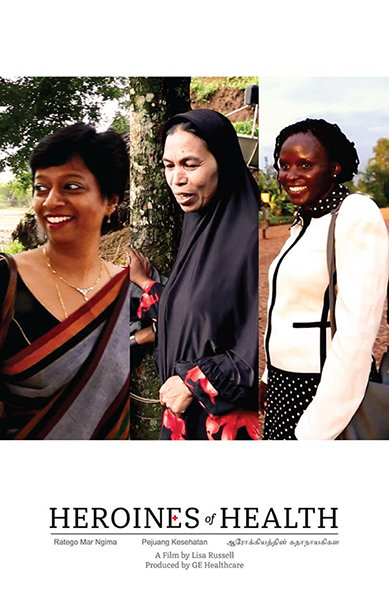 Nov. 8, 2017 — An Emmy Award-winning filmmaker raised in Ventura will discuss her documentary, "Heroines of Health" after a screening on Thursday, Nov. 16 from 12 noon to 1:30 p.m. in Ojai Hall 1986 on the CSU Channel Islands (CSUCI) campus.
"Heroines of Health" is the latest film by global health advocate and filmmaker Lisa Russell, who now lives in New York.
The public is invited to the free event, which is part of International Education Week at CSUCI, which is from Nov. 13-17. The International Education celebrations are hosted by the Center for International Affairs and International Programs office.
Russell was a Balboa Middle School and Buena High School classmate of former CSUCI staff member Tina Knight, so Professor of Political Science Andrea Grove, Ph.D., also Chair of the Global Studies program, arranged to have Russell speak at CSUCI.
"It was the most exciting news to hear that Lisa was willing to come and I jumped at the chance," Grove said. "I'm very excited that she can bring such a significant aspect of life in most of the world to our campus, hopefully expanding the way our students see the world and their own possibilities."
Sponsored by GE Healthcare, "Heroines of Health" documents the efforts of three female health advocates in Kenya, India and Indonesia as they try to bring health services to undeveloped areas.
"With 'Heroines of Health,' it truly is my honor to give viewers an inside glimpse into the personal lives of three remarkable heroines who have made incredible sacrifices to become lifesaving forces in their local communities," Russell said in a news release from GE Healthcare.
The Indonesian health heroine profiled in the documentary, Mrs. Rohani, walks expectant mothers to the nearest community care clinic, more than an hour by foot.
In India, Dr. Sharmila Anand founded a social enterprise that trains students to become X-ray technicians, anesthesia technicians, occupational therapists and the like, in order to bridge the healthcare gap in India.
Mercy Owuor, a community health expert in Kenya, is leading to team of rural health care workers as they tackle childhood mortality, with a goal for every Kenyan child to reach his or her fifth birthday.
"Given our global studies, performing arts, international relations, health communication, nursing and health science courses, and our Model UN program (which participates in conferences that always involve issues of global health) having a film maker show and discuss this film seemed like a good fit," Grove said.
Russell has more than 10 years of experience producing documentaries and other creative projects with United Nations/Non-Governmental Organization (UN/NGO) agencies. She is a renowned keynote and TEDx speaker, writer and global storyteller who regularly presents at leading universities, international conferences and youth leadership programs.
For a look at all the events during CSUCI's International Education Week, visit: go.csuci.edu/iew.
Limited parking is available on campus with the purchase of a $6 daily permit; follow signs to the parking permit dispensers. Free parking is available at the Camarillo Metrolink Station/Lewis Road with bus service to and from the campus.  Riders should board the CSUCI Vista Bus to the campus; the cash-only fare is $1.25 each way. Buses arrive and depart from the Camarillo Metrolink Station every 30 minutes from 7 a.m. to 10 p.m. Monday through Friday. For exact times, check the schedule at www.goventura.org.