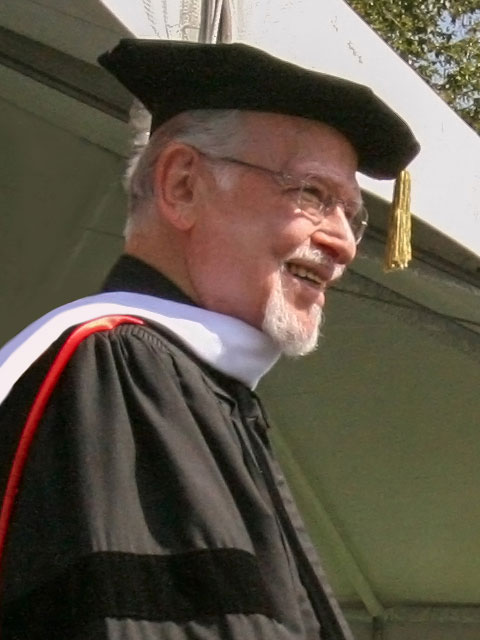 June 14, 2017 — A voice for workers, a force for seniors, a champion for education and a true friend to CSU Channel Islands (CSUCI), Henry L. "Hank" Lacayo will be honored on Saturday, June 24 on the campus.
The public is invited to a Celebration of Life for Lacayo who passed away on May 1 after a long illness. Leading business, political and civic leaders will join members of the CSUCI campus from 4 to 7 p.m. in front of the John Spoor Broome Library to celebrate the many ways Lacayo benefited the community and the University.
"Hank was an early and important friend of CSUCI and had a very special and deep connection to our University," said CSUCI President Erika D. Beck. "He was instrumental in the founding of our Henry L. 'Hank' Lacayo Institute for Workforce & Community Studies, was a founding member of the President's Circle and served as a member of our Foundation Board. Hank was a true steward of our mission and we are extremely honored to have his memorial service on our campus."
Lacayo spent the first part of his career as a United Autoworkers (UAW) leader, later earning the trust of U.S. Presidents like John F. Kennedy, Lyndon Johnson, Jimmy Carter and Bill Clinton. He was on the steps of the Lincoln Memorial when Martin Luther King, Jr. delivered his "I Have a Dream" speech.
When he was president of Local UAW 887, Lacayo walked UAW President Walter P. Reuther out onto a field at Delano, California to meet Cesar Chavez. He was at the center of the chaotic 1968 Democratic National Convention when the presidential nomination was delivered to Hubert Humphrey.
When Lacayo and his wife of 44 years, Leah, retired to Newbury Park in the 1980s, he couldn't help but get involved in a number of causes in the region. Lacayo served on numerous boards throughout Ventura County and was President of the California Congress of Seniors for 16 years up until his passing.
In 2010, the University launched the Henry L. "Hank" Lacayo Institute (HLI) for Workforce & Community Studies, which has paired CSUCI students with internships in their field of interest, most of which have led to full-time jobs. At every gathering of HLI interns, Lacayo made it a point to speak to each and every student.
Lacayo also garnered community support for the University and served on the CSUCI Foundation Board from 2011 until his passing. In 2012, Lacayo was presented with an Honorary Doctor of Letters from CSUCI. He often said it was one of his proudest moments.
The Lacayo family has established the Henry L. "Hank" Lacayo Scholarship to benefit CSUCI students and it will be managed through the CSUCI Foundation.
To attend the Celebration of Life or to make a contribution to the Lacayo Scholarship fund, visit: go.csuci.edu/hank.