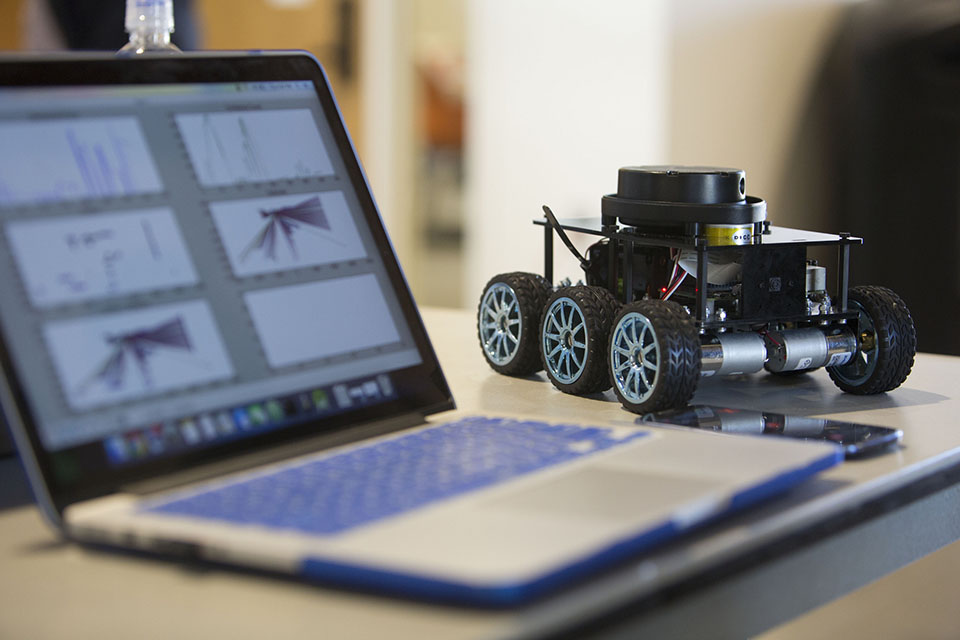 July 18, 2017 — It's official. CSU Channel Islands (CSUCI) will launch its Mechatronics Engineering program in fall 2018.
The program will accept 24 students for fall 2018, increasing that number by 24 each year until the total number of Mechatronics majors admitted each year is just under 100.
With about 300 engineering jobs available in Ventura County each year, University administrators, faculty, lawmakers and the community saw the need for qualified engineers and began working toward adding the major at CSUCI years ago.
"We are all delighted to move from the planning to the implementation stage," said Professor and Chair of the Computer Science program Michael Soltys, Ph.D. "We feel like the community has trusted us with this initiative, and we want to mount a superb program."
The program comes to the University during newly invested President Erika Beck's tenure. Once the engineering major is launched, CSUCI will be one of less than a dozen universities in the nation that offers a Mechatronics degree.
"We are so enthusiastic about the addition of Mechatronics at CSUCI," Beck said. "This new engineering major is an example of the deep and wide-ranging skill set that will prepare our graduates for a 21st century job market. We have a talented faculty, state-of-the-art laboratories and an excellent curriculum ready for our first cohort of engineering majors."
Mechatronics is a quickly-growing area of engineering that includes aspects of control theory, computer science, electronics, and mechanics.
Plans are already in the works to apply for accreditation from the Accreditation Board for Engineering and Technology (ABET), a nonprofit, non-governmental accrediting agency for programs in applied science, computing, engineering technology and related fields.
ABET accreditation provides assurance that a college or university program meets the quality standards of the profession each graduate intends to enter.
"We have a strong offering in Computer Science, Mathematics, and Physics, and with some effort we could have a program meeting the requirements for an ABET accreditation," Soltys said.
CSUCI plans to seek ABET accreditation within four to five years.
The long term advantages to pursuing a degree in Mechatronics are many. Those who graduate with a degree in Mechatronics can expect great career mobility because of the expertise they will have in a variety of engineering skills.
Salaries for these graduates are also promising. The U.S. Bureau of Labor Statistics shows that median annual wages for all specialized engineers that are not categorized was $92,680 as of May of 2013. The middle 50 percent of these professionals earned between $68,610 and $117,930 yearly.
The demand for engineers is high along what's known as the "101 Tech Corridor," which includes companies like Amgen, Haas Automation, Teledyne Technologies, and HRL Laboratories, plus an ongoing need for Naval Base Ventura County at their Point Mugu and Port Hueneme facilities.
CSUCI is one of just three CSUs to offer the Mechatronics degree, the other two being CSU Chico and CSU San Luis Obispo.