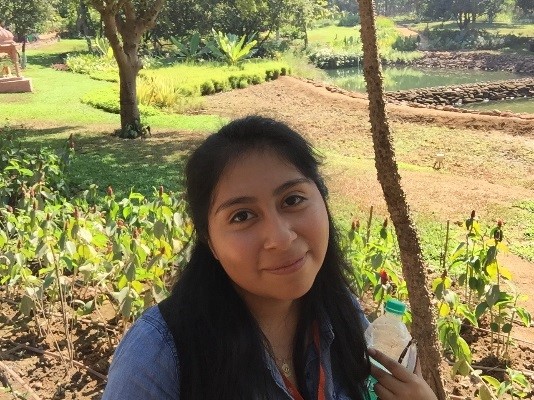 May 30, 2017 — CSU Channel Islands Biology major Marisol Luis is  one of 273 students nationwide who have been named a 2017 Newman Civic Fellow.
Luis, who graduated on May 20, plans to apply to graduate school in hopes of eventually going on to earn her Ph.D. and study stem cells.
The Newman Civic Fellowships are awarded by Boston-based Campus Compact, a non-profit organization working to advance the public purposes of higher education.
Luis, who is the first in her family to attend college, said she has always felt a gravitational pull toward helping others in any way she could.
"Experiencing poverty while growing up has pushed me to seek positive change in the world. I always asked myself 'Why should I progress and not help my neighbor along the way?" she said. "That is why I started mentoring underrepresented, first-generation college students for many years."
Luis became a mentor for migrant and African American high school students from all over California.
"I realized it was crucial for me to not stick with one program, but to become diverse and develop a sense of understanding with different communities because this nation was built on diversity," she said.
Her work compelled her to expand her horizons even further, to a global scale. She volunteered at a hospital in Mumbai, India and experienced first-hand some of the social problems that occur on the other side of the world.
In her nomination letter, President Erika D. Beck described Luis as a student who has used her experience with adversity to instill hope of one day attending college in young students with similar backgrounds.
"Marisol's educational journey is heavily intertwined with service, stemming from underserved populations throughout California and even on a global scale in Mumbai, India," Beck said. "She continues to look for connections between a human spirit of giving and the scientific approach to wellbeing."
Campus Compact's Newman Civic Fellowship recognizes and supports community-committed students who have demonstrated an investment in finding solutions for challenges facing communities throughout the country. The fellowship is named in honor of Frank Newman, one of Campus Compact's founders, and is supported by the KPMG Foundation and by the Newman's Own Foundation.