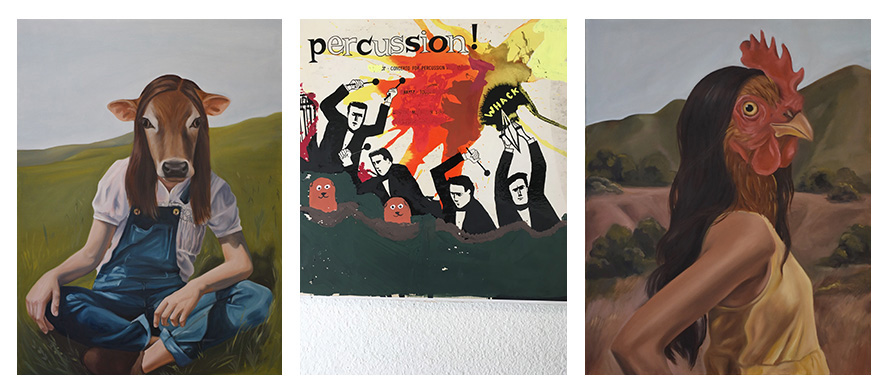 Oct. 4, 2017— Three new exhibits celebrating undergraduate and recently-graduated Art students are on display in Napa Hall at CSU Channel Islands (CSUCI) from now through Oct. 25.
The reception for "Fusion," "Creatures Unveiled" and "Mi casa es su casa," a room-sized work by graphic artist Hugo Castillo will be from 6 to 8 p.m. Thursday, Oct. 12 in the Napa Gallery. The public is invited.
True to its title, "Fusion" is a collection of student work from Art Lecturer Aurora Valentine's class, called "Understanding Art Processes."
"Fusion" will be on display in the CI Palm Temporary gallery.
Works in the show were created by students investigating different cultural art forms. Included are personal art expressions created in the Mexican woodcut tradition or relief block prints; re-imagined record albums; Aboriginal-inspired dot paintings and drawings inspired by the Pacific Northwest.
Graphic artist and 2017 Studio Art graduate Hugo Castillo created an abstract piece for Grad Wall 1 comprised of numerous 8 ½ by 11 pieces of paper that he tiled together.
"It's an energetic, dynamic abstract that stretches from one side of the room to the other," Castillo said. "The concept behind the installation is to capture the essence of my community as well as its history with an intertwined composition made of textures, typography and pictorial elements."
Castillo's muse is Ventura Avenue, where he grew up. In his work, he is reflecting the shifts he has seen along the stretch of street called "The Avenue," a diverse, historic and constantly evolving part of the west side of Ventura.
"I'm documenting my community and these places that are personal to me," he said. "These places are changing. The faces are changing. People are starting to invest in the area."
On Grad Wall 2 is "Creatures Unveiled," a series of surrealist oil paintings by 2017 Studio Art graduate Emily Pinneri. The pieces part of a broader collection titled "Human Nature" in which Pinneri depicts female figures with animal heads.
"The tone for each painting is inspired by the unique personalities of my friends," she said. "The animals I choose embody the personality of each individual," she said.
The shows run alongside "The Latino Museum of History, Art and Culture (1995-2000) Revisited," Napa Gallery show that began in September and runs through Nov. 17.
Limited parking is available on campus with the purchase of a $6 daily permit; follow signs to the parking permit dispensers. Free parking is available at the Camarillo Metrolink Station/Lewis Road with bus service to and from the campus.  Riders should board the CSUCI Vista Bus to the campus; the cash-only fare is $1.25 each way. Buses arrive and depart from the Camarillo Metrolink Station every 30 minutes from 7 a.m. to 10 p.m. Monday through Friday. For exact times, check the schedule at www.goventura.org.
The University encourages persons with disabilities to participate in its programs and activities. If you anticipate needing any type of accommodation, or have questions about the physical access provided, please contact Disability Accommodations and Support Services at accommodations@csuci.edu or call 805-437-3331 as soon as possible, but no later than seven (7) business days prior to the event.