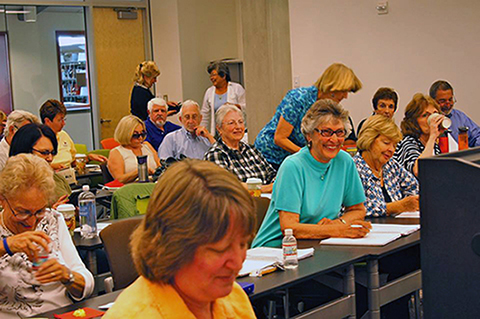 Nov. 9 — The 2017 Fall "Taste of OLLI" classes this year include a presentation at the Rubicon Theatre in Ventura, a look into the mind of a predator from a Los Angeles Police Department Detective, and a conversation about the complex and controversial origins of Thanksgiving.  
Open to any community member age 50 or better (50+), Osher Lifelong Learning Institute (OLLI) classes at CSU Channel Islands (CSUCI) are $15 per class. It's easy to enroll in any class. Call 805-437-2748 or visit: http://go.csuci.edu/olli.
Here's a look at what OLLI is offering in November and December: 
Nov. 14, 10 a.m. to 12 p.m., Studio Channel Islands, 2222 Ventura Blvd., Camarillo 
"The Great Conductors" 
Andrea Bocelli, Natalie Cole, Jennifer Hudson and David Foster are among the stars that have sung with conductor/vocalist/pianist composer Daniel Newman-Lessler, who will take the OLLI audience through the experience of conducting a choir and orchestra. 
The lecture will explore the art of conducting, from score study to rehearsal to performance, and will introduce the great conductors of the past, including Toscanini, Kleiber and Bernstein, leaving the OLLI students with a greater appreciation for classical music. 
Nov. 15, 10 a.m. to 12 p.m., Rubicon Theatre, 1006 E. Main Street, Ventura 
"Producing Shakespeare's Tragic Masterpiece"  
Rubicon Theatre Artistic Director Karyl Lynn Burns will take OLLI students behind the scenes for the theater's spring production of "King Lear," exploring the various elements of production and including input from "King Lear" director James O'Neil and professional actors from the production. Enrollees will receive a voucher for tickets to the production and the post-show talkback. 
Nov. 15, 1 to 3 p.m., Ventura Adult and Continuing Education (VACE), 5200 Valentine Rd., Ventura 
"California's 28 National Parks: A History" 
Former National Park ranger, photographer, aquanaut, scientist and commercial fisherman Gary Davis will take OLLI students on a tour through the mountains, forest, coastline and giant kelp beds that comprise California's spectacular national parks. Davis will use images and stories he has collected from 50 years of research into California's national parks to illustrate how conservation and historical preservation were developed. 
Nov. 18, 10:05 a.m. to 12:05 p.m. CSUCI John Spoor Broome Library Room 2335, One University Drive, Camarillo 
"Why Does Healthcare Cost So Much in the USA?" 
Single payer, universal healthcare, and free market approaches to healthcare are subjects of hot debate, but a question asked less frequently is: Why is healthcare in the United States 50 to 100 percent more expensive than in other developed countries? 
Economist Michael Teasdale will break the elements that are driving the cost of healthcare in America. Teasdale worked for 25 years in international business and healthcare with his last role as an executive in a large biotech firm.  
Nov. 28, 10 a.m. to 12 p.m., Studio Channel Islands, 2222 Ventura Blvd., Camarillo  
"Mindhunting: Inside the Psyche of Predators" 
Capturing predators often requires that law enforcement officers and detectives get inside the mind of a criminal. Veteran Los Angeles Police Department (LAPD) Detective Paul Bishop—twice named LAPD's Detective of the Year—will take students into the world of behavioral science to explain how crime scenes, environmental indicators and empathetic probing of both victim and predator's actions can help catch a criminal.  
Nov. 29, 1 to 3 p.m., VACE, 5200 Valentine Rd., Ventura 
"Ventura County's Native Cavalry during the Civil War" 
The "cow counties" in Southern California and the Central Coast were among those to answer to call to arms during the Civil War — including Ventura County.  Director of Education and Outreach of the Museum of Ventura County Megan Gately will entertain students with tales of the soldiers' personalities, the training they received, and the effect this cavalry had on the region.  
Dec. 2, 10:05 a.m. to 12:05 p.m., CSUCI John Spoor Broome Library Room 3263, One University Drive, Camarillo 
"Thanksgiving: The Invention of Tradition" 
Turkey, gratitude, friends and family are integral parts of this popular "made in America" holiday, but the history of Thanksgiving is actually much more controversial and complex.  
American history and culture expert Clifford Wilcox, Ph.D., will discuss how the Thanksgiving narrative has evolved through the decades and its connection to how we define ourselves as American.  
Dec. 5, 10 a.m. to 12 p.m., Studio Channel Islands, 2222 Ventura Blvd., Camarillo  
"Challenges and success of the indigenous immigrant in Ventura County" 
Ventura County is home of an estimated 20,000 indigenous immigrants from Mexico and are the primary human resource in California's agriculture industry. Mixteco-Oaxacan native Arcenio J. López, Executive Director of the Mixteco/Indígena  
Community Organizing Project (MICOP), will explore the history, demographics and culture of this 3,000-year-old Mixteco-Oaxacan civilization and see how first-generation indigenous families adapt to the U.S. culture and social system.  
Dec. 6, 1 to 3 p.m. VACE, 5200 Valentine Rd., Ventura 
"Exodus: The Ship that Launched a Nation." 
A small passenger steamer, the SS President Warfield, which was later repurposed into the Exodus 1947, is considered the ship that launched the modern state of Israel.  
Lecturer Robert Singer, a former adjunct professor at Cal State Northridge, will discuss its fascinating story, which was turned into a 1958 international bestseller, Exodus, by Leon Uris, and later into a film by Otto Preminger. 
Dec. 9, 10:05 a.m. to 12:05 p.m., CSUCI John Spoor Broome Library Room 2325, One University Drive, Camarillo 
"Finland: History, Education and Culture" 
From the small but mighty arctic nation that shares an 800-mile border with Russia comes one of the most enviable educational systems in the world.  Finnish citizen and CSUCI Associate Professor of Education and Political Science Tiina Itkonen, Ph.D., will help students learn from an insider's view of Finland as it celebrates 100 years of independence, from its orchestral conductors to its race car drivers, politics, some very odd sports and other curiosities.