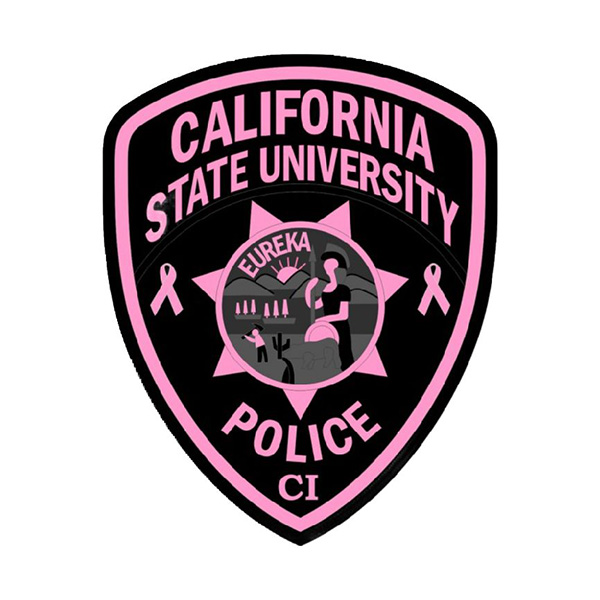 Oct. 3, 2017 — The CSU Channel Islands (CSUCI) Police Department is one of the first law enforcement agencies in Ventura County to participate in the nationwide Pink Patch Project (PPP). 
The CSUCI officers have joined some of the CSU sister campuses and about 200 law enforcement agencies nationwide who are trading their traditional patches for pink patches from Oct. 1 to Oct. 31 to promote Breast Cancer Awareness Month.
"It will allow us to open a conversation about breast cancer awareness," said Acting Lieutenant Christopher Jetton. "We're out there every day, and because we're in uniform, we're visible. People notice us."
Because the Pink Patch Project began in California, the majority of law enforcement agencies participating in the PPP are in the state.
The PPP's roots can be traced to the Seal Beach Police Department, whose officers wore pink patches on their uniforms in 2013. The Irwindale Police Department (IPD) adopted the concept and took it a step further in 2015 by wearing and selling patches to benefit City of Hope in Duarte.
In 2016, IPD Police Chief Anthony Miranda introduced the idea to the Los Angeles Police Chiefs Association and 25 local agencies joined the cause, each agency choosing a different cancer hospital or treatment center to benefit from their fundraising.
In 2016, all of the participating agencies across the nation raised a total of almost $325,000 for breast cancer research and education.
Officer Greg Reynolds and dispatcher Alexis Solis were responsible for organizing the effort on the CSUCI campus.
"Our chief heard about it and approached me," Reynolds said. "He had a sample patch from another campus. We polled our department and the response was overwhelming."
The officers will all be armed with talking points and statistics about breast cancer (one in eight women are diagnosed with it, for example) in case anybody asks why an officer's patch is pink.
CSUCI Police also plan to include breast cancer awareness as one of the topics at "Cocoa with the PoPo," a regular event the CSUCI police and Associated Students Incorporated sponsor in order to invite the campus to get to know their police personnel.
"We'll serve cocoa and pink frosted doughnuts," Reynolds said.
This year will be more about awareness, but Reynolds said next year the department plans to pair the PPP with fundraising for an area cancer treatment or research facility.
For more information about the #PinkPatchProject, visit www.pinkpatchproject.com.
Breast Cancer Facts:
Approximately one in eight women will be diagnosed with invasive breast cancer in her lifetime.
Breast cancer is the most commonly diagnosed cancer in women.
Although breast cancer in men is rare, an estimated 2,600 men will be diagnosed with breast cancer and approximately 440 will die each year.

Over 2.8 million breast cancer survivors are alive in the United States today.