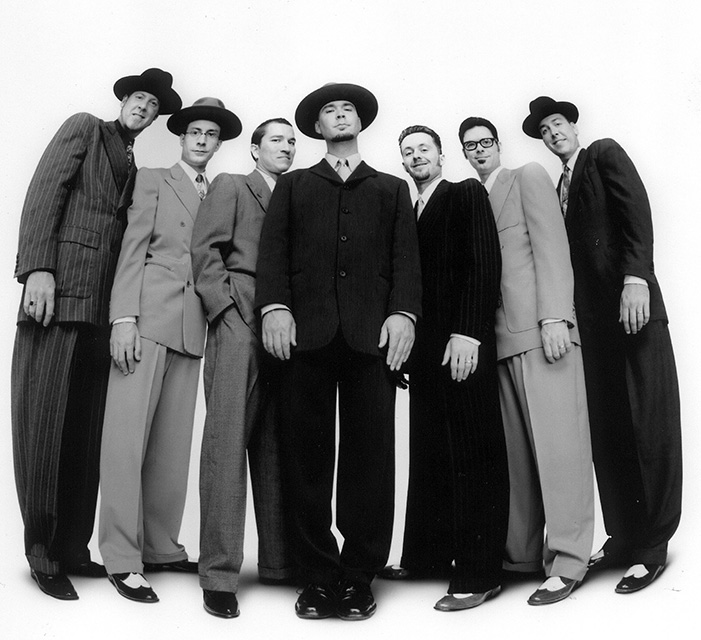 Oct. 5, 2017—Big Bad Voodoo Daddy—the homegrown swing band that played their way to international fame— will ignite the night Saturday, Oct. 14 for the CSU Channel Islands (CSUCI) President's Dinner & Concert.
The seven-piece band, which has sold millions of records and played sold-out concerts everywhere from the Hollywood Bowl to Lincoln Center, is back in Ventura County to help raise funds for CSUCI's students. The band is rooted in Ventura County and four members are from the Ventura/Santa Barbara area.
The show is from 7 to 9 p.m. in Ojai's Libbey Bowl at 210 S. Signal St. in Ojai. Tickets are $40 for general admission and $250 for VIP tickets with all proceeds going to benefit CSUCI.
Together since 1993, the band members named themselves after an autograph from blues legend Albert Collins. Long before BBVD was formed, band leader Scotty Morris of Ventura attended a Collins concert in Texas and asked Collins for an autograph.
"He signed my poster 'To Scotty, the big bad voodoo daddy.' I thought it was the greatest name I had ever heard on one of the greatest musical nights of my life," Morris said. "So when it came time to name this band, I didn't really have a choice. I felt like it was handed down to me."
To date, Big Bad Voodoo Daddy has performed 2,800 live shows, made 10 albums and had their music performed in films and on TV. Their television appearances range from "Dancing with the Stars" to "Superbowl XXXIII.
President Erika D. Beck will honor the family of John S. "Jack" Broome at the event. The Broome family will receive one of CSUCI's highest honors, the Robert J. Lagomarsino award.
Jack's son, John S. Broome Jr. and his wife, Cheryl have continued Jack's legacy of supporting the University along with Jack's daughter, Betsy Grether, who has joined CSUCI's Foundation Board.
Before the show begins at 7 p.m., VIP ticket-holders will enjoy a 4 p.m. cocktail and appetizer reception followed by a four-course dinner beginning at 5 p.m. VIP guests will dine under the oaks overlooking Libbey Bowl as Seasons Catering serves guests dishes such as braised beef short rib with creamy polenta and swiss chard.
Guest choices also include a grilled seasonal white fish with roasted cauliflower and fennel salad, watercress petals, shaved almonds, preserved lemon and almond dressing.
The vegetarian dish is a wild mushroom ravioli. Seasons has also created a specialty drink for the occasion: a prickly pear margarita.
Beer and wine is on the menu for VIP guests, courtesy of Westlake Village Inn.
CSUCI President Erika Beck will host the evening of entertainment with a reminder of the important cause behind the dinner and concert.
"The funds raised by the dinner and concert have supported scholarships and new academic programs, giving our students a chance to channel their potential and transform their lives," Beck said.
Tickets are selling fast. For VIP or general admission tickets, click on: https://www.csuci.edu/president/dinner-concert/  or call 805-437-8916.
Tickets are non-refundable. Dress is casual. Event held rain or shine. This is a non-smoking event. No outside food or alcoholic beverages may be brought into the event. No chairs or lawn umbrellas may be brought into the event. Time subject to change.
CSUCI thanks the sponsors of the President's Dinner & Concert: Rabobank; Gene Haas Foundation; Sage Publishing; Union Bank; Wells Fargo; Montecito Bank and Trust; Elise and Bill Kearny; Harrison Industries; Pacific Western Bank; TOLD Corporation; Canteen of Coastal California; Cohen Begun & Deck LLP; Leavens Ranches; Musick Peeler; Northern Trust; PCL Construction; Airborne Technologies; Ventura County Credit Union; bkm office environments; Booz Allen Hamilton; California Resources Corporation; CBIZ+MHM,LLC; Julie and Doug Kays; Staples Construction; Ventura Rental Party Center; Darvik Productions; Jordano's Inc.; 95.1 KBBY; Pacific Coast Business Times; Seasons Catering; Sysco; V3 and Westlake Village Inn/Stonehaus.