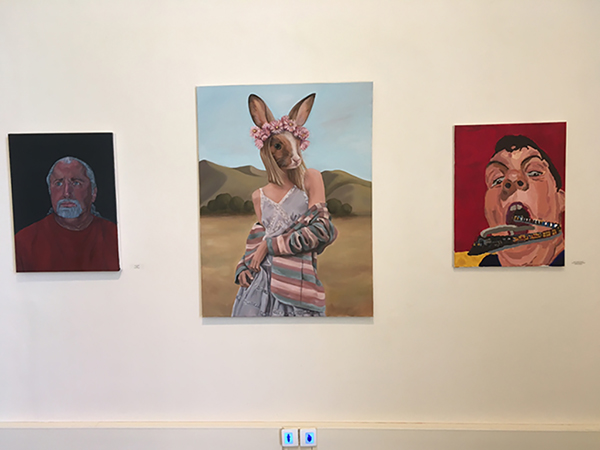 Camarillo, Calif., April 19, 2017—Artwork from 300 CSU Channel Islands (CSUCI) students is on display through May 12 at Napa Hall in an exhibit called "Sea Lions Say: Art Art."
"Every year we have a contest among students to find a title for the show," said Art Lecturer Christophe Bourély, explaining the whimsical title. "We tell them in advance, the crazier, the better."
Bourély and organizers expect more than 1,000 guests for the "Sea Lions Say: Art Art" reception, which is Saturday, April 22, from 3 p.m. to 6 p.m. at Napa Gallery on the CSUCI campus.
The annual student art exhibit is the grand finale of the semester with more than 1,000 pieces of art in all sorts of media, including painting, sketching, sculpture, photography digital and video art.
"It's our last show of the year," Bourély said. "It's a big thing to students as well as to faculty. It's a time when students are rewarded for their efforts."
Students who took any Art or Art History class this semester will be contributing at least one piece that will hang in Napa Hall. The Napa Main Gallery will feature work from the Art Department's upper division classes, with each instructor choosing three pieces per class.
"We have a room where we will project some of our better Art History PowerPoints," Bourély said. "Even pieces from the introductory classes are being shown and some of the pieces are from non-Art majors."
Guests' imaginations will be treated to all works serious, silly and everything in between.
"There's a great sculpture in the Main Gallery that looks like an inverted tornado of hybrid animals caught up in the twister," Bourély said. "From the Island of Dr. Moreau."
There's an oil portrait of a woman who is half-deer, half-woman, a vertical graphic design bearing the word "Coincidence" alongside a gallery pillar and a ceramic octopus, to name just of few pieces in the eclectic collection.
There will be buffet refreshments, music and one art piece that will be consumed at the end of the reception, Bourély said, adding that the student had not yet provided him with the details, but it promises to be a unique experience.
"I think this year's show is absolutely fantastic," Bourély said. "We just get better and better."
# # #
About California State University Channel Islands
CSU Channel Islands (CI) is the only four-year, public university in Ventura County and is known for its interdisciplinary, multicultural and international perspectives, and its emphasis on experiential and service learning. CI's strong academic programs focus on business, sciences, liberal studies, teaching credentials, and innovative master's degrees. Students benefit from individual attention, up-to-date technology, and classroom instruction augmented by outstanding faculty research. CI has been designated by the U.S. Department of Education as a Hispanic-Serving Institution and is committed to serving students of all backgrounds from the region and beyond. Connect with and learn more by visiting CI's Social Media.