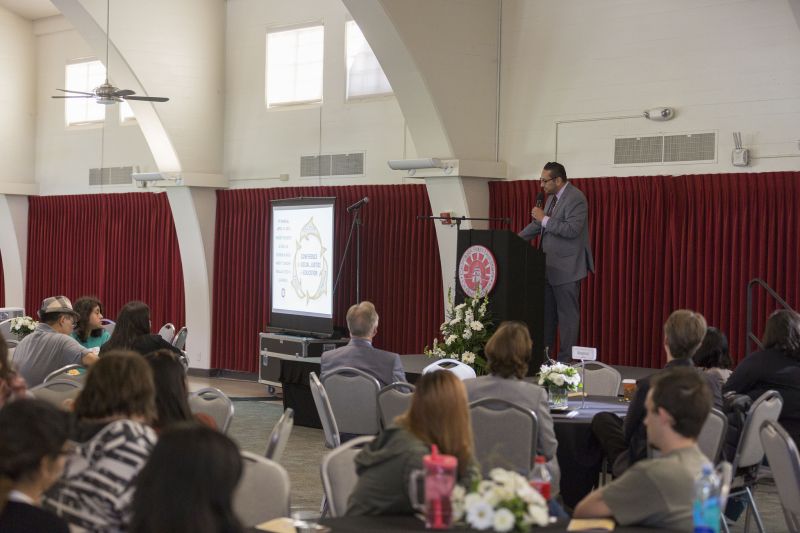 Camarillo, Calif., March 20, 2017 — Homework may be an outdated notion. Holding underperforming students back a grade may set them up to fail. Maybe students shouldn't be grouped according to age.
Long-held concepts in education will be challenged during CSU Channel Islands (CSUCI)'s 9th Annual Conference for Social Justice in Education.
Educators, administrators, parents and the public is invited to participate in the conference, which is free and will be held Saturday, April 1 from 8 a.m. to 3 p.m. in the Grand Salon on the CSUCI campus. A light lunch will be served and parking will be provided.
"We're trying to talk about doing the right thing," said Assistant Professor of Educational Leadership Charles Weis, Ph.D. "It's reflecting on what we're doing in school that may not help kids. Like retention, when we hold kids back in school, there is a better chance they will drop out. And homework. It has a very small effect and we should be doing things that have a large effect."
The theme of this year's conference is "First Do No Harm: Challenging Laws, Policies and Practices that Undermine Social Justice in Education."
The keynote speaker for the conference is David Berliner, Ph.D., who is no stranger to questioning the status quo. His address is titled: "Myths (and Lies) that Deceive the Public and Harm American Public Education."
Berliner is Regents' Professor of Education Emeritus at Arizona State University and has taught at the Universities of Arizona and Massachusetts, at Teachers College and Stanford University, and at universities in Canada, Australia, The Netherlands, Denmark, Spain, and Switzerland. 
Berliner, who has won numerous awards, is a member of the National Academy of Education, the International Academy of Education, and a past president of both the American Educational Research Association (AERA) and the Division of Educational Psychology of the American Psychological Association (APA).
He has authored more than 200 articles and publications, the most recent entitled: "50 Myths and Lies that Threaten America's Public Schools."
It was co-authored with Gene V Glass and students, and published in March, 2014.
"He is fascinating and he is a contrarian," Weis said. "For 30 years, he has been asking educators to question our common practices and beliefs and makes us ask ourselves 'are we helping our students learn?'
"He'll also tick off some people. He will challenge what we think we know."
Berliner's keynote address will kick off the conference, after which participants will break into groups to discuss the subjects that most interest them, and network with colleagues and parents. Weis, who is one of the organizers of the event, says he hopes each participant is inspired to act to make the educational system the best it can be.
To RSVP to the event visit: go.csuci.edu/soju.
# # #
About California State University Channel Islands
CSU Channel Islands (CI) is the only four-year, public university in Ventura County and is known for its interdisciplinary, multicultural and international perspectives, and its emphasis on experiential and service learning. CI's strong academic programs focus on business, sciences, liberal studies, teaching credentials, and innovative master's degrees. Students benefit from individual attention, up-to-date technology, and classroom instruction augmented by outstanding faculty research. CI has been designated by the U.S. Department of Education as a Hispanic-Serving Institution and is committed to serving students of all backgrounds from the region and beyond. Connect with and learn more by visiting CI's Social Media.