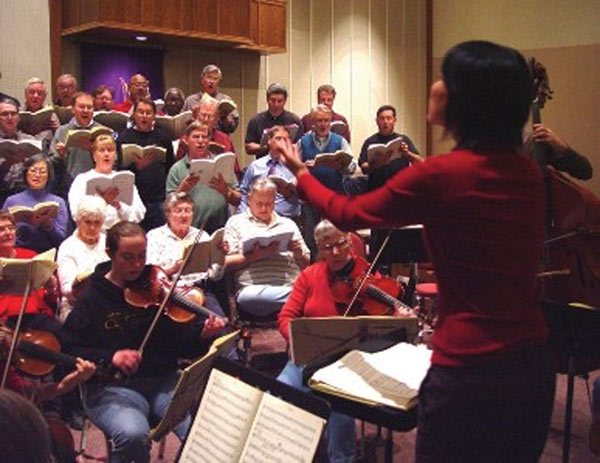 CI Choir
Camarillo, Calif., Jan. 5, 2017 — The CSU Channel Islands Choir director is auditioning experienced singers to perform one of the most mysterious pieces in musical history: Mozart's Requiem.
Choral director KuanFen Liu, who holds a doctorate in performing arts, is holding auditions by appointment the week of Jan. 9 through 13, 2017. The choir is a combination of campus and community members, so all experienced vocalists are welcome to schedule an audition by calling 805-278-0375 or by emailing Liu at downbeatplus@gmail.com.
Wolfgang Amadeus Mozart was in the process of composing the Requiem Mass in D minor in Vienna, Austria in 1791 when he died before the piece could be finished.
An eccentric count had commissioned the piece in tribute to his late wife, most likely with the intention of passing the work off as his own, but Mozart died on Dec. 5, 1791 without having completed the piece.
Mozart was gravely ill at the time and many historical accounts report a haunting phrase from Mozart as he wrote his final piece: "I fear I am writing a requiem for myself."
Mozart's widow, Constanze, had one of Mozart's students, Franz Xaver Süssmayr, finish the composition.
The CSU Channel Islands Choir's Spring Concert will be performed both at the new Rancho Campana Performing Arts Center in Camarillo, and at the First United Methodist Church in Ventura in May.
Offered as part of the University's Performing Arts program, the choir meets every Monday evening from 7 to 9:30 p.m. in Malibu Hall Room 140 on the CI campus. The first rehearsal of the semester is set for Monday, Jan. 23, 2017.
# # #
About California State University Channel Islands
CSU Channel Islands (CI) is the only four-year, public university in Ventura County and is known for its interdisciplinary, multicultural and international perspectives, and its emphasis on experiential and service learning. CI's strong academic programs focus on business, sciences, liberal studies, teaching credentials, and innovative master's degrees. Students benefit from individual attention, up-to-date technology, and classroom instruction augmented by outstanding faculty research. CI has been designated by the U.S. Department of Education as a Hispanic-Serving Institution and is committed to serving students of all backgrounds from the region and beyond. Connect with and learn more by visiting CI's Social Media.