May 22, 2017 — Santa Rosa Village student housing on the CSU Channel Islands (CSUCI) campus has earned Leadership in Energy and Environmental Design or (LEED) Gold status certification.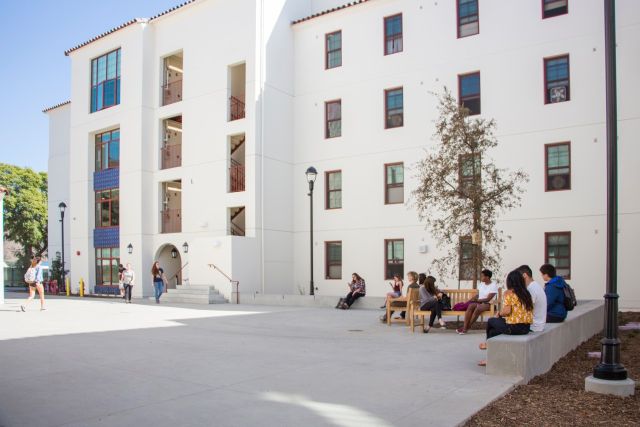 LEED certification is a rating system devised by the United States Green Building Council (USGBC) to evaluate the environmental performance of a building. LEED certification is a way to encourage more transformation toward green building across the nation.
LEED Gold status is considered a superior ranking. The highest is LEED Platinum, followed by Gold and then Silver.
"It demonstrates our commitment to sustainability and our desire to continue to be responsible stewards of the environment where we live, work and learn," said Assistant Vice President for Facilities Services John Gormley, Fellow of the American Institute of Architects (AIA).
The approx. 118,000 square-foot pair of buildings has 315 bedrooms for 600 beds, outdoor gathering areas, energy efficient lighting, heating, limited cooling, efficient water usage, and controlled storm water drainage.
Project Manager and Associate Architect Terry Tarr, AIA, LEED Accredited Professional (AP), worked closely with a company called SCB, which has LEED AP staff to create the most financially and energy efficient buildings possible within the available budget and site constraints.
Each bedroom has a ceiling fan but only about 20,000 square feet of common area is air conditioned in order to keep energy usage low. There is LED lighting throughout, low-flow toilets and shower heads, and metering on the faucets so they shut off after a few seconds.
A detention basin that stores rainwater helps with runoff after a storm. A perforated pipe under the basin lets rainwater filter into the ground rather than running off immediately into the ocean.
Tarr said the process of achieving LEED status took three years as the USGBC assessed the design and construction and completion of Santa Rosa Village, but it was worth it.
"There has been a substantial push for sustainability throughout California," Tarr said. "Universities should be on the leading edge. We have a plethora of good thinking minds on a University campus, so we can."