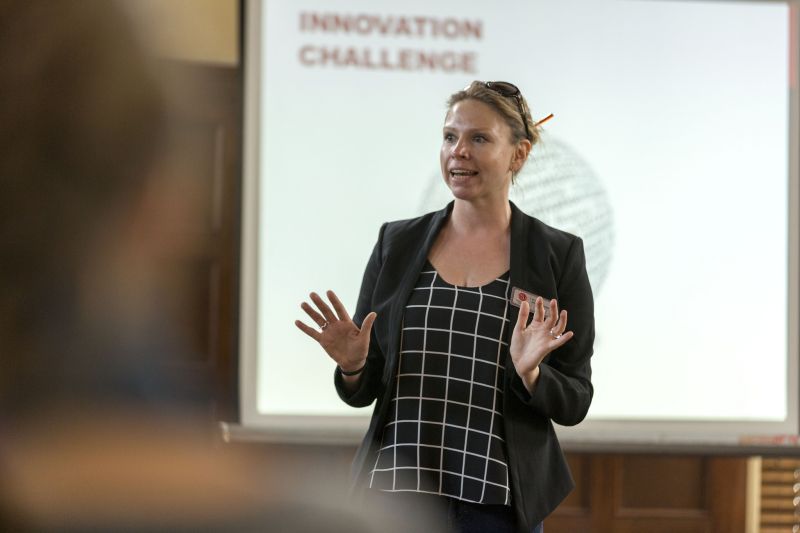 Camarillo, Calif., March 14, 2017 — About 60 middle school girls ages nine to 12 will race the clock to build a prototype during a STEM Innovation Challenge at CSU Channel Islands (CSUCI) on Saturday, March 18.
Sponsored by the Business & Technology Partnership (B&TP), the STEM (science, technology, engineering, math) Innovation Challenge for Ventura County middle school girls is coordinated by CSUCI's Entrepreneurship & Small Business Institute (ESBI).
"The challenge is an excellent way to provide mentorship to the girls by having them work in teams with high school and college students," said Associate Professor of Marketing Susan Andrzejewski, Ph.D., Executive Director of the ESBI. "Also, we have a team of top-tier judges involved in the competition to provide additional mentorship to girls interested in pursuing STEM related fields."
The STEM Innovation Challenge will be from 9 a.m. to 12:30 p.m. in the Grand Salon on the CSUCI campus.
The girls will be split into teams and each team will be provided with the same materials, which the girls won't see until moments before the rally begins.
During the past three innovation challenges on campus, teams have been provided with materials like plywood, glue, balloons, Astroturf and duct tape, to name just a few examples. Then they will be given three hours to build something useful and innovative that can serve a common human need. Two carpenters will be available to help them turn their design into a prototype.
In the past, when the innovation challenge was held for college students, the students were asked to build something to clean up ocean trash one year and a prototype for a house of the future another.
After describing the type of item the girls will be designing, Andrzejewski will give them a "ready, set, go!"
CSUCI has held three innovation challenges in years past, but this is the first STEM Innovation Challenge for middle school girls.
"Members of the Business & Technology Partnership took part in this year's event, and thought this might be a great way to bridge what we do here on campus with girls in the local community," Andrzejewski said.
Girls from middle schools in Oxnard and Port Hueneme are signed up for the event, and they will be mentored by girls from area high schools.
Andrzejewski said she hopes it's a morning of fun and creativity for the girls, but she also hopes the experience inspires some of them to consider pursuing a STEM career. National statistics show women make up half of the total U.S. college-educated workforce, but only 29 percent of the science and engineering workforce.
"Girls should feel free to pursue their own interests and passions," Andrzejewski said. "Events such as the STEM Innovation Challenge allow girls the chance to explore STEM fields in a fun and interactive learning environment with the assistance and support of mentors in these fields."
The three judges for the STEM Innovation Challenge will be: Susan Pan, Director of the Triunfo Sanitation District; Marta Alvarez, President of Yemma Consulting Engineers and Patricia Handfinger, retired STEM teacher and member of the Osher Lifelong Learning Institute (OLLI).
The top three teams will receive medals of achievement and all the teams will receive recognition for their participation.
# # #
About California State University Channel Islands
CSU Channel Islands(CI) is the only four-year, public university in Ventura County and is known for its interdisciplinary, multicultural and international perspectives, and its emphasis on experiential and service learning. CI's strong academic programs focus on business, sciences, liberal studies, teaching credentials, and innovative master's degrees. Students benefit from individual attention, up-to-date technology, and classroom instruction augmented by outstanding faculty research. CI has been designated by the U.S. Department of Education as a Hispanic-Serving Institution and is committed to serving students of all backgrounds from the region and beyond. Connect with and learn more by visiting CI's Social Media.