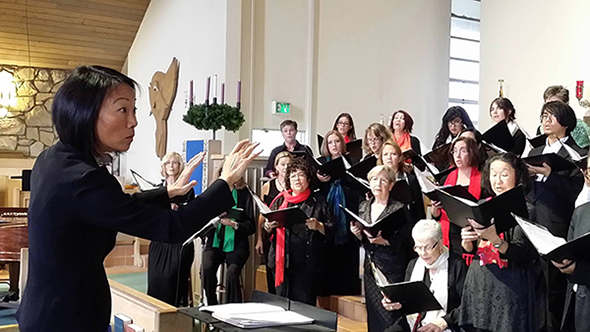 Nov. 16, 2017 — William Shakespeare, Percy Bysshe Shelley and Ursula Wood are among the British poets who will be celebrated during the CSU Channel Islands (CSUCI) Choir winter concert entitled: "The Poet Sings: Songs and Poetry of the British Isles."
Concerts are Dec. 4 at 7 p.m. in Malibu Hall on the CSUCI campus and again Dec. 10 at 3 p.m. at St. Columba's Episcopal Church at 1251 Las Posas Rd. in Camarillo. Performances are free, but donations are appreciated.
The performance will interweave poetry readings and musical selections from the Medieval era to the 20th Century.
"Words alone are expressive, but combined with music goes to a much deeper level," said CSUCI Choir director KuanFen Liu, who holds a doctorate in Musical Arts (DMA).
Musical selections will include carols, madrigals and folksongs such as the "There is No Rose", "In the Bleak Midwinter",  "The Blue Bird" and a special composition of "Three Shakespeare Songs" by R. Vaughan Williams, an English composer born in 1872.
"Some poems and songs are more cheerful, some are witty, some are darker," Liu said.
Included in the performance is "Three Madrigals" by composer/performance artist Emma Lou Diemer, Professor Emeritus at UC Santa Barbara, and original poems from CSUCI students.
By bringing music and poetry together, Liu hopes the program helps the audience gain a deeper appreciation and understanding beyond what each art form offers on its own.
The CSUCI Choir, about 55 strong, is comprised of students, alumni and members of the community and auditions are held prior to the beginning of each semester. 
The choir meets weekly as a class as part of the University's Performing Arts program. It offers participants exposure to a wide range of musical genres and periods, as well as the opportunity to perform publicly on campus and throughout Ventura County. For more information, contact Molly Pei, 805-218-2042 or visit the CICA website at www.cicachoir.org.
Donations made at each performance help support the choir and its sponsor, Channel Islands Choral Association (CICA), a 501(c) (3) organization that serves Ventura County and brings choral music education and performance to the local schools and community.
Limited parking is available on campus with the purchase of a $6 daily permit; follow signs to the parking permit dispensers. Free parking is available at the Camarillo Metrolink Station/Lewis Road with bus service to and from the campus.  Riders should board the CSUCI Vista Bus to the campus; the cash-only fare is $1.25 each way. Buses arrive and depart from the Camarillo Metrolink Station every 30 minutes from 7 a.m. to 10 p.m. Monday through Friday. For exact times, check the schedule at www.goventura.org.