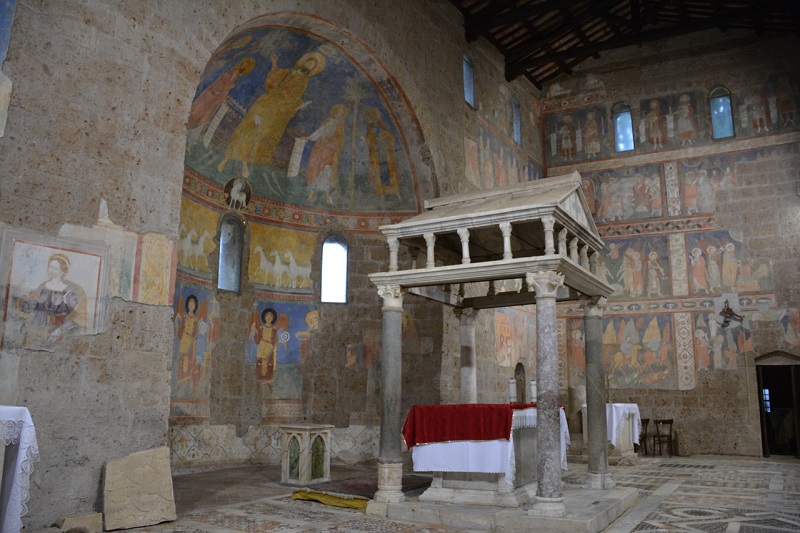 Feb. 9, 2018 — CSU Channel Islands (CSUCI) Associate Professor of Art Alison Perchuk, Ph.D. first became enchanted with medieval history when she was 10 years old and read John Steinbeck's "The Acts of King Arthur and his Noble Knights."
"I just became very interested in the romance of the medieval era, the knights and ladies," Perchuk said. "It was very much the way a 10-year-old would structure this ideal of a quest—a knightly quest."
But Perchuk's love of the Middle Ages wasn't just a childhood romance. She wove it into her research, which recently earned her one of the most coveted awards in the field of medieval studies, the Van Courtlandt Elliott Prize.
Established by the Medieval Academy of America in 1971, the prize is awarded annually for a first article in the field of medieval studies that is published in a scholarly journal and judged by a selection committee to be of outstanding quality.
Perchuk's article concerned an overlooked 12th-century monastery clinging to the side of a hill outside of Rome, where most art historians focus their efforts. Built in 1125, it's called the Monastery of Elijah, but for most of its history it has been used only as a church.
Perchuk's winning piece, "Schismatic (Re)Visions: Sant'Elia near Nepi and Sta. Maria in Trastevere in Rome, 1120-1143" was selected over 11 other well-researched submissions from around the country.
"In this gracefully interdisciplinary article, Perchuk draws on diverse material and textual sources to recover a lost history," read a passage written by the three judges.
Perchuk's piece was an example of how history is written by the victors. And often that history is reflected in church architecture and paintings. Early 12th-century popes Calixtus II and Anacletus II used church architecture to underscore their legitimacy, but in the case of Anacletus, this history was erased when his competitor, the rival pope Innocent II, gained recognition as legitimate.
Perchuk discovered the church years ago while on a trip to Italy. Despite being buffeted by the political and religious currents of the centuries, the stonework and painting remained enchanting, and she devoted years to researching this underdog in the world of art history.
"There was something about this church that struck me as being very beautiful and romantic, just sort of nestled down on the side of the ravine. I could hear the rushing of a little river. I thought it was a much more interesting monument than prior art historians made it out to be," she said.
Van Courtlandt Elliott was Executive Secretary of the Medieval Academy and Editor of academy publication, the Speculum, from 1965 to 1970. The prize that bears his name consists of a certificate and a monetary award of $500.