Camarillo, Calif., Nov. 19, 2018 — CSU Channel Islands (CSUCI) students, faculty, staff and the public are invited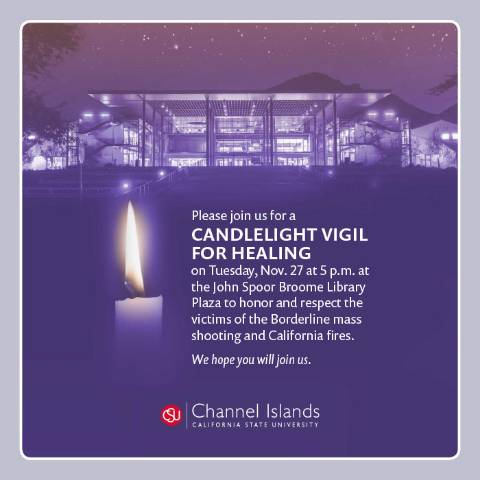 to gather at 5 p.m. on Tuesday, Nov. 27 for a candlelight vigil in honor of those who lost their lives in the Borderline shooting and the California wildfires.
"At times like these, we must come together as a community to bear our collective grief and comfort and offer support to one another," said President Erika Beck. "Our hearts are aching for the victims of these tragedies and we extend our deepest condolences to those affected and their families.
Borderline Bar & Grill is a place frequented by local college students and there were a number of CSUCI students present that night. The students are all safe, though many of them lost friends in the tragedy.
Additionally, numerous students, faculty and staff were impacted by both the Hill and Woolsey fires.
"We are aware of the trauma members of our campus community have endured, and the entire campus is embracing them with support, solace and hope," Beck said. "This gathering is one way we can honor those who have been forever changed by these unfathomable events."
The gathering will take place at the John Spoor Broome Library Plaza.