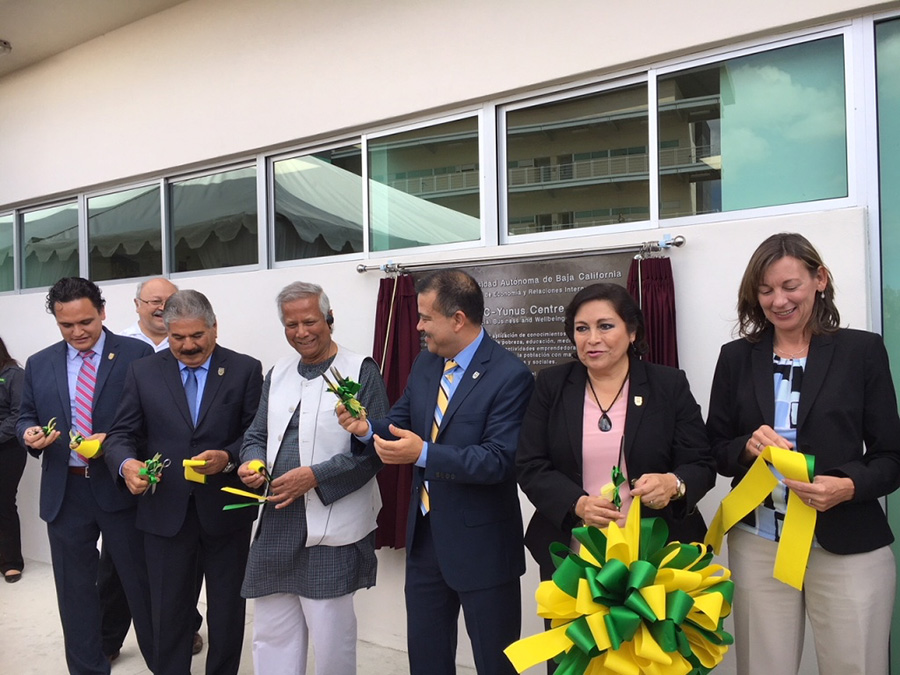 Nov. 7, 2018 — After hearing about CSU Channel Islands (CSUCI)'s California Institute for Social Business (CISB), educators from the Universidad Autonoma de Baja California (UABC) asked for help setting up a social business center of their own.
"They had heard about the CISB and called us about 18 months ago," said CISB Director and Professor of Political Science Andrea Grove, Ph.D. "They invited me to speak to the faculty and students. We had a mini-conference and they presented a little about what they've been doing in Tijuana with unemployed people who have become entrepreneurs."
In October, Grove returned to Mexico to celebrate the opening of the Yunus Centre for Social Business and Wellbeing (YSBC), and made plans to deepen the connection between YSBC students and students at CSUCI.
When Grove first visited the UABC, the Economics and International Relations faculty at UABC spoke about the collaboration among faculty, students and government agencies in northern Baja to promote entrepreneurship among the unemployed. The group then made a visit to a local business started with the help of the UABC.
Helping those in poverty become entrepreneurs with so-called "micro-financing" is central to the social business model developed by Nobel Peace Prize winner Muhammad Yunus, who helped found the CISB at CSUCI.
"Poverty is the absence of all human rights," Yunus has said. "The frustrations, hostility and anger generated by abject poverty cannot sustain peace in any society. For building stable peace we must find ways to provide opportunities for people to live decent lives."
Grove connected UABC with Yunus, who runs the Yunus Centre in Bangladesh, and the UABC was able to develop its own center. Yunus was also present at the opening in Tijuana, just as he was present at CSUCI for the opening of the CISB in 2010.
The next step in the collaboration is what Grove is calling a "cross-border classroom," if we can find funding to keep our work going.
"We hope to have a joint class between students in Tijuana and students at CSUCI," Grove said. "Some classes will be taught by our professors and some sessions will be led by their professors. The idea is being piloted in a smaller way with our Social Business Planning course this fall, which Assistant Professor of Business Management Maria Ballesteros-Sola is running and coordinating with a UABC professor.
CSUCI has a Social Business minor, so the Tijuana students will benefit from that curriculum, and in turn, Grove believes CSUCI will learn a lot from the impact UABC students are having in disadvantaged areas of Tijuana.
"The ultimate goal in our collaboration is to create a similar program for communities in need in our area, beginning in Oxnard and working with some of CSUCI's community partner organizations," Grove said. 
As far as the mechanics of the cross-border classroom, plans are to use video-conferencing and exchanges. Most of the UABC speaks English, but Ballesteros-Sola is bilingual, so there will not be a language barrier.
Grove said if the CISB receives funding, she ultimately hopes to have a broader collaboration with other campus communities such as the Center for Community Engagement; the Educational Opportunity Program; Veterans' Affairs; and academic programs like Sociology, Chicana/o Studies and Global Languages and Cultures.
To learn more about CSUCI's California Institute for Social Business visit: https://socialbusiness.csuci.edu/.