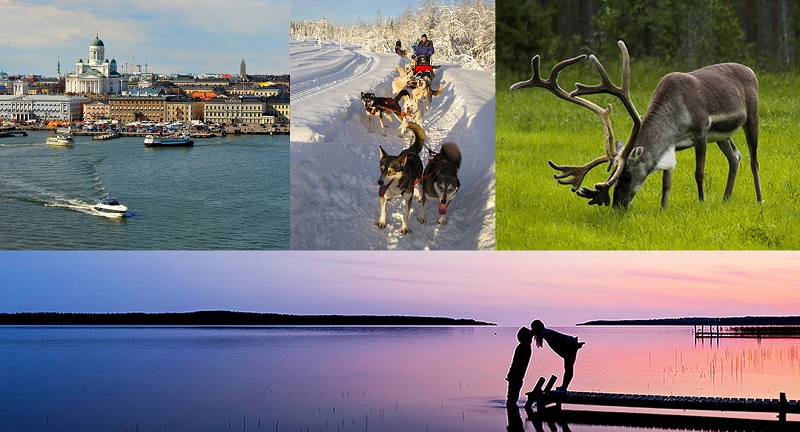 Jan. 11, 2018—The Finnish people drink more coffee per capita than any other people in the world. Finland holds world championships for mosquito catching. Finland has a 100 percent literacy rate. And on Finland's "National Sleepyhead Day," the last person in the household to wake up is thrown in the water.
These are just a few fun facts about Finland, a small but mighty country that celebrated 100 years of independence on Dec. 6, 2017.
In honor of this milestone, CSU Channel Islands (CSUCI) is hosting an exhibition in the Broome Gallery called "History and Mystery: Finland at 100."
Facilitated by Professor of Art and Broome Library Coordinator Irina D. Costache and curated by Professor of Art Liz King, the exhibit contains a wide variety of Finnish literature and artifacts owned by Finnish native Tiina Itkonen, Associate Professor of Education & Political Science. Itkonen wanted to share her culture with her adopted country, so she came up with the idea of the centenary exhibition.
"For me, it was a cultural and emotional thing to have my country turning 100," Itkonen said. "It's a huge sense of pride especially for outer Fins, who are Fins who have been abroad for a long time. We've had events like this around the world."
An opening reception will be held on Jan.25 at 5 p.m. in the Broome Gallery, which is on the second floor of the John Spoor Broome Library. The exhibition will run through Feb. 12.
CSUCI Provost Geoff Chase, who was a Fulbright Scholar in Turku, Finland, will give a welcome address followed by words from the Finnish Consul General Stefan Lindström.
Finnish music played at the reception will be to underscore the world-renowned Sebelius Academy in Helsinki, which trains some of the finest conductors and musicians in the world. It is named for Finnish composer and violinist Jean Sibelius, often credited with giving Finland a sense of national identity during its struggle for independence from Russia with his composition "Finlandia."
Also on display will be Finnish pottery, musical instruments, metal ware, photos of architecture and Marimekko fabric, known for its environmentally safe production process, and innovative designs.
"As a designer and an artist, I find Finnish design inspiring and amazing in its simplicity," King said. "The Marimekko fabric has clean, simple and colorful designs. A lot of great architects and designers come from Finland."
King thinks putting a spotlight on a country that straddles Russia and European Union gives CSUCI students and the public a chance to see how the impact this small country has had on American culture.
"A lot of everyday items are made by Finnish people," King said. "They developed Nokia cell phones, Angry Birds, and Fiskar scissors, which you may have in your kitchen."
Itknonen said she is perhaps most proud of Finland's educational system, in which teaching is a well-paid and sought-after profession and yields a country with a literacy rate of 100%, a testament to the power of investing in people.