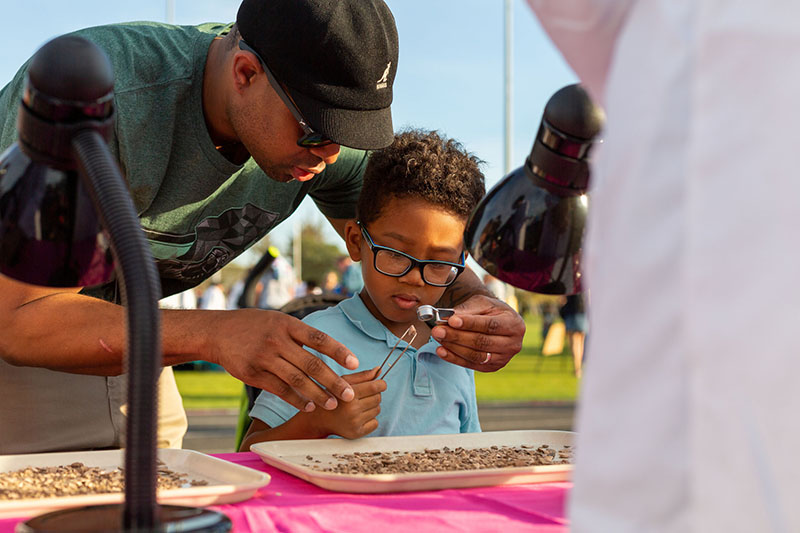 Dec. 14, 2018 — A recently-released White House five-year strategic plan to promote science, technology, engineering and math (STEM) learning indicates that Ventura County is already ahead of the curve, thanks to the CSU Channel Islands (CSUCI)-led Ventura County STEM (VC STEM) network. 
Part of the White House strategic plan is to prioritize the creation of so-called STEM ecosystems, essentially communities that encourage collaboration between business, education, government, non-profits, and STEM expert organizations, to promote collaboration and action to ensure all Pre-K through 12th grade students benefit from high-quality STEM learning opportunities.
Ventura County is already one of the original 27 ecosystems selected in 2015, thanks to a collaboration with Amgen Foundation that allowed the launch of the VC STEM network in 2014.
VC STEM is a network of businesses, schools, museums, non-profit institutions and other entities dedicated to expanding and enhancing STEM education in Ventura County.
For the fifth time the philanthropic arm of the Thousand Oaks-based multinational biopharmaceutical company has supported VC STEM.
"As a founding funder of VC STEM, the Amgen Foundation is proud of the work this collaborative has accomplished to date and excited to be a part of its future," said Eduardo Cetlin, president, Amgen Foundation. "We recognize that addressing the global STEM gap requires partnerships between industry, academic institutions and nonprofit organizations to create greater capacity for innovation – and that is precisely what VC STEM is doing for our community."
Amgen Foundation's gift enables VC STEM to ignite more young students' interest in STEM careers, according to VC STEM Director Phil Hampton, a Professor of Chemistry at CSUCI.
"We encourage conversations about how all students can gain access to a STEM education regardless of their zip code," Hampton said. "High quality STEM is not uniform across our educational system."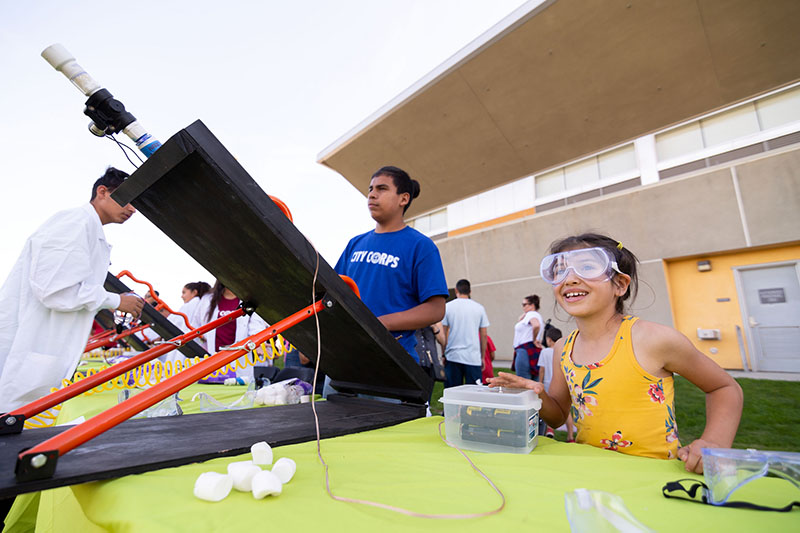 VC STEM serves all Ventura County students from pre-kindergarten through post-graduate studies (P-20) with a multitude of partnerships that have resulted in expanded opportunities for STEM learning across the county.
One example is the Bedtime Math initiative, which was promoted by VC STEM. Parents use a Smart phone application to do five minutes of math puzzles with their kids every night to help them find fun with the subject and improve their readiness for school.
Another example is VC STEM's partnership with Girls Who Code, a nationwide nonprofit organization that aims to support and increase the number of women in computer science. The network has been encouraging afterschool programs to launch Girls Who Code clubs at their sites through this partnership.
The network also supported Oxnard Union High School District's STEM Day for Girls by providing female STEM professionals to serve as mentors at this mentoring event that engaged 200 middle school girls. The girls participated in STEM workshops under the guidance of scientists from Amgen, CSUCI, Naval Base Ventura County and other organizations. 
Nominations are now open for another VC STEM achievement, thanks to support from the Amgen Foundation: the Golden Gear Awards.
The Golden Gear Award program recognizes Ventura County preschools, middle schools, elementary schools, and other educational programs who have implemented truly innovative STEM programs.
Hampton said plans for 2019 include a "Junior Scientist" program in which four CSUCI faculty members will direct hands-on research projects in eight middle school classrooms.
One of the projects being proposed involves students growing edible insects (e.g. meal worms) and studying the effect of temperature and food source on their growth.
"Kids love bugs," Hampton said.
The STEM Ecosystems initiative was launched by the STEM Funder's Network STEM Learning Ecosystems Initiative, part of the Clinton Global Initiative. Locally, the project was launched by the Ventura County P-20 Council.
To learn more, click on: www.vcstem.org.