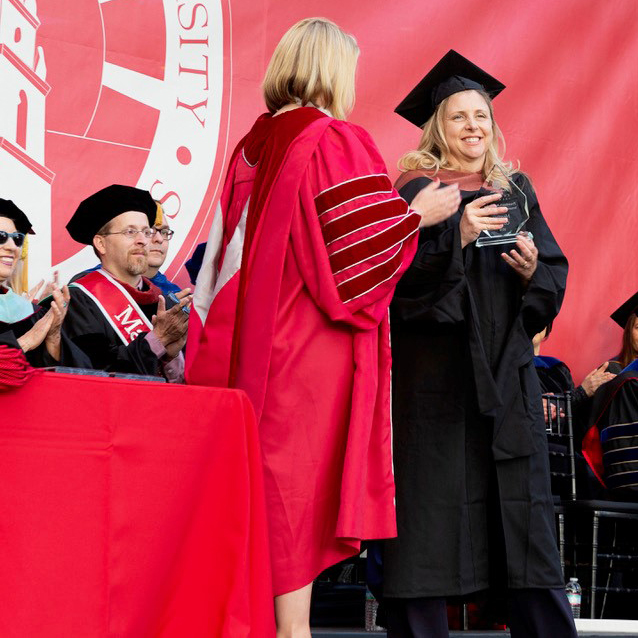 May 18, 2018 — She pulls together the campus-wide "Arts Under the Stars" program every year and still finds the energy to inspire her students by dancing onstage with singer Selena Gomez at the 2017 American Music Awards.
And that's just a fraction of what Assistant Professor of Performing Arts Heather Castillo accomplished at CSU Channel Islands (CSUCI) during the 2017/2018 academic year.
In recognition of her imaginative, inclusive and enthusiastic contributions to CSUCI's Performing Arts dance program, Castillo was awarded the 2018 President's Award for Innovation in Teaching and Learning, which is presented at the end of each academic year.
Castillo was thrilled and surprised but was quick to point out that without collaboration and student ideas, "Arts Under the Stars" (AUTS) would not have blossomed into a two-night, multimedia, multi-disciplinary gala with three stages and art installations — one of which was on display at the Getty Museum for a week.
"This year's show was easily the best we've ever done," Castillo said. "I've been doing it for seven years and we've grown it every year. It started in 2011 as a little dance concert on the grass with three dance classes performing. Every year the students come in with new ideas and I don't tell them 'no,' I tell them 'figure it out.'"
President Erika D. Beck praised Castillo's contributions from the changes she made to the curriculum in Dance History to the large events such as "Arts Under the Stars."
"By introducing new voices and different perspectives into the curriculum, you are creating more avenues for our students to see themselves as dancers and performers," Beck said in a congratulatory letter to Castillo. "Likewise, the success and impact of 'Arts Under the Stars' is impressive. You have developed a novel way of integrating research, performance and human expression bringing our entire community together."
The show this year took place at El Dorado Park on campus on May 4 and 5 with singing, dancing, instrumentals, video presentations, cultural demonstrations, art installations, poetry and even a surprise performance from President Beck.
The performances are a colorful explosion of student, faculty and staff talent expressing research and/or social commentary on subjects ranging from diversity to the environment to mental health. 
Performing Arts is at the foundation of the show, but every discipline is welcome to create a performance including Computer Science, English, Nursing, Mathematics, Environmental Science & Resource Management, Education and Communication to name just a few academic programs. 
"Innovation for AUTS has evolved from a series of small risks, layered, tangled and grown into an innovative new model and approach," Castillo said. "The biggest thing I want to impress upon my students is that if you try something and it doesn't work the way you wanted it to, the world will not swallow you up and you will be OK."
Castillo took a risk of her own in the fall, auditioning with hundreds of other dancers for one of eight spots on the American Music Awards. She was cast and performed during the live 45th American Music Awards on Nov. 19. She and seven other dancers reenacted the aftermath of a car crash as Gomez debuted "Wolves," her collaboration with music producer Marshmello.
Castillo tried out for the show so she could once again immerse herself in the audition and performance process and build the skills she strives to teach her students.
"Heather Castillo goes above and beyond for her students," said one of Castillo's Performing Arts students, Cristy Rodriguez Rivas. "She is constantly exploring new ways to update her classes and classroom to facilitate all kinds of learning. She gets to know each of us and seeks to bring us up as creators of art that is not only expressive, beautiful, and professionally competitive – but mindful of our world." 
The President's Award includes a $1,000 cash stipend and an opportunity to speak at CSUCI's Convocation in the fall.