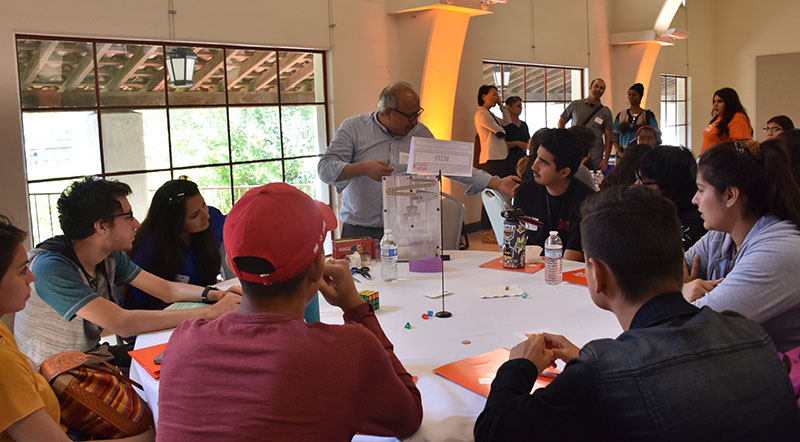 Dec. 20, 2018 — The journey to a university diploma doesn't always mean a straight four-year shot through a single college. Finances, family obligations or a number of other reasons compel millions of students to choose two years at a community college first before transferring to a four-year university like CSU Channel Islands (CSUCI).
The steps CSUCI has taken to streamline the process for transfer students prompted MONEY magazine to rate CSUCI the 4th best college in the nation for transfer student success.
MONEY selected colleges from the 727 institutions listed in their 2018 Best Colleges ranking, eliminating colleges that ranked in the bottom half and any where transfer students in the fall of 2017 comprised less than 15% of enrollment.
Unlike most of the other colleges in the top 10, transfer students can enroll at Channel Islands starting in the fall or spring semester. More than 50% of students who enrolled in the fall of 2017 were transfer students, the largest share of any of the colleges in MONEY's top 10.
Associate Vice Provost for Student Success & Community Engagement Amanda Quintero, Ph.D., credits the University's transfer success to collaboration among the regional community colleges and CSUCI.
"We are in year four of a five-year regional initiative called 'Aligning to One Degree,' which we started in 2014," Quintero said. "We're working with Moorpark, Oxnard and Ventura Community Colleges and Santa Barbara City College. What we did was build an intentional partnership with the common goal of building a regional transfer pipeline."
One of the most important issues to address was credit transfer. A 2014 report from the National Center for Education Statistics found that students who transferred lost an average of 13 credits. And a recent U.S. Government Accountability Office study showed that students who transferred between public institutions of higher learning lost an estimated 37% of their credits.
Through 'Aligning to One Degree' the community colleges and CSUCI worked to align their curriculum requirements so that credits transferred smoothly while also assuring that students got their foundational classes at the community college.
The partners created an annual transfer success summit for all community college and CSUCI faculty to determine what the barriers and challenges were from the teaching perspective and how they could work together to create a seamless transfer pipeline. The regional transfer success fellows work together for a year before a new team of faculty fellows is created.
"It's the communication and relationship building that's really improving the practice," Quintero said. "We have faculty coming together by discipline across institutions and saying, 'What are the challenges and what are the areas where we can work together?'"
The Sociology and Communication programs have a high transfer rate, so mini-grants were arranged for each program so that faculty could make their academic program seamless for transfer students.
CSUCI hosts an annual day-long Transfer Success Student Academy in the fall in which new transfer students spend a day that includes sessions on financial aid, meetings with faculty from each major to discuss career strategy and information on the Associate Degree for Transfer (ADT) and the Transfer Admission Guarantee (TAG).
In fall of 2018, CSUCI launched Transfer Boot Camp, a one-day event in which transfer students meet with faculty, peer mentors and advisors with the goal of having participants leave with an understanding of academic support, peer mentoring and other resources, in order to have a plan for success in their first semester at CSUCI.
Ultimately, the goal is to have transfer students "to and through" the University so once they arrive on campus they have opportunities to enroll in courses such as the UNIV 349 Transfer Seminar, which supports transfer student transition to upper division courses and familiarizes them with the campus and all of the resources available to them.
MONEY ranked colleges based on a combination of the four-year and six-year graduation rates for transfer students, as well as how much of the student population was comprised of transfer students.
California colleges in general dominated the list of transfer-friendly institutions as our state's two four-year college systems have a clearly defined pathway for community college students supported by a statewide set of general education courses that will transfer easily.
For more on the report, visit MONEY.