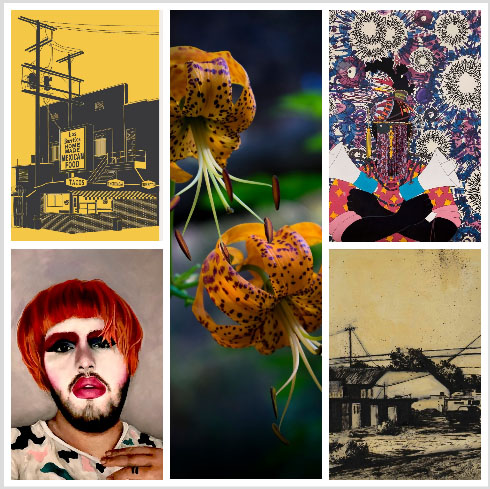 Sept. 12, 2018 — All four exhibits in the 2018 Fall Art Show explore often overlooked aspects of life with unconventional looks at race, culture, herbal medicine and a colorful segment of the LGBT community.
Los Angeles artist Mark Steven Greenfield hopes to inspire conversation about race, politics, religion and spirituality with "Spirits, Ghosts and Other Distractions," the main exhibit at CSUCI's Fall Art Show, which runs through Sept. 24.
A reception for "Spirits" and the accompanying three exhibitions will be held from 6 to 8 p.m. Thursday, Sept. 13 in Napa Hall on the CSUCI campus. An artist talk is scheduled for 4 to 5 p.m., just before the reception. 
Greenfield's exhibit will be featured in CSUCI's Napa Gallery along with "Wild Medicine" by 2007 CSUCI alumnus Jess Starwood, who will share her illustrations of the medicinal herbs found in the hills and valleys of Southern California.
The CSUCI Grad Wall will showcase the paintings, sculpture, screen printing and other mixed media artwork of Bobi Bosson in her show entitled "Peep Show," an exploration of the strange and unusual, with an exclusive sneak peek at her work-in-progress, "Drag Series."
"My most recent project celebrates the explosive and beautiful world of drag," said Bosson, a 2018 graduate from the Art program.
The Grad Wall will also feature a collaborative show about urban landscapes by two CSUCI Art program 2018 graduates who will give an interpretation of everyday imagery in Southern California called "Everybody Knows This is Nowhere."
Curator and Art Lecturer Christophe Bourély combined these four exhibits because he saw a common theme.
"The undercurrent theme that these artists share is they all expose, in a profound way, the underexposed aspects of American culture and society such as the African-American experience, the LGBTQ community, traditional herbal medicine and the 'nowhere' landscape," Bourély said. 
Greenfield's show is a retrospective of his work over the last 20 years with an emphasis on the complexities of the African American experience.
"Subjects range from stereotype of African Americans in the early part of the last century, our ghosts, if you will — to Afro-Brazilian spiritual practices that channel the wishes and advice of ancestors, to meditative glyphs that correspond to mantras," Greenfield said.
Greenfield was the director of the Watts Towers Arts Center for nine years and later became the director of the Los Angeles Municipal Art Gallery for six years.
Starwood's art is a reflection of her work as an herbalist and plant-based culinary artist. She is the owner of SunRaven Apothecary in Moorpark, California where she can be found brewing up herbal medicines, crafting unusual wild food dishes and holding classes for adult and children.
Professor of Art Liz King mentored Bosson's exhibition, which includes work in digital graphic design and illustration, oil painting, screen-printing, sculpture and ceramics to name a few media.
Mixed media artists Nathan Asplund and Manny Soriano were mentored by Assistant Professor of Art Jasmine Delgado. The muse for both artists was their immediate environment, ordinarily overlooked by passers-by.
"Every oil painting, ink drawing and linocut takes influence from the simple act of walking down the street with a sketchbook or a camera and noting things that feel worth documenting," said Asplund, who now works as a visual artist in Santa Clarita. "I am heavily influenced by environments and landscapes and want to capture them with sincere perspective."
Soriano is a graphic designer and painter in Newbury Park who often takes photos with his 35- millimeter camera.
"I like finding geometry in urban environments and in the facades of liquor stores," he said. "My colors are inspired by hand-painted signs from Delhi, India."
For more on this and other upcoming exhibitions visit: https://art.csuci.edu/exhibitions/.