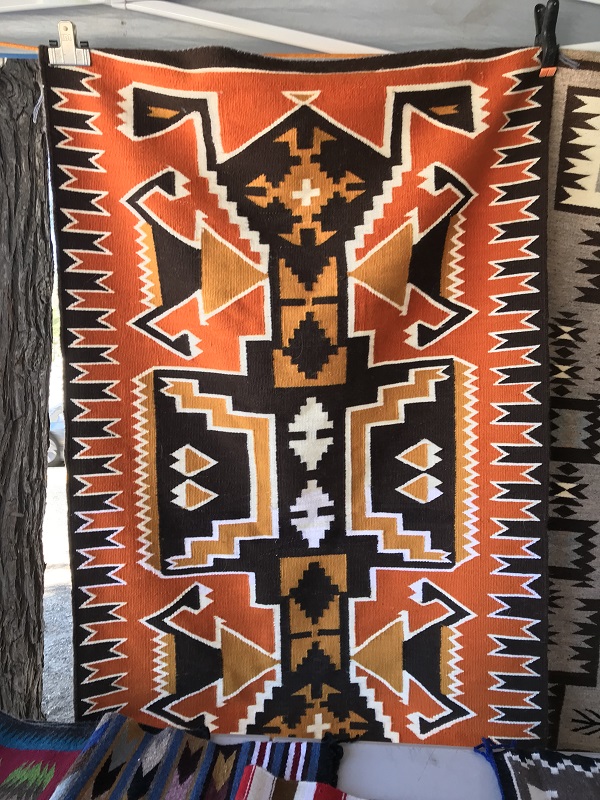 April 2, 2018 — Navajo elder Selina Begay, 65, lives in a small house north of Kayenta, Arizona with no water, sewer or electricity. To help with the family income, Begay and many of the other female elders weave rugs and sell them.
"When you sell a lot it's really a blessing," Begay said. "It's our income and we can buy hay for our livestock. We have sheep and a horse and turkeys and chickens."
Begay and eight other female elders from the Navajo reservation will travel to the CSU Channel Islands (CSUCI) campus on Thursday, April 5 to demonstrate loom weaving and to show and sell their rugs as well as some handmade jewelry in a day-long event called "The Navajo (Diné) Women's Black Mesa Weavers' Collective."
CSUCI Provost Geoff Chase, Ph.D., will provide opening remarks. Chase had Navajo colleagues when he worked at Northern Arizona University in Flagstaff, which gave him the opportunity to learn more about the Navajo culture.
"One of the things I learned from my Navajo colleagues at Northern Arizona is a deep commitment they have to the earth, the land and to their elders," he said. "The rugs they weave reflect that connection between the sky and earth, the landscapes where they live, and to the wisdom and art that have been passed down from their ancestors."
The show, which is open to the public and will take place in the John Spoor Broome Library Exhibition Hall, is a joint effort between CSUCI's John Spoor Broome Library and organized by Art Lecturer Denise Lugo along with University of California, Riverside (UCR) Anthropology Lecturers Ivana Mora, Ph.D. and Lee Greer, Ph.D. 
Lugo, who is a friend of Mora's, became interested in the Navajo's matriarchal society and the significance of their woven rugs. She approached Mora with the idea of bringing the Navajo women to the CSUCI campus so that students and the public could get an even broader idea of diversity.
"Outside of taking our students to the reservation, this was the only way we could show them how these women live and work," Lugo said. "The weaving is an integral part of their cultural identity and we wanted to share it with students. They create blankets with symbols that go back generations. That was their communication. It brings a sense of belonging from mother to grandmother."
Mora is the founder of the Institute for Research on Trauma and Resilience (IRTR). She became interested in the Navajo (Diné) because of their struggles linked to U.S. government uranium mining from World War 11 through 1971. The mining led to high rates of lung cancer, which led to the 1990 passage of the Radiation Exposure Compensation Act. The struggle on the land where the Navajo have lived for hundreds of years continues.
"They are dealing with uranium poisoning and their conditions are deplorable," Mora said. "They don't have any funds. The sale of their rugs will go toward their activism."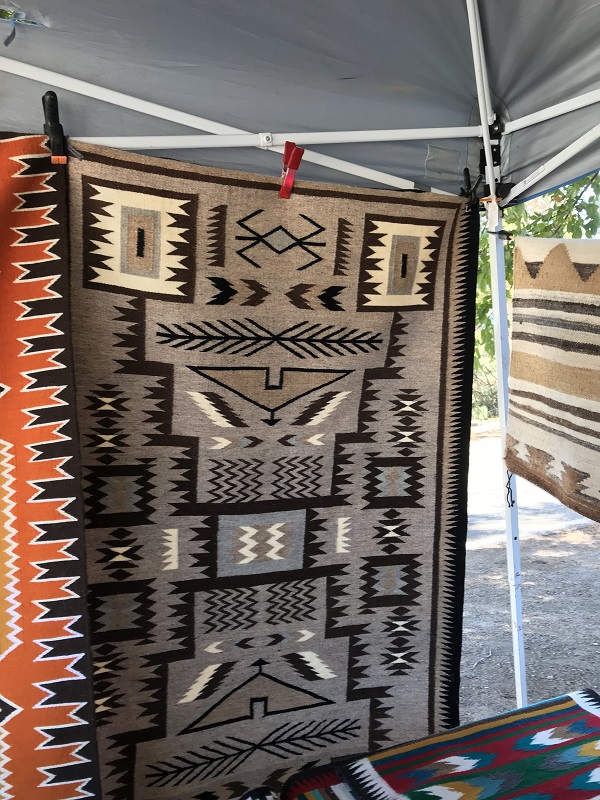 After opening remarks, an Aztec dance from CSUCI's Danza Tlaloc Ollin and a Chumash blessing from CSUCI's Director of Facilities Raudel Bañuelos, Mora will talk about the exploitation of vulnerable populations in the U.S., including the Navajo in a presentation called "History and Contemporary Impact of Eugenics on the United States."
As a native of Bosnia, Mora empathizes with the plight of the Navajo. She grew up during the Bosnian War from 1992 to 1995. The civil war between Serbs, Croats and Muslims resulted in countless casualties.
 "We were shot at and I went through sniper alleys when I was eight," Mora said. "I was shot at for being part of the wrong population."
Greer, who is the secretary of the IRTR will speak about "The Indigenous Americas: From Holocaust to Rebirth."
After lunch, Eleanor Arellanes, a tribal member of the Barbareño/Ventureño Band of Mission Indians (Chumash) will give a solidarity talk, followed by a "Mexica Solidarity Talk" from Chicana/o Studies Lecturer Veronica Valdez, also head of the Aztec dance troupe.
The Navajo weavers will then speak and interact with the audience about the significance of weaving to the Diné people. "Diné" is the preferred reference to the Navajo tribe as it comes from their native Athabaskan language.
Afterwards, students and faculty will participate in a loom-weaving workshop. It's an ancient process Begay learned from her mother, who learned it from her mother, and so on.
"I use traditional patterns, like two gray hills, a drum pattern and a pottery design pattern," Begay said.
"There is so much beauty in their traditional product," Mora said. "They are so happy they are making rugs again. It makes them feel whole and makes them feel hope for the future."
For more visit: http://www.blackmesaweavers.org.