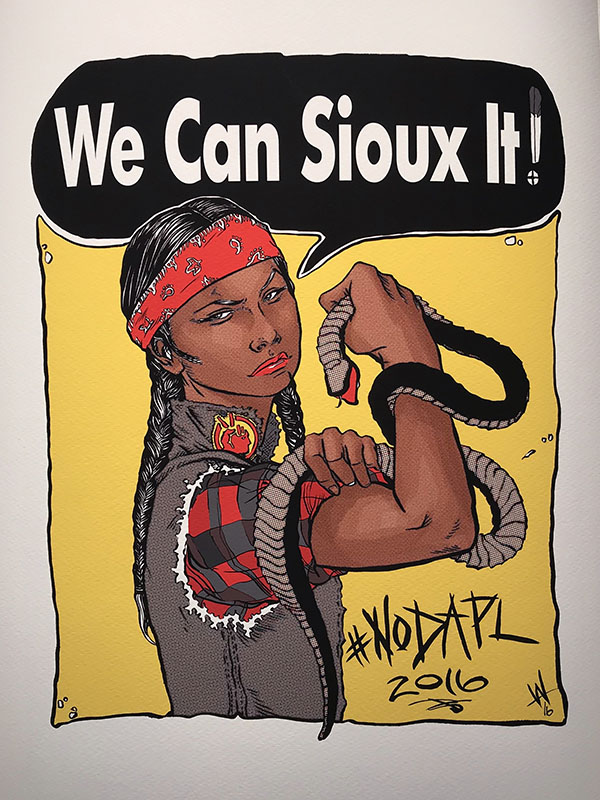 Dec. 6, 2018 — With the busy, diverse city of Oxnard as their muse, a team of artists called the "Oxnard Plain" will display examples of their work at an exhibit now open in the John Spoor Broome Library Gallery.
The show opened this week and will run until Jan. 31, 2019. A closing reception will be held on Jan. 31 from 5 to 7 p.m. at the Broome Library Gallery at the CSU Channel Islands (CSUCI) campus.
This interactive show will include two workshops in the gallery on Thursday, Jan. 24 from 11 a.m. to 4 p.m. and Wednesday, Jan. 30 from 12 to 3 p.m. Any CSUCI student from any discipline is welcome to come and create a piece using an onsite computer. The piece will be printed out and included in the exhibition on a wall designated for guest artwork.
"It's a very vibrant show with a diversity of styles and perspectives that reflect on today's culture and the concerns we have," said Professor of Art History and Broome Gallery Coordinator Irina D. Costache, Ph.D. "Also, the space of the gallery is a space for making art, not just looking at it. Visitors become a part of the show, which is breaking a lot of barriers."
The five professional artists whose work will be shown are all members of "The Oxnard Plain," a group of about 10 professional artists, including CSUCI alumni, who work together and mentor aspiring artists, offering them a work space at the Carnegie Art Museum in Oxnard.
Two Oxnard natives are behind The Oxnard Plain artists' group, which formed in January of 2018.
International artist/educator/military veteran Brian Paumier, whose work has appeared in venues such as the Metropolitan Museum of Art in New York and the International Center of Photography, saw the work of 2014 CSUCI alumnus and conceptual photographer Jaime Bailon, and was impressed.
"I thought 'his is a strong voice that is 100 percent Oxnard,'" Paumier said.
Paumier, who serves on the board of the Carnegie Art Museum, joined Bailon in his effort to create The Oxnard Plain and in January 2018 the two opened The Oxnard Plain artists'  in the museum's annex.   
The Oxnard Plain collective grew to a core group of about 10 professional artists including 2007 CSUCI alumnus Weshoyot Alvitre, who specializes in graphic art with a message, especially when it comes to issues faced by Native Americans. About 20 more artists rotate in and out of the studio to create and network or take advantage of mentorship from Paumier or Bailon.
Aside from his own photography, Bailon helps Oxnard Plain artists print out "zines," which are miniature magazines containing an artist's work. Among the zines on display in the Broome Gallery is a piece by artist Amy Elkins that folds out into a 15-foot continuous sheet of paper printed with men's faces.
"It shows how we have the largest number of inmates on death row in the country," Bailon said. "It's the idea of the dehumanization of the prison system."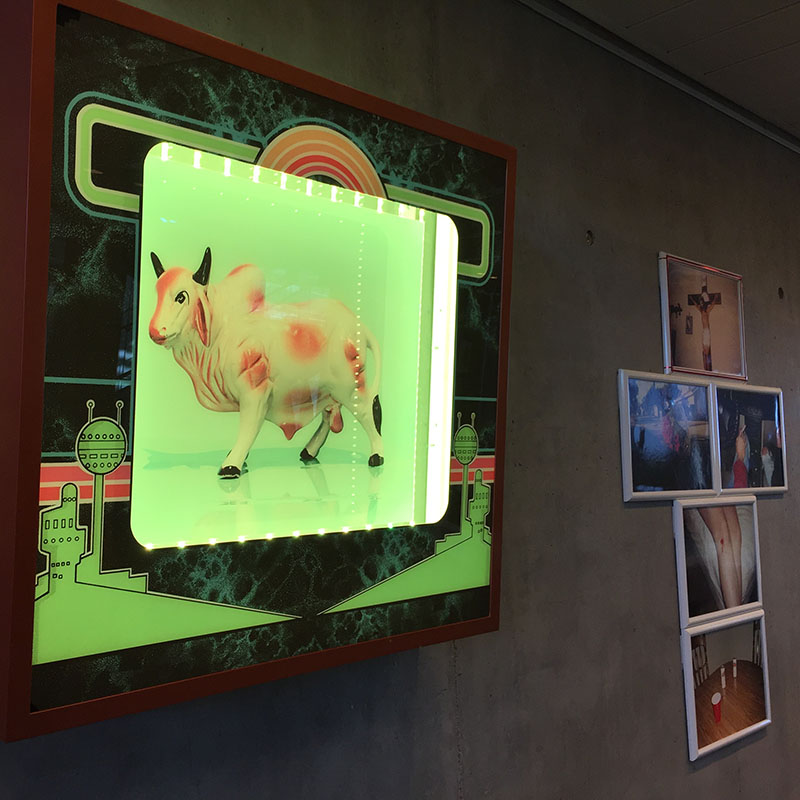 Paumier's display pieces are three-dimensional, lit, and borrow from the world's religions, especially those in India and Mexico, where he lived for an extended period of time.  
Paumier's muse found him when he was serving in the Iraqi war. One hot day he was speeding along a desert road in an Army truck convoy, moving fast to avoid being easy targets.
Suddenly, there was an explosion. Paumier turned to see the truck behind him burst into flames and debris. The truck had set off an improvised explosive device (IED) hidden along the road. Along with the shock, Paumier wondered if he would be one of the soldiers who made it out alive.
"I made a promise to Our Lady of Guadalupe that if you get me out of this situation, I will make you a manda," he said, which is a promise made to a saint to perform a service if that saint will grant a favor or blessing.
To that end, Paumier created an elaborate zine bound with a red ribbon that serves as an homage to Our Lady of Guadalupe, who, he believes, took him up on his promise.
For more on The Oxnard Plain and the CSUCI Art program, visit: https://www.oxnardplain.com/ and https://art.csuci.edu/programs/.