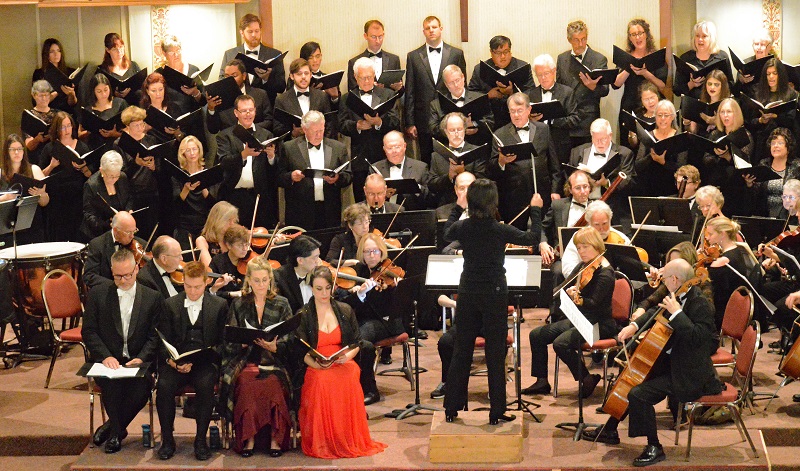 April 25, 2018 — Conflict, peace and resolution are all mixed into the message of the May 5 and 6 performances of the Channel Islands Chamber Orchestra (CHICO) Spring Choral Spectacular, called "Reconciliation."
CHICO will perform with CSU Channel Islands' University Chorus in the latest installment of the Channel Islands Chamber Orchestral Concert Series. The University Chorus includes students, but also welcomes members of the community for a total of 55 voices.
CHICO is a nonprofit music organization and the University Chorus is part of CSU Channel Islands' (CSUCI) Performing Arts program.
CHICO and University Chorus Artistic Director and Conductor KuanFen Liu, an Assistant Professor of Performing Arts, has chosen two works by British composer Ralph Vaughan Williams: "Dona Nobis Pacem" and "Five Mystical Songs."
"This performance is a protest for peace," Liu explained. "These two works reflect sorrow and concern, hope triumphs over fear. There are so many challenges in the world today. Sometimes we feel powerless. Music is my vehicle to express my concern."
"Dona Nobis Pacem" (Grant Us Peace) was written in 1936 as anti-war warning, when people in Europe were fearful of an impending conflict. The piece is comprised of three poems by Walt Whitman, a political speech and other sacred texts, including the Bible.
"The words and music question conflict," Liu said. "I believe the audience will feel the doubt and unsettled tone in the cantata."
The University Chorus will be accompanied by soprano Melanie Henley Heyn, a graduate of University of Southern California's Thornton School of Music who holds three degrees from the Vienna Conservatory.
Baritone Michael Shasberger, the Adams Chair of Music and Worship at Santa Barbara's Westmont College, is the soloist in the Vaughan Williams "Five Mystical Songs," which draws its lyrics from 15th Century poet George Herbert. 
"This work conveys a message of spiritual hope, a way of lifting us up to live in this world more peacefully," Liu said.
Liu is in the process of planning the next five concerts for CHICO's 2018-19 season, which include an Opera Show, a Choral Spectacular, A Young Artists performance, A Holiday Concert and a World Music gala, including music from South American, Africa, and Asia.
The CHICO Choral Spectacular concerts are May 5 at 7 p.m. at the Rancho Campana Performing Arts Center, 4325 Mar Vista Drive, Camarillo, and May 6 at 3 p.m. at the First United Methodist Church, 1338 East Santa Clara Street, Ventura.  Suggested donation is $20.