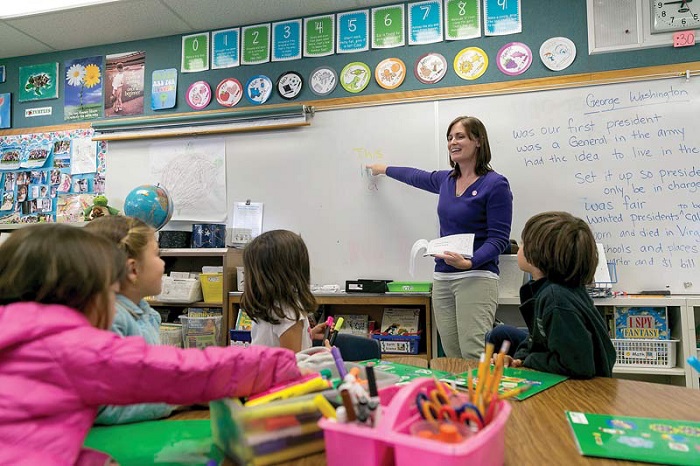 July 25, 2018 — CSU Channel Islands (CSUCI) is one of two universities in the CSU system to be groomed for a teacher residency program.
The National Center for Teacher Residencies, a national organization dedicated to developing and supporting teacher residency programs, will spend a year strategizing with CSUCI to create a K-12 program for students in CSUCI's Education program.
"Instead of spending just a semester in a school or showing up certain days, student teachers are with the K-12 teacher for the entire year," said Dean of the School of Education, Brian Sevier, Ph.D. "It is a full immersion experience pairing a student teacher with a teacher in a classroom for an entire year. The student teacher starts before the school year even begins, they attend staff meetings, meet parents, do the planning from the beginning to the end of the year."
With funding from the S.D. Bechtel Jr. Foundation, representatives from the National Center for Teacher Residencies (NCTR) have chosen two Cal States to work with for an entire year to consult about a residency program. The other university chosen was Cal State Los Angeles.
Consultants will work with CSUCI to craft a program to custom fit each university. Sevier said it is still very much in the planning stages, but he hopes that in the future every student in an Education program has the opportunity to participate in a residency.
Sevier became involved in the program through former colleagues at the Colorado Department of Education, where he worked as Director of Curriculum and Instruction.
"They reached out to me and I said 'We're small and perfectly poised to do a residency program because it's easier to implement with a smaller School of Education," Sevier said. "We have such close partnerships with schools such as University Preparation Charter School and we're more flexible which can allow us to be more innovative."
NCTR consultants will begin the two-phase year-long consultancy process in August. The first phase will involve strategy and targeting partner schools for the residency program. The second phase will involve fundraising, recruitment of participants, job descriptions for staff and working out other finer details with partner school districts.
"We have learned that districts who hire graduates who have done residencies report that the new hires are more like second-year rather than first year teachers," Sevier said. "They have already worked with districts and teacher prep programs. This will help our graduates stand up and sustain a successful career in education."