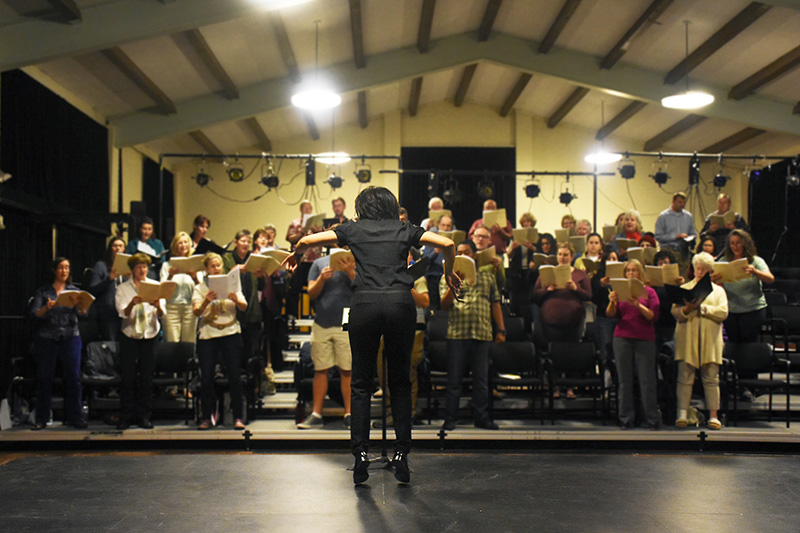 Nov. 27, 2018— Slavery and discrimination silenced the voices of African Americans in America for decades, but traditional spirituals are heavy with their efforts to transcend their struggles.
The CSU Channel Islands (CSUCI) Choir will perform a selection of both modern and historical spirituals during the 2018 winter concert entitled "Trace History—African American Journeys Through Song."
Performances will be Monday, Dec. 3 at 7:30 p.m. in Malibu Hall 100 on the CSUCI campus and Sunday, Dec. 9 at 2 p.m. at St. Columba's Episcopal Church at 1251 Las Posas Road in Camarillo.
CSUCI Choir director KuanFen Liu, who holds a doctorate in Musical Arts (DMA), said she felt compelled to put together a concert to promote tolerance and understanding in a very divided world. She said her feelings were underscored by the recent Borderline shooting and fires across California.
"Music is not just art and entertainment," Liu said. "We have the responsibility to use music and the arts to connect people. To help one another understand different cultures and different people."
Music selections will include "Deep River," "Swing Low, Sweet Chariot," "Sometimes I feel like a Motherless Child," Precious Lord, Take My Hand," Poor Wayfaring Stranger," "My God is a Rock," and "Nobody Knows the Trouble I've Seen."
Narration will be interspersed with the songs to provide historical context to the music and lyrics.
"These are not just familiar spirituals," Liu said. "They have deeper meanings in history. Because during certain time periods, the oppressed might not have been able to use direct expression. They had to express themselves poetically with songs in the fields. They were not allowed to speak out publicly."
The CSUCI Choir, which is comprised of about 50 students, alumni, faculty, staff and members of the community, meets weekly as a class as part of the Performing Arts program.
The choir is part of the Channel Islands Choral Association (CICA), a 501(c) (3) organization that brings choral music education and performance to the local schools and community. The performance is free, but donations are accepted and will go to benefit CICA.
To learn more, click on: https://www.cicachoir.org/csuci-choir-2/.