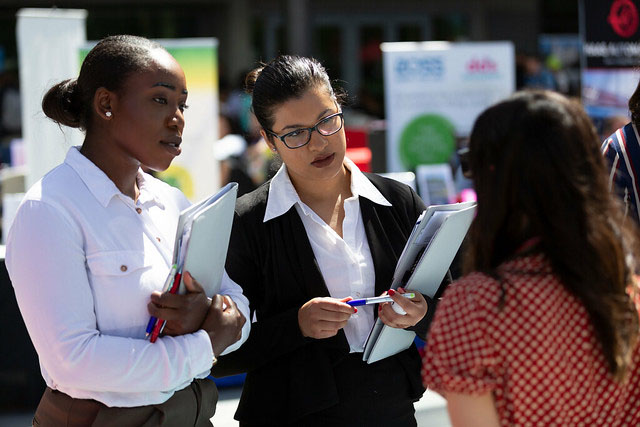 July 30, 2019 — After working as an intern at Sideshow Collectibles in Thousand Oaks, Business/Marketing major Andy Dosev enters his senior year with a job at Sideshow that includes doing social media and providing content.
The CSU Channel Islands (CSUCI) undergraduate credits his internship with landing the job.
"The internship was absolutely crucial," Dosev said. "I would not have gotten this job without it. You obviously need skills to get a job, but if you don't know the industry, you have a setback. Plus, you make connections."
Thanks to a $20,000 grant from Bank of America, CSUCI will be increasing awareness about internships on campus and in the business community. The goal is to help more students get internships in their field of study and to attract more industry partners who might want to create an internship opportunity.
"We want to expand the number of students doing internships across the campus community," said Director of Career Development and Alumni Engagement Amanda Carpenter, Ed.D. "We want students to know that graduates who have done internships are more likely to secure a full time job post-graduation. Nationally, the full-time offer rate for interns is 59%, acceptance rate is 77%, meaning that overall, almost half of the interns – 45% – go on to full-time careers with the company where they had their internship experience."
The $20,000 is part of $145,000 in grants to 14 non-profits in Ventura and Santa Barbara counties that will help advance economic mobility for individuals and families and put them on a path toward financial stability.
"Among the biggest drivers toward a stronger economy are encouraging our youth to seek higher education and stay here, as well as providing meaningful assistance to families to ensure a sustainable economic future," said Midge Campbell-Thomas, Ventura-Santa Barbara market president at Bank of America.
Senior Director of University Development Richard LeRoy said plans are underway to create a system of outreach to students, area industries and nonprofits and faculty who can help students prepare for an internship. 
"We already have industry partners coming here and recruiting but we will expand that and use this money to do workshops and trainings for industry partners and students," he said.
The grant will also fund a one-stop-shop website for both employers and students to learn about internship opportunities, connect with one another and prepare for the experience.
"We're creating this internship central hub resource comprehensive not only for students and faculty but also employers because there are a lot of misunderstandings about internships on the employers side, too. It's not just about coffee and copies," she said. "Internships need to have learning outcomes. So this will help employers learn to how onboard an intern, how to evaluate an intern, and how to ensure this is a beneficial experience both for the company and for the student."
Carpenter said a lot of students don't realize that the majority of internships are paid, so that not only are they setting a trajectory into the career of their choice, students are getting compensated competitively for their internship.
Bank of America this year doubled the $10,000 grant funding they have given to CSUCI in the past because, according to Michelle Yee, Senior Vice President Ventura/Santa Barbara Market Manager at Bank of America, Bank of America believes in the power of internships to create a powerful work force — especially when it nurtures the talents of first-generation, low income students. 
"When serving traditionally underrepresented student populations, it is critical to provide support systems beyond just financial support to help ensure their career success. Many of our first-generation students with financial need also lack personal relationships and connections that typically enable them to secure quality employment," Carpenter said. "With the support of Bank of America, CSUCI will continue to educate the future workforce while building community leaders who are prepared to meet employer needs and serve as engaged citizens in our region."
Both Bank of America and CSUCI believe that creating opportunity for young people to carve out a pathway to a lucrative career and enables the student to advance into a better socioeconomic bracket and benefits the economic health of the entire community.