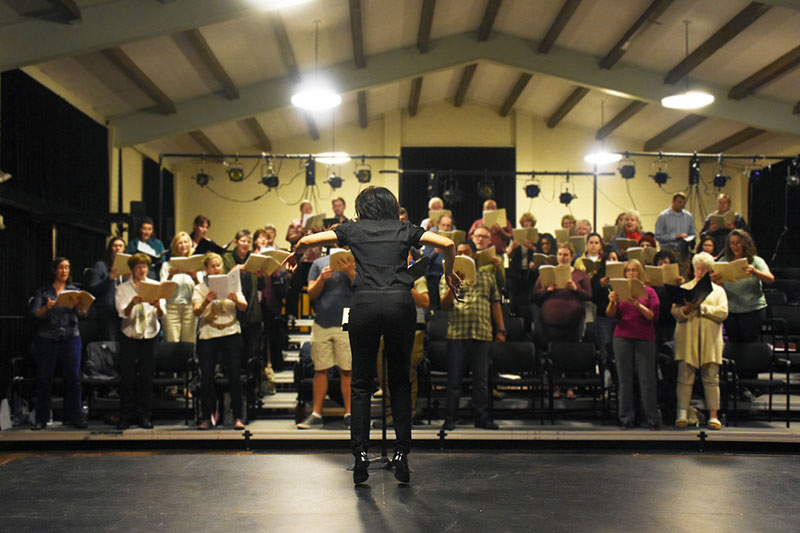 Nov. 20, 2019 — The CSU Channel Islands (CSUCI) Choir will usher in the holiday season for the public on Sunday and Monday, Dec. 1 and 2 with this year's winter concert, "A Light in the Darkness: Voices of Hope, Peace, Love and Comfort."
The collection of sacred and secular music will include compositions both contemporary and classical, with all exploring various cultural traditions and languages. CSUCI Choir Artistic Director KuanFen Liu hopes the concert serves as a reminder that, regardless of some dark times that we have faced as a state and as a country with war, wildfire, mass shootings and political division, this is a season of peace when music unites us all with hope and joy.
"Our community and the campus community has gone through a lot," Liu said. "We had the anniversary of the Borderline shooting and last year, the fires. And I worry about the future we are establishing for the younger generation. There are just so many things they shouldn't have to be fearful about like climate change and violence."
Liu decided to harness the healing power of music and weave that magic into a concert because "you wonder, as a musician, what you can do to help."
The selections Liu chose include compositions written by composers from the Baroque period to more contemporary pieces that explore various cultural traditions and languages — all of them offering some message of joy, comfort or triumph.
Included are traditional carols, and classical pieces such as "Kyrie and Gloria (from the Coronation Mass) by W.A. Mozart. More contemporary pieces include Los Angeles composer Frank Ticheli's powerful a capella, "Earth Song" as well as Norwegian composer Ola Gjeilo's "The Rose."
Composer Morten Lauridsen's soaring rendition of "Sure on this Shining Night" will be one of the 15 pieces, which will be sung a capella, or include accompaniment from piano, organ or oboe.
The CSUCI Choir is 57 voices strong, comprised of students, alumni, staff, faculty and members of the community, all 18 years or older. Open auditions are held each semester with rehearsals on Monday nights.
"This music—this poetry—speaks to our hearts. It's poetry about childhood, nature and the earth," Liu said. "I feel like, through choir rehearsal we provide a place where we can connect. And I hope, with this concert, the audience walks out with a sense of hope, joy and peace."
Performances are at 2 p.m. Sunday, Dec. 1 at St Columba's Episcopal Church at 1251 Las Posas Road in Camarillo and Monday, Dec. 2 at 7 p.m. in Malibu Hall 100 on the CSUCI campus at One University Drive. Admission is a voluntary donation.
Limited parking is available on campus with the purchase of a $6 daily permit; follow signs to the parking permit dispensers. Free parking is available at the Camarillo Metrolink Station/Lewis Road with bus service to and from the campus.  Riders should board the CSUCI Vista Bus to the campus; the cash-only fare is $1.25 each way. Buses arrive and depart from the Camarillo Metrolink Station every 30 minutes from 7 a.m. to 10 p.m. Monday through Friday. For exact times, check the schedule at www.goventura.org.