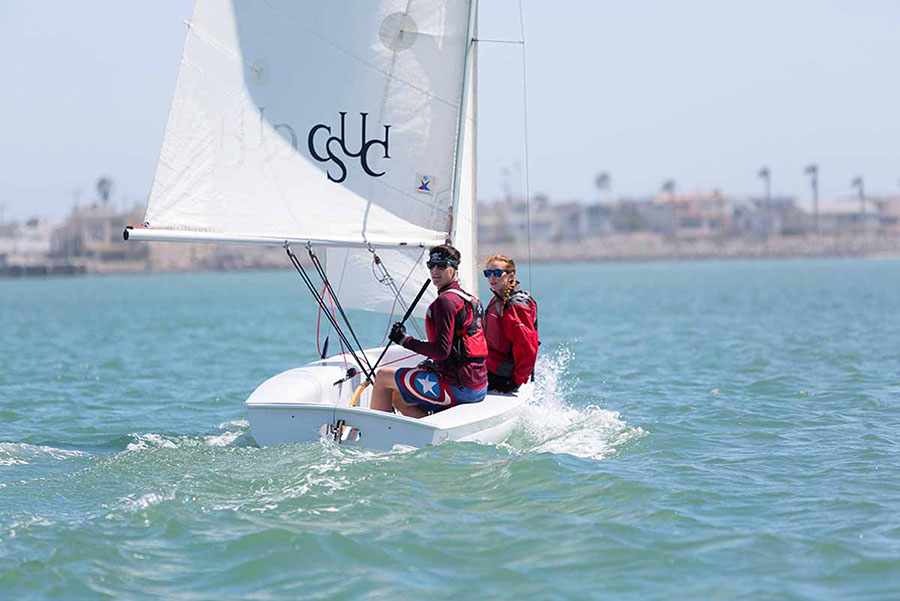 July 10, 2019 — Anybody can learn to sail, paddleboard, kayak or simply learn more about our ocean through the Channel Islands Boating Center (CIBC), which is part of CSU Channel Islands (CSUCI).
The year-round programs, which are particularly popular in the summertime, just got a boost from the California Division of Boating and Waterways (DBW) in the form of a grant for $42,000. This is the 17th year the DBW has supported CSUCI and the boating center with a grant that averages around $40,000.
Director of Campus Recreation and Student Wellness Michael Gravagne, Ed.D., said the grant will enable the boating center to continue to provide safe boating education to organizations that serve low-income youth.
"We're reaching underserved youth who may not have the opportunity to do something like this because boating can be inaccessible," Gravagne said. "As we have in the past, we will also be using the grant money for scholarships to attend the CIBC Watersports Camp.  These scholarships, enable us to give kids a significantly reduced cost or free experience."
The watersports summer camp continues to be very popular this year, with most classes sold out. The Summer Camp is open to kids ages eight to 15, and focuses on safe boating education as well as Marine Education.  The Camp also partners with the Marine Center & Aquarium, which is run by Oxnard College. This partnership gets the participants close to starfish, sea urchins, garibaldi and sand sharks, to name a few of the ocean inhabitants. 
Another Summer Camp partnership is with the National Oceanic and Atmospheric Administration (NOAA).  Participants learn about the Channel Islands and the Marine environment. 
The Channel Islands Boating Center is open throughout the year and open to the public. To learn about current program offerings, visit: www.ciboating.org/rates-and-registration.  CSUCI students can also take advantage of any of the classes for free.