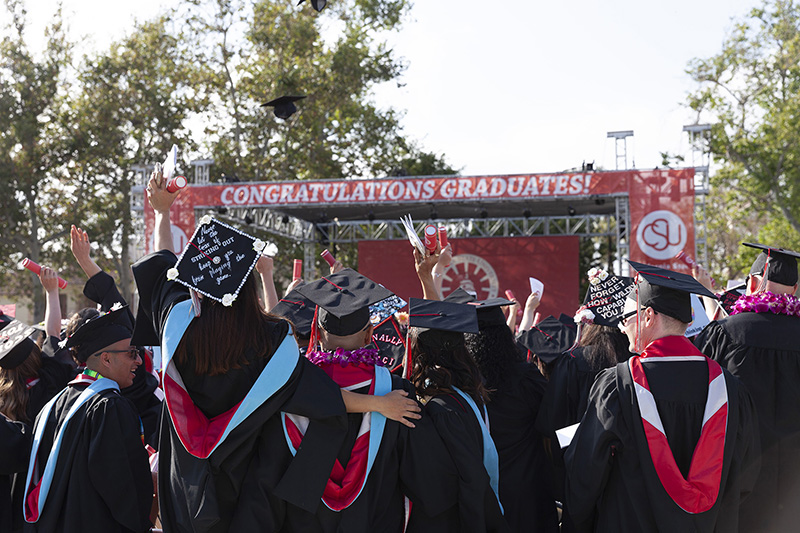 May 7, 2019 — CSU Channel Islands (CSUCI) will once again graduate its largest group of students in the history of the University, just as it has every year since the University was founded in 2002. A total of 2,700 students are eligible to participate in one of two ceremonies to be held on May 18.
CSUCI will also award honorary doctorates to four individuals who have distinguished themselves through their philanthropy and support of CSUCI.
The morning ceremony is at 9 a.m. and the afternoon commencement will begin at 3 p.m. with about 10,000 friends and family expected at each ceremony. This year, Commencement has moved from the South Quad to the Central Mall area of the campus, flanking the University's iconic Bell Tower building.
The CODEL (Collaborative Online Doctorate in Educational Leadership) doctoral candidates will be the first to be awarded their degrees during the morning ceremony.
CSUCI's first group of doctoral graduates began their coursework in June 2016. The unique doctoral program was forged from a unique partnership between CSUCI and Fresno State University (FSU). The program allowed doctoral students to complete their Ed.D. almost entirely online, but also enabled them to work in leadership roles at school districts, community colleges, universities, the CSU Chancellor's Office  and educational non-profits.
Founding President of Excelencia in Education, Sarita E. Brown and Excelencia co-founder and Chief Executive Officer Deborah A. Santiago will each receive a Doctor of Humane Letters at the morning ceremony from CSUCI President Erika D. Beck.
At the 3 p.m. ceremony, Beck will present a Doctor of Laws to Los Angeles attorney and former Trustee of the CSU system Laurence K. Gould Jr. She will also present a Doctor of Humane Letters to Janice Bryant Howroyd, Founder and Chief Executive Officer of the ActOne Group.
Additionally, all graduating seniors with a grade-point average of 3.5 or better are also eligible to participate in CSUCI's Honors Convocation, set for Saturday, May 11 in the North Quad. Check-in is at 6 p.m. with the program beginning at 6:30 p.m. A reception will follow.
For more information on Commencement and Honors Convocation, visit:
https://www.csuci.edu/commencement/commencementinfo.htm and 
https://www.csuci.edu/provost/honorsconvocation.htm.
*This news release was updated with additional information on May 10, 2019.