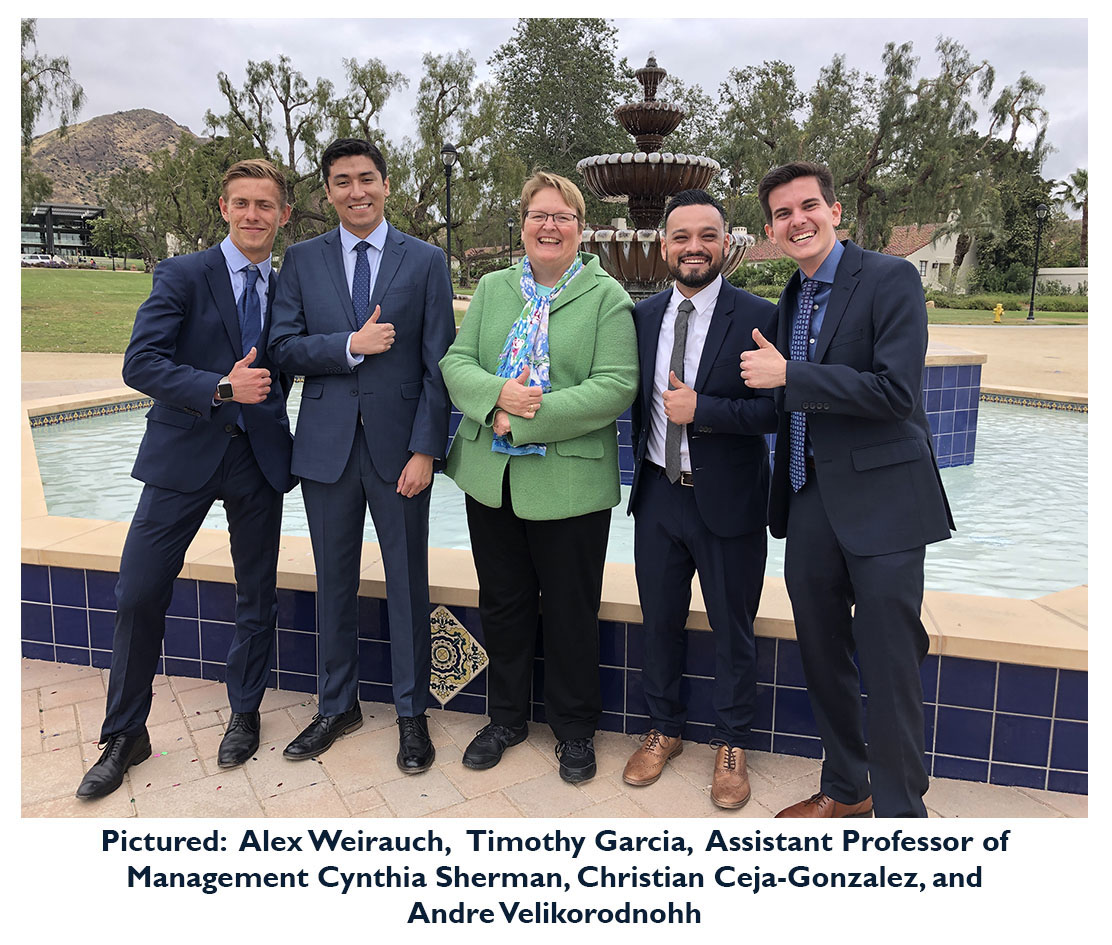 June 27, 2019 — A team of four CSU Channel Islands (CSUCI) Business students tied for first place four times in a row during an international online business competition that involved 50,640 students in 2,743 classes/sections at 507 colleges or university campus locations in 52 different countries over the past 12 months.
They were also ranked in the top 100 competitors, called the "Global Top 100" for all of the 10 weeks they played the game, which is called the Business Strategy Game, or BSG.
The BSG is an online exercise where class members at each participating college or university are divided into teams and assigned the task of running a virtual athletic footwear company. Company operations parallel those of actual athletic footwear companies competing in a global market. The student teams manufacture and sell athletic footwear in four geographic regions: Europe-Africa; North America; Asia-Pacific and Latin America.
The student teams are responsible for wholesale, internet and private label sales. They had to manage production of their goods, dealing with quality control and issues with the manufacturing plants and the workers.
In addition, they dealt with marketing, retail, celebrity endorsements and the financial backbone of the company, which included debt or equity deals. Distribution required that they work with currency exchanges and tariffs.
"The simulation allowed the students to experience global competition and how parts of a business, including production, marketing and finance, all work together to function as a successful whole," said Assistant Professor of Management Cynthia Sherman, Ph.D., faculty advisor to the project.
The team that tied for first place worldwide consisted of four members from the Class of 2019, all from  Sherman's BUS 499 capstone class. They were: Alex Weirauch, Timothy Garcia, Christian Ceja-Gonzalez and Andre Velikorodnohh. The name of their company was: "Da Best Shoes."
The winning team members agreed that their winning strategy involved staying constantly flexible and two steps ahead.
"We had to really change it up because we had new competitors catching up to us every single year," said Ceja-Gonzalez. "We were constantly meeting as a group for three or four hours a week and making these decisions. I think that helped us get ahead. It was a lot of fun."
Weirauch, who hails from Germany, believes his international perspective was an advantage.
"There are some cultural differences most certainly between Germany and here," he said. "And we considered how many customers in different parts of the world might react differently."
Weirauch agreed that being willing to constantly change strategy was a key to their success, and plans to use what he learned when he starts his own business.
"We managed to constantly sit down, go over our old strategies and say, 'Hey, c'mon let's see how we can make this even better," he said. "The hunger for success helped us a lot."
Other teams scoring in the Top 100 teams worldwide during the simulation included students from Business Lecturer Jeffrey Stone's BUS 499 class: Taylor Holden, Marc McMaster, Brett Murphy, Leah Osterman, Izumi Kiesel, Kyle Larson, Keziah Valenzuela, and Andrew Wilks.
Teams scoring in the Top 100 teams worldwide from Sherman's other BUS 499 courses during the spring semester included the following teams:
Donald Lin, Justin Logsdon, Christian Rodriguez and Julio Rodriguez.
Jacilyn Felton, Brittney Geer, Megan Petree and Evangeline Salazar.
James Bradvica, Anthony D'Ambrosio, Bryce Ralston and Amanda Woodward.