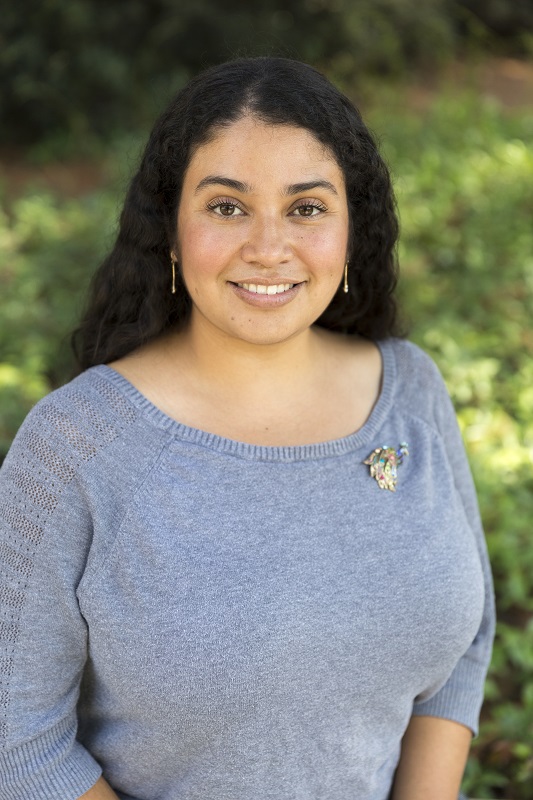 Jan. 30, 2019 - A CSU Channel Islands (CSUCI) Mathematics faculty member who got her start counting dollar bills in the family's swap meet business has just been chosen as a 2019 Emerging Scholar by a national academic publication.
"Diverse: Issues in Higher Education" named Assistant Professor of Mathematics Cynthia Flores, Ph.D. as one of 15 outstanding national scholars under the age of 40. Flores was chosen from among 1,000 scholars from disciplines and universities across the nation.
"I told my husband 'I can't believe this is happening. I thought this was a prank,'" Flores said. "Mathematicians on this list are mathematicians I have looked up to for a long time."
"Diverse" Executive Editor Jamal Watson said Flores' work promoting diversity and inclusion set her apart.
"Her mentoring of young girls in STEM (science, technology, engineering, math) throughout Ventura County, coupled with her research focused on Hispanics in science, were efforts that caught the attention of the selection committee," Watson said.
Flores is a first-generation college graduate whose parents sought asylum in the United States after fleeing from the war in El Salvador. Her parents worked in fast food, janitorial work and sold items at swap meets.
"My dad said, 'You're good at math, so you get to be the cashier,'" Flores said. "I counted a lot of dollar bills."
Flores pursued her love of mathematics in school but faced many hurdles, not the least of which was a teacher who was convinced she was cheating because she did so well on an exam in an honors math class.
Fortunately, a high school counselor who saw her potential arranged for her to take college-level math courses. She excelled and went on to earn a bachelor's and two master's degrees in mathematics from California State University, Northridge, as well as a Ph.D. in Mathematics from University of California, Santa Barbara.
With her own experience in mind, Flores makes it a priority to mentor young girls in the STEM professions, to work toward increasing the number of underrepresented minorities in STEM faculty and has spearheaded a program to help students who are not well-represented in the field of mathematics.
She helps find them research opportunities and arranges for them receive preparation for graduate school as well as financial support toward a Ph.D. program in mathematics.
"On a national scale, people aren't paying as much attention to the opportunities there are for undergraduates to do research," she said. "It's important to me that these students be a part of any real inquiry."
Flores and the other Emerging Scholars will be featured in the Jan. issue of "Diverse: Issues in Higher Education."