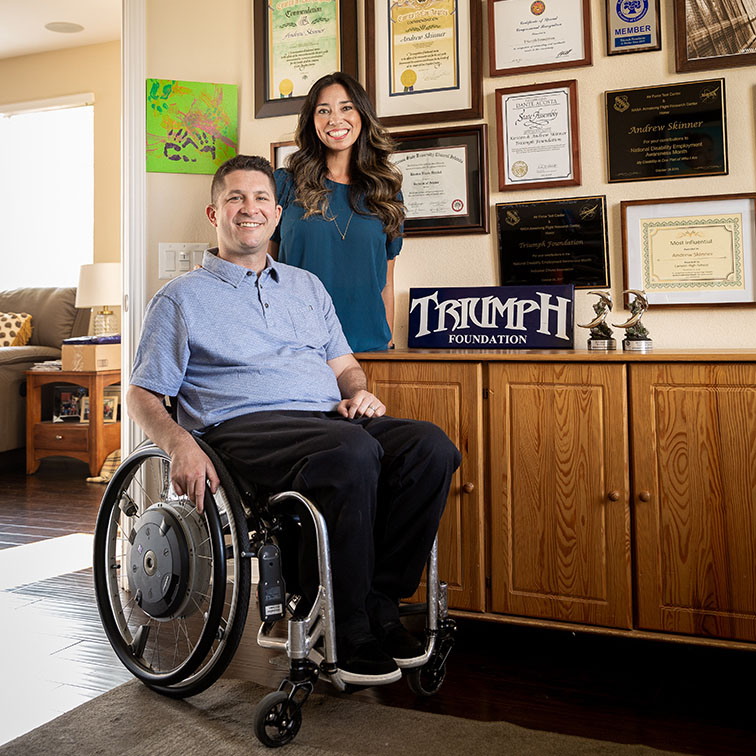 July 9, 2019 — Life has thrown some curveballs at Andrew and Kirsten Skinner, who met while taking classes as Business students at CSU Channel Islands (CSUCI), but they say the education they received during the University's earliest years has served them well.
And they, in turn have served the University well as active alumni, staying involved with the campus for the last 16 years, spreading the word about the University's mission to provide a quality, affordable education.
"I tell them that we're not just satisfied with the experience we had," Andrew said. "I tell them that we're the biggest fans of CSUCI."
In recognition of their energy and devotion, CSUCI has awarded the Skinners with the 2019 Distinguished Alumni award, which recognizes outstanding alumni for their professional achievements, service efforts and support of the campus community.
The 2004 Business graduates were in the second class ever to graduate from CSUCI, and have fond memories of the gathering energy of the University in the early days.
"It was really neat to be part of the genesis of CSUCI," Andrew said.
The faculty, staff and classmates they encountered during their time at CSUCI have remained close to them.
"When we were at CSUCI, the people you hung out with weren't just your friends — they became your family," Kirsten said. "That's stayed true ever since we've graduated."
Shortly after graduation, Andrew suffered a spinal cord injury in a snowboarding accident that changed the trajectory of their lives. With help from family and friends, the young couple worked hard during the next several years as Andrew went through recovery and physical therapy. Throughout his recovery, the couple never lost touch with CSUCI faculty and staff.
Using skills they had learned while at CSUCI, Andrew and Kirsten co-founded
Triumph Foundation in 2008, with an eye toward assisting others going through similar experiences.
"What you learn in the classroom is definitely useful in the field," Kirsten said. "The management, bookkeeping, marketing and communication skills you learn are really important."
Since its launch, the Southern California-based nonprofit organization has helped over 5,000 children, adults and veterans with spinal cord injuries or disorders. Its team has given out thousands of care baskets, and provided hundreds of thousands of dollars' worth of grants and accessibility equipment. They also organize adaptive recreational activities and community fundraisers.
Andrew splits his time between visiting hospitals and managing the foundation's team. Kirsten handles the foundation's operations, and coordinates a partners' support group.
"My injury limits what I am physically able to do, but I have my education to fall back on," Andrew said. "My mind is stronger than ever, and because of my education I was able to find a way to persevere. It lifted me up, and I'm really thankful for the honor of being chosen as a distinguished alumnus."
The Skinners say they're proud to represent CSUCI, and are active members of the Alumni & Friends Association. They hope that their 8-year-old daughter, Betty, decides to be a Dolphin one day.
"CSUCI has been there for us all along," Kirsten said. "It gave us the platform to do incredible things to help other people."