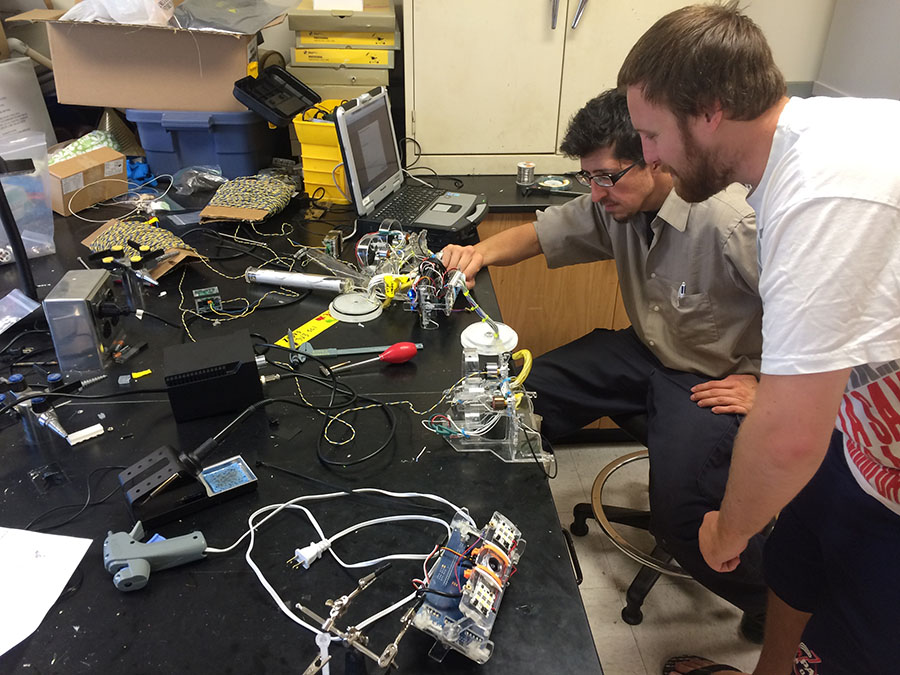 June 24, 2019 — Science faculty and students from CSU Channel Islands (CSUCI) will locate burning oil seeps in Ventura County and inspire high school engineers thanks to two separate grants.
Program chair and Professor of Environmental Science & Resource Management (ESRM) Sean Anderson, Ph.D., has received $165,033 in partnership with Citizens for Responsible Oil & Gas (CFROG) in support of a project called "Groundtruthing Air Quality Impacts in Ventura County: Discovering What We Cannot See."
And Interim Director of Educational Partnerships Philip Hampton, Ph.D., has received $10,000 from the Pentair Foundation, in support of a CSUCI's Engineering Summer Bridge Program, which enables science-minded high school students to immerse themselves in a science, technology, engineering, math (STEM) project for two weeks over the summer.
The grant facilitated by Anderson is for two years and will enable ESRM research teams to find hidden oil seeps still burning as a result of the 2017 Thomas Fire. The project, Anderson explained, is fueled by the renewal of the landmark AB 32, the California Global Warming Solutions Act passed in 2006, to help combat the effects of climate change.
The funding comes from the California Air Resources Board, our state agency devoted to fostering clean air across the entirety of California. The oil seeps still burning after the Thomas Fire compromise air quality by releasing toxins into the atmosphere. Some seeps are hidden on the sides of hills or backcountry and are difficult to access. Their survey will be the first comprehensive survey of these potential sources of air pollution.
 "There seemed to have been something different about the Thomas fire. Typically, wildfires are fueled by Santa Ana winds, but with climate change we are getting massive Santa Anas that more commonly fan flames almost horizontally along the ground.  We are now seeing those flame tongues shooting hundreds of feet or more across bare ground and catch things on fire," Anderson said. "Once these oil seeps catch fire and burn for a little bit, you can't put them out. They go underground and can burn for years or decades."
There are likely 25 oil seeps or more across the area affected by the Thomas fire. Anderson and his team of student researchers plan to search for the oil seeps with specialized drones.
"Our grant allows us to buy components and my students to build these new drones with triple sensors so they can see, feel and smell oil," Anderson said. "They have a visual spectrum camera to look for smoke plumes and an infrared camera that can spot the heat signature of underground conflagrations. Finally, we attach a chemical sniffer to detect the amount of burnt tar in the air."
Once the seeps are detected, they can be treated with special chemicals to douse the fire.
The second part of the mission behind the grant is public education, Anderson said. Typically, our worst air quality occurs in areas with residents of lower socioeconomic status. To address the problem, Anderson and his students are planning to supply public schools in these underserved areas with $200 air quality sensors, beginning in the fall. The idea is to empower communities to collect their own air quality data and ultimately begin to advocate for measures that lead to cleaner air and better health outcomes.
Armed with the localized data the schools collect, Anderson's students and their CFROG colleagues are planning a series of public meetings so that parents and other residents can learn about the air quality in their area and decide how they would like to advocate for themselves to address the problem.
"The idea is to try to build political momentum with this data to encourage these folks to get involved," Anderson said. "My students are the technical folks providing the data and helping with the subsequent interpretation."
The grant from the Pentair Foundation marks the third year Pentair has supported the Engineering Summer Bridge program, which is in its ninth year.
Pentair, which will provide funding along with the Arconic manufacturing company and Bank of America, will enable 36 students from the Oxnard Union High School District to spend two weeks on the CSUCI campus getting hands-on experience with microcontrollers.
The students will build devices that operate with interface sensors that are triggered by motion, speed, temperature or some other stimulus.
"We're hoping the students get creative and maybe design a little device to refill a cat's water bowl, or something that unlocks a door when you touch something," Hampton said. "The idea is for the students to think creatively and use a little art and science to come up with an engineered product."
The Summer Bridge program will be during the last two weeks in June with a showcase event June 28 from 4 to 6 p.m. in Sierra Hall. The program will also include a "STEM-mentoring" event in which science, technology, engineering and mathematics (STEM) professionals from places like Amgen and Naval Base Ventura County will meet with the students over a free lunch.
"The whole idea of the Summer Bridge is to take students from some of our underserved communities and give them an experience related to engineering so they can see themselves as a future engineer," Hampton said.