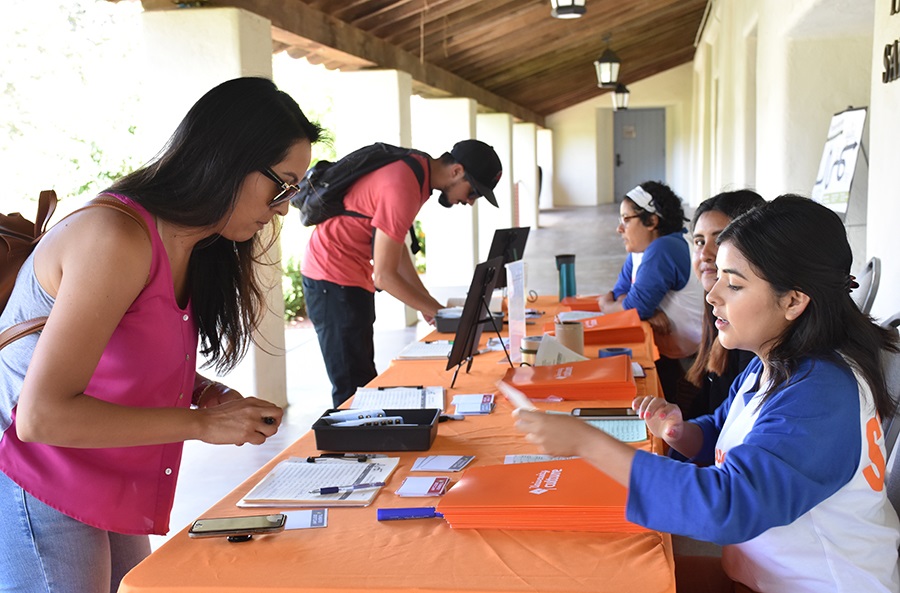 Sept. 10, 2019 — After becoming the only university in California to receive the 2019 Seal of Excelencia from Washington D.C.-based Excelencia in Education, CSU Channel Islands (CSUCI) has also had two of its initiatives named as "Examples of Excelencia Programs to Watch."
Excelencia in Education is a national nonprofit educational consultancy dedicated to Latinx student success in higher education. This year, CSUCI was among nine colleges and universities nationwide to earn a Seal of Excelencia. Now, two of its programs are among 20 Programs to Watch selected from 166 nominations from 32 states, the District of Columbia and Puerto Rico.
CSUCI President Erika D. Beck expressed her deep appreciation for the recognition, which underscores the University's dedication to its first-generation and Latinx students.
"We have established a teaching and learning landscape that is deeply committed to being culturally responsive and to realizing a collective vision for equity and inclusion that extends to every corner of our University," Beck said. "Obtaining a college degree elevates every student and, just as importantly, changes their family trees forever. This is the essence of what we do and it is at the core of our commitment to academic excellence."
The two programs singled out are Channel Your Success: University Cultures Pathways and Project ALAS (Aligning Learning & Academic Success).
Channel Your Success provides culturally relevant university programs to support Latinx and first generation college students and connects them with peer mentors from CSUCI's Peer Education and Equity Programs (PEEP).
Assistant Director of Student Academic Success & Equity Initiatives Michelle Hasendonckx explained that "culturally relevant" programs are programs that speak to first generation and Latinx students, which make up a majority of the student body at CSUCI. Many programs involve the entire family, as the decision to go to college is a family decision.
"Culturally relevant programming mirrors the culture and experiences of the students," Hasendonckx said. "For example, the 'Noche de Familia' program, which engages the students and their parents and provides information in the family's home language. With our Latinx families, going to college is not an individual decision, it's a family decision."
"Noche de Familia" is an evening in which families come together at the University and learn about campus life, classes and get the opportunity to meet faculty.
The Peer Mentor program pairs first-generation students with Peer Mentors to help them navigate the hidden university curriculum, which can be overwhelming if no one in a student's family has ever before attended college. 
Pairing a first-generation or Latinx student with a Peer Mentor gives students regular contact with someone like themselves who can guide them through, for example, which classes to take, financial aid, tutoring or emotional support.
The results have been significant. In 2017-2018, Peer Mentors served 530 students during drop-in hours at the PEEP Space, which is an office on campus. Peer Mentors provided 38 student success workshops, reaching 1,370 students.
"I'm very proud for two very different reasons," University Culture Pathways Activity Director Monica Ocampo. "I fit all the categories. I was a first-generation, low-income Latina student from Oxnard College. I came here and felt very lost. Now, coming from the other side, I can use my experiences to support our peer mentors."
The Project ALAS program is designed to create a clear pathway and smooth transition from the county's two-year community college programs to a four-year degree at CSUCI.
Project ALAS is a partnership between CSUCI and Ventura County's three community colleges —the Ventura County Community College District (VCCCD). Essentially CSUCI collaborates with the three colleges to help the student toward a four-year degree. The University and colleges coordinate course requirements, financial aid and do joint outreach to the students with programs such as the Transfer Success Student Academy and the day-long Transfer Bootcamp for new transfer students, which is given a week before school begins.
"The Transfer Success Student Academy is an outreach program in which we do classroom presentations at the colleges," said Transfer Student Success Activity Director Veronica Montoya. "Transfer Bootcamp is in its second year. It's for students who are registered, and we do it on campus a week before school begins. We give them the basics, such as how to access their email, how to gain access to their faculty advisors, and offer feedback from our students."
The other component of Project ALAS is the faculty and academic advisors at VCCCD and CSUCI, who also work together to mentor, collaborate on course requirements and give coordinated career advice.
Project ALAS has been so successful, that from fall of 2014 to fall of 2018, the transfer rate for Latinx VCCC students increased to 54 percent. At the same time, two-year VCCC graduation rates for Latinx students have increased by 8 percent since fall of 2014.