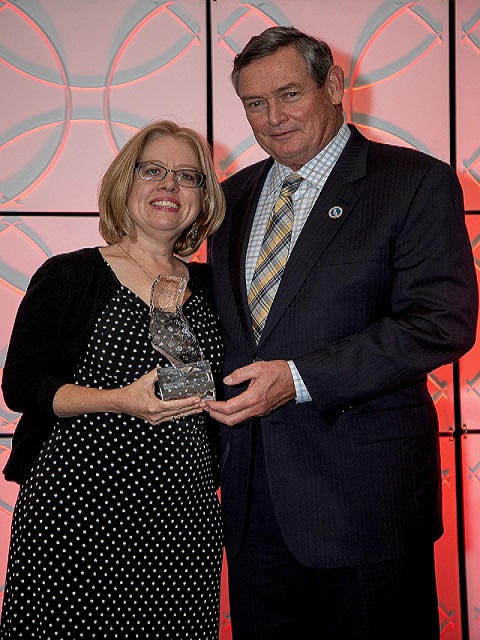 August 27, 2019 — "Am I giving too many As? Too many Cs?" "Stress is a four-letter word" and "How I learned to stop worrying and love student writing," were among the subjects covered by a unique faculty project created by CSU Channel Islands (CSUCI) Professor of English Mary Adler, Ph.D.
Adler's program, called Faculty Inquiry Projects (FIP) impressed the California State University (CSU) Chancellor's Office enough to award her a Faculty Innovation and Leadership Award, which honors CSU faculty members who have demonstrated extraordinary leadership designed to help students succeed.
Adler was among 19 CSU faculty members honored out of more than 230 nominations from the 23-campus CSU system. The selection committee was comprised of faculty, student representatives from the California State Student Association and staff members from the CSU Office of the Chancellor.
"These outstanding faculty consistently engage students with innovative practices and foster stimulating and equitable learning environments that support these students on their path to graduation," said CSU Chancellor Timothy P. White. "Their commitment to deepen and enrich learning by putting students at the center of all they do is fundamental to the mission of the CSU, and is helping to transform higher education nationwide."
When she received news that she'd been named for the award, Adler said she teared up.
"To be honored by your colleagues in this way is very special," she said.
The genesis of Adler's FIP program began in spring of 2018 when Adler saw a need for a sense of community among faculty members in different disciplines, many of whom shared the same questions about their students, their classrooms and how to best balance their professional and personal lives.
Adler developed CSUCI's FIP in the spring 2018 semester, adapting an initiative at the University of Montana, which was running an inquiry project on the concept of Universal Design for teaching faculty. At CSUCI, FIPs faculty met regularly to engage with questions about teaching, productivity, or professional balance. 
"We have such a wealth of knowledge on our campus, I wanted to create opportunities for the faculty to share with one another and explore their curiosity about topics that matter at CSUCI," Adler said.
Adler brainstormed with Associate Vice Provost for Innovation & Faculty Development Jill Leafstedt, Ph.D., along with an inaugural group of FIP facilitators, and CSUCI's inquiry project was launched.
Faculty members from different departments across campus led inquiry groups that met either in person or remotely five times a semester for at least an hour to participate in a range of  discussions including grading fairly, writing resistance, the grant-writing process, active learning in science, technology, engineering and math (STEM) courses; or difficult classroom conversations. Each group ranged from three to 13 faculty members of differing ranks including associate, assistant and full professors as well as full- or part-time lecturers.
Each facilitator would lead a group based on his or her area of expertise. For example, a Psychology professor lead a group tackling stress, while a Math faculty member this spring is set to lead a group in learning a widely-used statistical programming language.
"It works out to about 10 hours a semester, with some work in between sessions," Adler explained. "They have the dates in advance and commit to attend at least 80% of meetings. Over time they can really get in deep to explore some problems and thorny questions."
Over the last three semesters, CSUCI ran 17 unique FIP groups with over 92 faculty participants and facilitators in a wide range of ranks, including lecturers, assistants, associates and professors.
"Dr. Adler is passionate about connecting faculty with similar interests and giving them space and time to work on a topic of their interest," says Alona Kryshchenko, Ph.D., Assistant Professor of Mathematics at CSUCI.
Fellow English faculty members noted that Adler's teaching style is also innovative and effective.
"Dr. Adler is able to push students to think more deeply without being intimidating," said Assistant Professor of English Kim Vose, Ph.D. "I call it 'gentle rigor.'"
"She pretty much co-invented our whole English program," said Assistant Professor of English Stacey Anderson, Ph.D. "She wrote the proposals for dozens of courses early on while raising two toddlers. She is super strong and capable and too humble probably, but it makes her super approachable. Yet still fierce! I feel so incredibly fortunate to call her a friend and colleague."
Awardees receive $5,000, as well as $10,000 allocated to their academic program in support of ongoing innovation and leadership to advance student success at the CSU. Funding for the awards is provided by generous grant support from the College Futures Foundation.