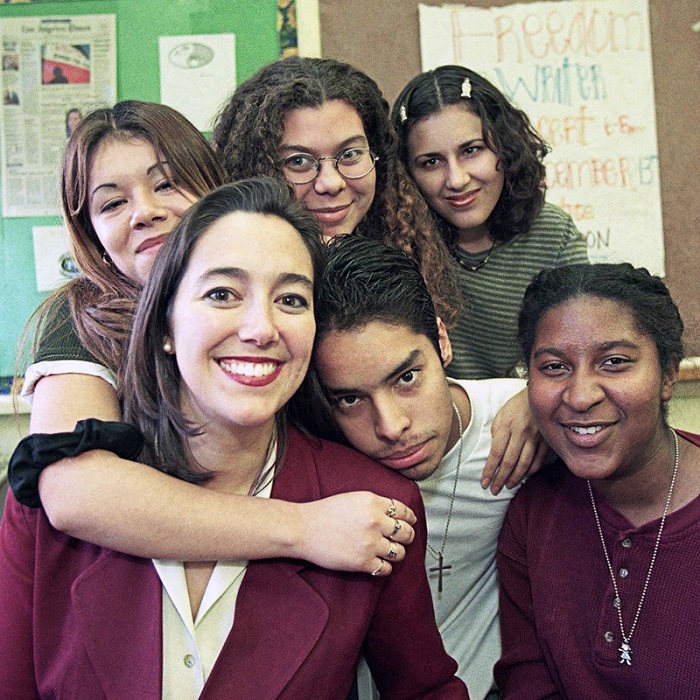 Feb. 26, 2019 — With drugs, gangs, violence, poverty and racial tension underscoring their lives, teacher/author Erin Gruwell soon realized traditional teaching methods were not going work on the 150 students she taught in Room 203 at Woodrow Wilson High School in Long Beach.
"Instead, we learned to make the class a safe place," Gruwell said. "Safe from the societal ills outside — racial stereotypes, prejudice, toxicity in the teachers' lounge."
The students were being bused in from their neighborhoods, which were often violent — riddled with racism, drugs, gangs and hopelessness.
"These were kids of color coming into a lily white neighborhood," Gruwell said. "They weren't always welcome and they weren't always embraced."
With textbooks abandoned in a corner of the classroom, Gruwell turned instead to a teaching method that turned these 150 "unteachable" students into the original "Freedom Writers," a group of students whose stories launched a book, a movement, a movie, a foundation and now, a PBS documentary entitled "Freedom Writers: Stories from the Heart," which airs on March 28.
CSU Channel Islands (CSUCI) is one of six California universities in six different counties hosting an advance screening of the documentary. The campus and the public are welcome to attend the screening from 5 to 8 p.m. on Wednesday, March 13 in the Grand Salon.
After the 56-minute screening, Gruwell and an original member of the Freedom Writers will conduct a Q & A session and copies of the book, "The Freedom Writers Diary: How a Teacher and 150 Teens Used Writing to Change Themselves and the World Around Them," will be provided to students in attendance.
First published in 1999, the book is a collection of gritty, authentic essays born in Gruwell's classroom 25 years ago when she realized the lives her students led had grim similarities to young people who were growing up in the midst of war and violence — what Gruwell calls an "undeclared war."
Instead of teaching students how to pass tests, Gruwell found a way to compare the students' reality in urban America to the worst examples of war and violence throughout history. She worked side jobs to afford to bring guest speakers to the classroom and take field trips.
She had them read books about other young people trying to survive war and violence like "The Diary of Anne Frank" and "Zlata's Diary: A Child's Life in Sarajevo."
Then, she encouraged her students to write about their own feelings and experiences and the "Freedom Writers Diary" took root and blossomed into a publication and a 2007 movie starring Hillary Swank as Gruwell. This year is the 20th anniversary of the book's publication.
CSUCI Dean of the School of Education Brian Sevier, Ph.D., was a doctoral student at the University of Colorado Boulder when he first learned about Gruwell and The Freedom Writers. At the time, he was teaching an education course covering everything from school funding to lessons that were culturally relevant.
"One night in my graduate apartment, I was watching 'Prime Time Live' and Connie Chung did a segment on Erin Gruwell and the Freedom Writers," Sevier said. "I ran as fast as I could to record the segment on my VCR. This was exactly what we were talking about."
Sevier always remembered the reaction from the superintendent of Gruwell's district, who talked about educators like Plato and Aristotle.
"They didn't teach the page and what's on the paper…they taught the people," Sevier said.
And by teaching the people, the once-hardened teens discovered a new way to express themselves and rewrite their futures. Every single one graduated and attended college.
Reservations are required by visiting: go.csuci.edu/FW or by email to: csuci_events@csuci.edu
Limited parking is available on campus with the purchase of a $6 daily permit; follow signs to the parking permit dispensers. Free parking is available at the Camarillo Metrolink Station/Lewis Road with bus service to and from the campus.  Riders should board the CSUCI Vista Bus to the campus; the cash-only fare is $1.25 each way. Buses arrive and depart from the Camarillo Metrolink Station every 30 minutes from 7 a.m. to 10 p.m. Monday through Friday. For exact times, check the schedule at www.goventura.org.
For questions call 805-437-3900.