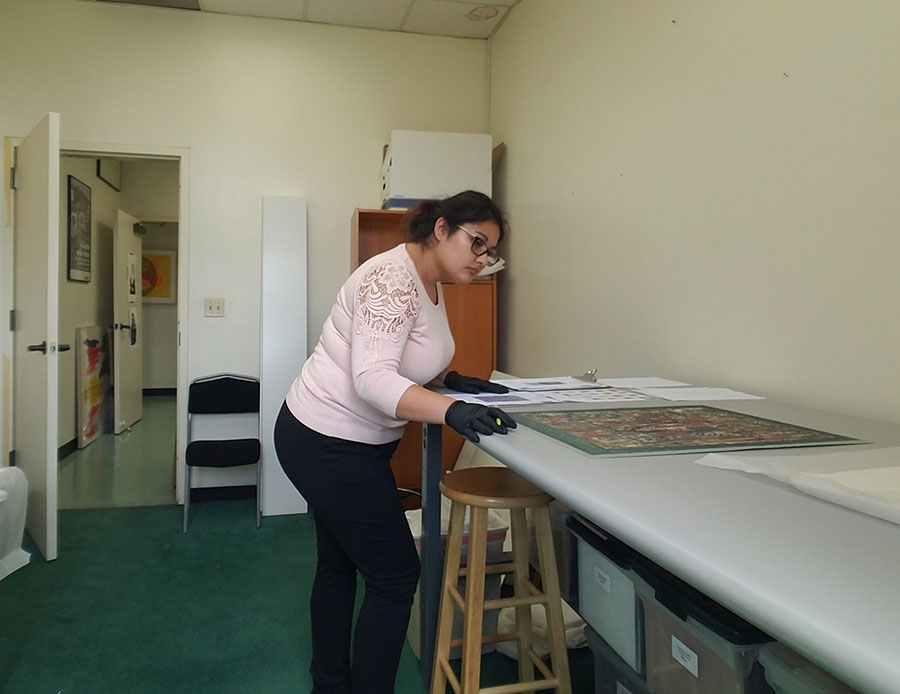 July 3, 2019 — With gloves and a discerning eye, CSU Channel Islands (CSUCI) Art History senior Lauren Kime examines the condition of a 1950s-era print at the Corita Art Center in Los Angeles.
The first generation college student from Simi Valley is spending 10 weeks this summer at the Corita Art Center learning the intricacies of art curation after being awarded a prestigious Getty Marrow Undergraduate Internship.
"Internships like this one are important and unique opportunities in the art world," said Professor of Art History Irina D. Costache, Ph.D. "I am thrilled that Lauren got this well-deserved recognition from a major international institution. She is an extraordinary student with a great critical analysis perspective and a desire to learn more, who has consistently demonstrated her dedication to her studies."
The Getty Marrow Undergraduate Internship was established 25 years ago by the Getty Foundation. The program was recently renamed to recognize Deborah Marrow the director of the foundation, who initiated this program and retired last year.
The internship is aimed at inclusion and diversity, so it is awarded to students from populations generally not well-represented in the arts. Kime's roots are Mexican and Spanish, she said, and she identifies as Hispanic.
The paid internship enables undergraduates like Kime to work at one of several Los Angeles-based art institutions. Kime is getting intense on-the-job training at the Corita Art Center, named for a Los Angeles nun, artist and social justice advocate — Corita Kent (1918–1986).
Because Kime's internship is paid, she can ease up on her overnight shifts as a nursing assistant, which she managed along with a full academic load and another internship from the Henry L. "Hank" Lacayo Institute for Workforce & Community Studies. 
"Last semester was kind of rough," said Kime. "I'd go to work from 11 p.m. to 7 a.m. and was running off a lot of coffee."
After graduating from Santa Susana High School in Simi, Kime attended Moorpark College to study to become a nursing assistant.
"I now do in-home care for seniors with Alzheimers and dementia," Kime said. "My maternal grandmother had dementia when I was growing up and she had a caregiver who was always there for her and really helpful," Kime said. "I applied for a position as an in-home nursing assistant and right off the bat, I really enjoyed getting to help people."
While at Moorpark College, Kime took a few courses in art and art appreciation and rekindled a love she had for art as a child when she visited galleries and museums.
Kime enrolled in CSUCI in 2015 and plans to graduate at the end of the fall semester. The Getty summer internship is helping her shape her future into a solid career.
"Right now I'm looking into a master's program. I'm liking the idea of going into museum studies," she said. "I'm really liking a lot of the collections and managing them. I also like the archival work — library and information sciences."
"What's great about this internship is that instead of reaching out to graduate students as most do, it reaches out to undergraduates," Costache said. "This internship is for inclusion and diversity. It's something that underscores how important it is for the arts to have multiple voices."