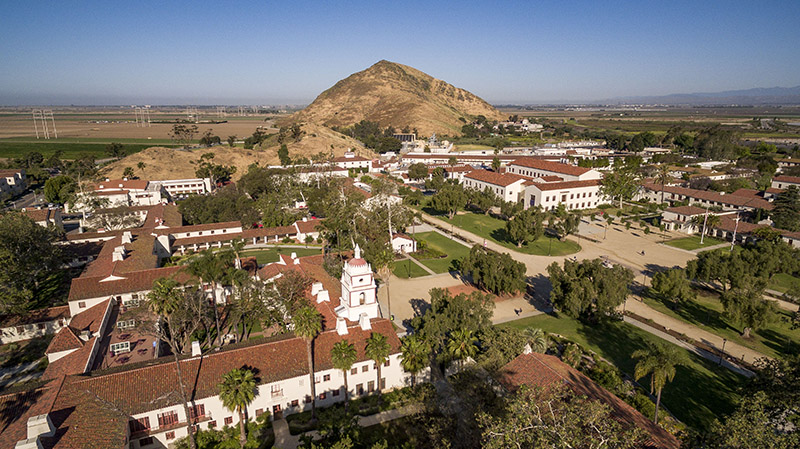 April 16, 2019 — Four individuals who have distinguished themselves with their support for CSU Channel Islands (CSUCI) will be awarded honorary doctorates at CSUCI's 2019 Commencement ceremonies on Saturday, May 18.
At the 9 a.m. ceremony, Founding President of Excelencia in Education, Sarita E. Brown and Excelencia co-founder and Chief Executive Officer Deborah A. Santiago will each receive a Doctor of Humane Letters from CSUCI President Erika D. Beck, Ph.D.
At the 3 p.m. ceremony, Beck will present a Doctor of Laws to Los Angeles attorney and former Trustee of the CSU system Laurence K. Gould Jr. She will also present a Doctor of Humane Letters to Janice Bryant Howroyd, Founder and Chief Executive Officer of the ActOne Group.
"These four remarkable individuals have had an extraordinary impact on our University in their own distinctive ways," said Beck. "From facilitating CSUCI's establishment to working to raise academic achievement and prepare for career success – they have all helped create opportunity for our students."
In her nomination letter for Brown and Santiago, Beck noted that both had life experiences similar to many CSUCI students, faculty and staff.
"I was born and raised in Washington Heights (New York City)," Brown said. "We lived in a two-room apartment in a five-floor walkup and there were no Mexicanos in our neighborhood."
Her dad went no further than the third grade, but was determined his daughter, an only child, would attend college. He moved the family to San Antonio, Texas, when Brown was 10 in hopes that her opportunities to attend college would be greater there.
Brown graduated from the University of Texas at Austin with a bachelor's and then a master's degree, then spent 20 years at prominent national educational institutions and at the highest level of government, including an appointment from President Bill Clinton as the Executive Director of the White House Initiative on Educational Excellence for Hispanic Americans.
When Santiago was appointed as Brown's deputy director, the two discovered kindred spirits. 
"What we discovered was that we were two people who believed in addressing Latino educational achievement and applying more effective strategies to unleash the talent and energies and commitments that Latino students can contribute to American society," Brown said.
Santiago, whose family roots are in Puerto Rico, belonged to an Air Force family, so the family relocated often until she settled in Washington D.C. as an adult. She also had to blaze her own trail as a first generation college student. She earned a bachelor's degree from the University of Mary Washington, and a Master's degree in Urban Studies from Virginia Tech.
Brown and Santiago went on to co-found Excelencia 15 years ago, which is a national non-profit organization working to accelerate Latina/o success in higher education. Brown and Santiago were generous with their expertise when CSUCI became a Hispanic Serving Institution (HSI).
Santiago visited the CSUCI campus numerous times to help University leaders consider other ways CSUCI could serve its Latino students. Santiago, whom Brown describes as having a "blazing hot analytic mind, is recognized as a national expert on HSIs, is cited in Google Scholar more 400 times, and is quoted by numerous national media including the Chronicle of Higher Education, The Economist, the New York Times, and the Washington Post, to name a few.
Santiago believes an important step toward serving Latina/o students is to view them in terms of their strength and potential to enhance society, rather than as a crisis to be addressed.
"Education is the economic and social mobility opportunity," she said. "If we invest in this opportunity, Latina/o students can contribute to their families and communities."
Born the fourth of eleven children in Tarboro, North Carolina to John and Elreatha Bryant, Janice Bryant Howroyd also knows what it means to turn adversity into opportunity.
Bryant Howroyd was one of the first African American teenagers in her area to attend the town's first attempt at an integrated high school. She remembers biting the inside of her mouth to keep from crying when one teacher remarked that African Americans were biologically well-suited for slavery.
"The truth is, the incident was a milestone that propelled me from my childhood into my adulthood," Bryant Howroyd said. "Thankfully, our parents instilled purpose over circumstance. Still, from that, I forfeited my childhood and looked at the world from an adult perspective."
Bryant Howroyd went on to found The ActOne Group, a multibillion-dollar international enterprise that provides talent, technology and business solutions to a wide range of industries, making her the CEO of the largest privately-held, woman-owned workforce solutions company founded in the U.S. Her latest business is AllSTEM, a STEM talent placement company. She is known as the first African American woman to create a billion-dollar company.
CSUCI was one of the first Universities to participate in the ActOne internship program so "Cal State Channel Islands is very close to my heart," she said.
Rounding out the outstanding group of honorees is Laurence K. Gould, Jr., who has practiced law in Los Angeles since 1971, specializing in estate planning. He was instrumental in the very beginnings of CSUCI – serving on the CSU Board of Trustees at the same time CSUCI was forming.
"I remember back in 1996 and '97, we had literally busloads of people coming down to support the creation of Cal State Channel Islands," Gould said. "For me it's a very special relationship between Cal State Channel Islands and myself."
An avid supporter of higher education, Gould's dedication to public service is such that he eventually left his responsibilities as a full time partner at his law firm so he could put more time and energy into furthering education, the arts and mental health causes. 
Gould considers this Doctor of Laws a unique honor.
"It may not be my first advanced degree but I hold it more dear," he said. "I think I have the best of all possible worlds. I have an undergraduate degree from Yale, a law degree from Stanford and now a doctorate degree from CSUCI."