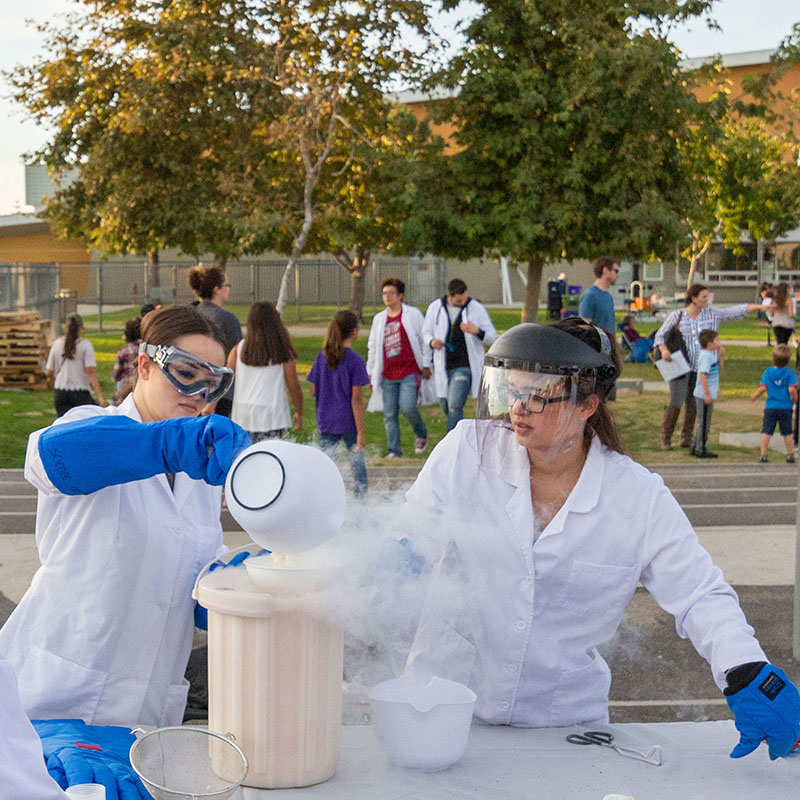 Aug. 15, 2019 — According to statistics released in 2019 by the National Science Foundation (NSF), the number of science and engineering degrees awarded to minorities and women has increased over the past two decades, but their numbers are still not high enough for these two groups to be considered well-represented in the field.
"We know this based on our own data, but it's also a larger trend across the whole country that our female and underrepresented minority students don't fare as well in science, technology, engineering and math (STEM) majors as their white or Asian counterparts," said CSU Channel Islands (CSUCI) Assistant Professor of Psychology Amira Ibrahim, Ph.D., who was on the team that pursued the grant. "Not only do they engage less in these areas, they are less likely to complete their degree, and if they do complete it, they tend to take longer."
To help boost the number of women and minority students who pursue a STEM degree, do well, and graduate on time, the NSF has awarded CSUCI $2.5 million from NSF's "Improving Undergraduate STEM Education: Hispanic-Serving Institutions (IUSE-HSI) Program."
"CSUCI is incredibly honored to receive this NSF grant that will enable our faculty to develop transformational programs and conduct invaluable research aimed at decreasing equity gaps and increasing graduation rates among Latinx and female students interested in the STEM fields," said CSUCI President Erika D. Beck.
Grant lead author and Professor of Chemistry Blake Gillespie, Ph.D. said there are finer points to be worked out, but the grant will basically fund two projects. The first will be to provide scholarships for STEM students who want to conduct undergraduate research or assist an instructor in a STEM classroom. The second will be to create a one-day intensive summer workshop to acquaint new STEM freshmen and transfer students with how to plan their STEM academic careers before they enter their first semester at CSUCI.
"Our vision for this is to address issues at each stage of the student's academic career," said Assistant Professor of Biology Allison Alvarado, Ph.D., also on the grant team. "We want to make an impact from the beginning, right up to the very end. We begin with an advising workshop for freshmen and transfer students, and end with the upperclassmen serving as mentors. It's all intertwined."
Rounding out the group of five team members implementing the program are Assistant Professor of Mathematics Cynthia Flores, Ph.D. and Dean of Arts & Sciences Vandana Kohli, Ph.D.
Flores explained that there will be a lot of focus on the foundational or "gateway" courses where students often struggle, such as pre-calculus or general chemistry. The summer advising session will give new and transfer students a wealth of information about where to go for help with these classes and provide other techniques to help them navigate their STEM major. It will also give students a chance to meet their future instructors.
"The students will receive information to help them realize there is a roadmap to help them complete their degrees and they will hear success stories from other undergraduate assistants," Flores said.
The concept behind paying students to work as learning assistants is to provide them a salary for working in their field on campus so they can stay focused rather than take a job off campus just to pay the bills.
"Also, they take ownership of their discipline by becoming teachers of that discipline," Gillespie said. "And they can serve as powerful role models for those just getting started in a STEM major.
Another unique part of this five-year grant is that the team will track the effectiveness of their programs with Latinx and female STEM students.
"There is a lot of literature that exists in how to support underrepresented African American students, but we don't have much research on what works for Latinx students," said Ibrahim, who specializes in barriers to math achievement. "We do know different groups need different types of support."
As a Hispanic-Serving Institution, CSUCI is committed to investigating why the Latinx population is taking much longer to graduate within a four-to-six-year timeline, Flores said.
"There are a number of factors that need to be considered and that's precisely what hasn't been studied," Flores said. "From my personal experience, I'd say there have been a lot of reasons offered that are not scientifically proven. That's why we put forward this comprehensive research program."
Conclusions on the psychological, social, and academic factors that contribute to student success will be shared with other HSIs, Flores said.