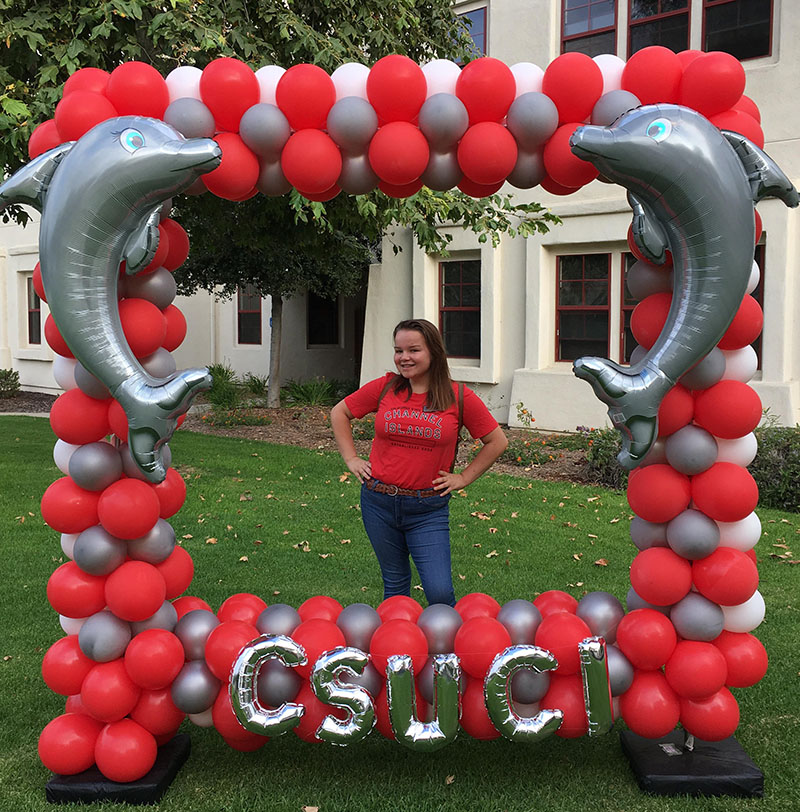 Sept. 4, 2019 — As a child, Jennifer Johnsen took every opportunity she could to read, even diving into a book while walking to her mother's car after school.
"I would walk for a block and read," said Johnsen, now 20. "I would read a sentence, take a step. Read a sentence, take a step."
Now a senior English major at CSU Channel Islands (CSUCI), Johnsen considers books and reading to be her salvation during a turbulent childhood and an equally unpredictable primary education.
With books as her refuge, and adults who believed in her along the way, Johnsen not only triumphed over her rocky education, but recently landed a year-long position with Teach for America (TFA).  TFA is a non-profit organization that places exceptional teachers from across the nation in low-income districts that need talented educators.
"It's a highly sought after program, like Peace Corps for teachers," explained Assistant Professor of English Kimberly Vose, Ph.D. "Her colleagues will be from Yale or Berkeley."
Vose was one of the adults who believed in Johnsen, even when Johnsen didn't believe in herself.
"She just blew me away with how incredibly resilient she was," said Vose, who met Johnsen when Johnsen was a freshman. "She had dropped out of high school and had been in and out of foster care. Yet she keeps picking herself up and going forward despite ongoing family issues."
Johnsen's parents split up when she was still in elementary school. She moved in with her mom in Long Beach and her older cousins—all boys—came to live with them.
"I learned to fight at a young age because I was surrounded with boys all the time," she said. "I never really had a quiet place to do homework."
Alcoholism caused chaos in the family, so Johnsen frequently retreated to her books, where she could escape into a world of wizardry with Harry Potter or any number of stories other than her own.
Johnsen went to live with her father and her stepmom when she was in fifth grade, but the family didn't stay in one place for long and Johnsen fell behind in her studies, even though she was reading at a 12th grade level when she was in 3rd grade.
Further complicating matters was Johnsen's juvenile diabetes, which kept landing her in the hospital. She eventually wound up in the foster care system and in a group home, then went to live with her father again when he retired to Huntington Beach so Johnsen could attend a good high school.
But, having attended six different middle schools and six high schools, Johnsen was way behind and overwhelmed, and none of the teachers seemed to want to work with her, so she dropped out rather than get several failing marks on her transcript.
Still determined to get her high school diploma, Johnsen spent the summer catching up at a community college, made up lost credits and graduated from high school with her classmates, who were headed off to schools in the Ivy League or to first tier schools like Stanford, University of California, Berkeley or University of California, Los Angeles.
After visiting the rolling hills of CSUCI, Johnsen decided this was the campus for her. She enrolled, but as a first generation college student, felt overwhelmed and nearly dropped out during her first year.
Once again, her love of words was her lifeline—along with having Vose as her First Year Composition professor.
"I really, really loved my freshman writing class," Johnsen said. "I was a good reader, but never hailed as a good writer. But when I turned stuff in and thought it was a bad draft, she would tell me what was good about it. She told me what I had to say was important and it was the first time I had heard that."
Vose convinced her to stay in school, and Johnsen did, and she thrived, making straight As with an occasional B. She decided to major in English with an emphasis on Education. With a passion for social justice, she wants to eventually work in educational policy.
"I think education is not a political thing," she said. "Education should be a right. We have nothing if we're not educated. There's something reprehensible about funding our schools by zip codes. Ultimately I want to work in educational policy."
Johnsen graduates in spring of 2020, and in fall of 2020, she will be the sixth alumnus from CSUCI to join Teach for America. She will teach for two years at a low Title I school in Los Angeles. Johnsen then plans to attend Loyola Marymount University to pursue her teaching credential and her master's degree.
"My passion lies in being a teacher and teaching other students and foster kids how to harness their voice and use that to better advocate for themselves," Johnsen said.