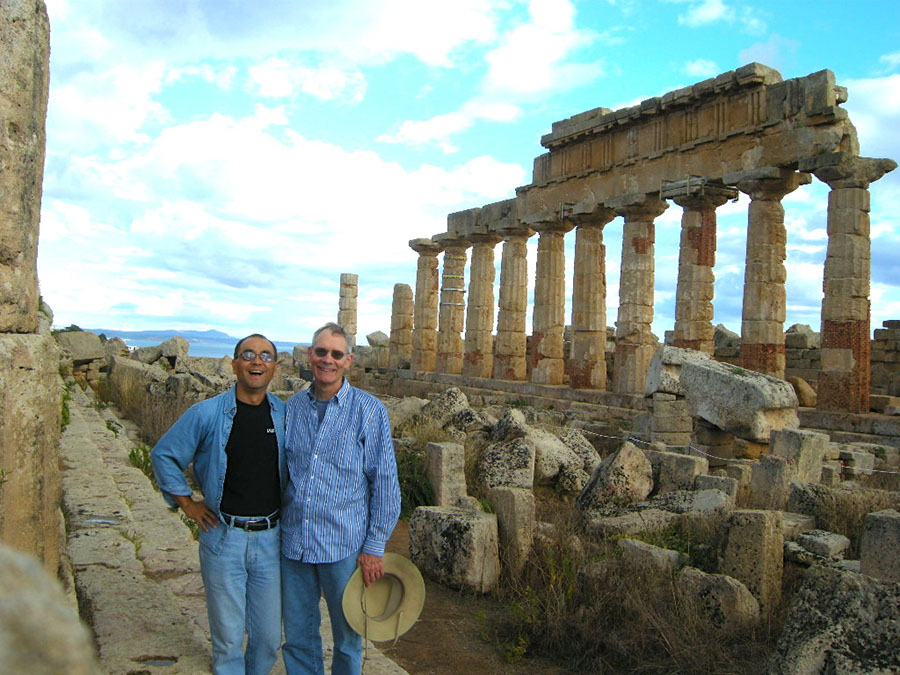 Aug. 30, 2019 — The value of education at any age is a core belief for former CSU Channel Islands (CSUCI) Physics Lecturer Jerry Clifford, Ph.D. and his spouse, Bijian Fan, Ph.D., a frequent lecturer for the Osher Lifelong Learning Institute (OLLI).
To help CSUCI students for generations to come, Clifford and Fan have established a legacy gift that will continue to fund scholarships long after both have passed.
"I believe in education. I believe in helping some of the young people who don't have the opportunities I have had, and because of my association with the University," said Clifford, who started teaching at CSUCI in 2004 and retired in 2012, but still taught on a part-time basis.
Fan, who arrived in the U.S. in 1989 with two bags and $75, now holds a Ph.D. in Mechanical Engineering, thanks to the help he received.
"We want to give something that's local, and that supports education," Fan said. "I feel that as an immigrant, I really benefitted from my education."
Legacy gifts to CSUCI can be made many ways, according to Director of Planned and Major Gifts Grace Robinson. Fan and Clifford's legacy gift is what's called a "charitable remainder" trust.
"A charitable remainder trust is a custom vehicle in which you take an asset and turn it into an income stream," Robinson said.
In this case, after one of them passes, the other will get what he needs from the trust, and the rest will go to scholarships at CSUCI.
"This is exciting for us because, as a newer campus, we don't have as many alumni, so we are deeply appreciative of legacy gifts," Robinson said.
From opposite sides of the world, Fan and Clifford both came to receive their advanced degrees in different ways.
Born in Chicago, Clifford earned his undergraduate degree in Physics from Lawrence University in Appleton, Wisconsin and a Ph.D. in Nuclear Physics from Iowa State University. He then became an Air Force officer and taught at the Air Force Academy in Colorado Springs, and eventually went to work for the Secretary of Defense at the Pentagon.
After his tenure at the Pentagon, Clifford went to work at the Air Force Weapons Lab at Kirtland Air Force Base in New Mexico in 1980. It was there that he met Fan, who was a member of his hiking club. They have been together ever since, and among the first same sex couples to legally marry in Ventura in 2008.
Fan grew up and was educated in Xi'an, China where he later became a Mathematics faculty member at Jiao Tong University there, often referred to as the MIT (Massachusetts Institute of Technology) of the East.
Fan's English was decent, and China had just opened up to the West, so Fan had lots of academic exchanges with faculty from around the world, including the U.S. He did some translating for English-speaking professors who encouraged him to come to the U.S. to further his education.
So, in 1989, he landed a job teaching Mathematics part-time at Texas A&M University in College Station, Texas, which was a bit of a culture shock for Fan.
"Howdy," Fan joked.
Thanks to a $300 loan from a Texas A&M professor and a part-time teaching job there, Fan was able to complete his Ph.D.
The couple arrived in Camarillo in 2004, after Fan was recruited by Thousand Oaks-based Amgen. Clifford began teaching at CSUCI, which was just two years old at the time. 
Since retiring, Fan and Clifford have been very involved with OLLI, part of CSUCI's Extended University. OLLI offers university-quality classes for students who are 50+ years of age, on any number of subjects, year round. Both now offer their expertise as instructors for a program they believe in.
"I think people are innately curious," Clifford said. "OLLI gives them a chance to take classes they never got to or always wanted to learn."
Fan, who is also an accomplished sculptor/artist, teaches a variety of subjects including "Origami Memory Gymnastics," "The Chinese Education System," "The Science of Acupuncture" and
"Train your Brain: Mental Fitness for Life."
When they aren't teaching, Fan and Clifford travel the world, with their most current trip involving a volunteer mission to the Himalayas, but will return in plenty of time for the Fall session of OLLI.
"The social aspect of OLLI is critical, too," Clifford said. "Many seniors, once they get out of work, have relatively little social interaction, so they build social networks. When we start fall classes it's like kindergarten, the OLLI students are so excited to see their friends again."
To learn more about a legacy gift, visit: http://csucilegacy.org/.