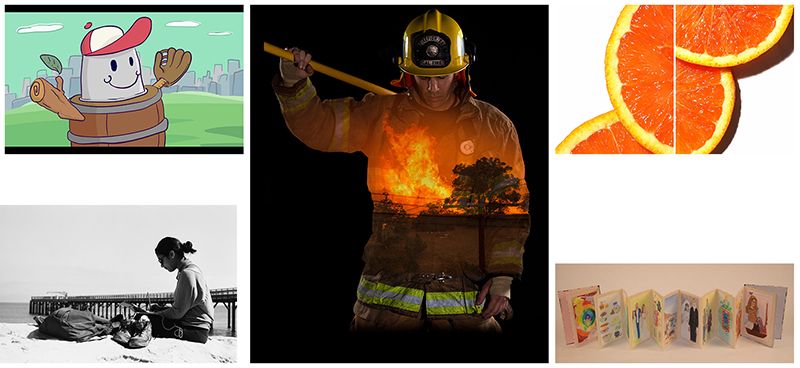 Jan. 31, 2019 - Long before the Spanish explorers arrived, the indigenous people of Mesoamerica chronicled their lives using a delicate type of paper called "amatl."
"Cuentos in Amatl,"student renderings in the medium used by ancient indigenous people of Mexico and Latin America, is one of five on display from Jan. 28 through Feb. 21 at the Napa Hall Gallery at CSU Channel Island (CSUCI). A reception for the shows will be held on Thursday, Feb. 7 from 6 to 8 p.m.
The main Napa Hall Gallery will hold "Cuentos in Amatl," the result of a semester-long project coordinated by Assistant Professor of Chicana/o Studies Jennie Luna, Ph.D., with help from Assistant Professor of Art Theresa Avila.
The exploration of Chicana/o art culture's ancient roots was overseen by University of California, Santa Barbara, (UCSB) artist Celia Herrera Rodriguez, who is also co-director of UCSB's Las Maestras Center for Xicanx Indigenous Thought, Art, and Social Practice, and whose art has been shown internationally. Rodriguez specializes in Chicana/o, Native American, Pre-Columbian and Mexican art.
"Some of them were about journeys of migration and intergenerational relationships. Some were about sorrow," Luna said. "It was very emotional. Everybody cried."
Luna said the experience turned out to be transformative and healing, and taught many of those who were not Art majors that art is a way to find peace through artistic expression.
"I was blown away," Luna said. "A lot of these students did not identify as artists coming in. Many of them had never stepped into the Napa Hall Gallery before this project."
Another exhibit on display at Napa Hall in the Palm Gallery includes the raw beauty of Santa Rosa Island for CSUCI students who took their sketchbooks and cameras on a three-day field trip to the island in search of inspiration.
With the island as their muse during the day and night, the students created sculptures, paintings and photographs in a collection called "Santa Rosa Island: Inspirations."
The students who visited Santa Rosa Island created their work on a collection of 5x5" panels, which will be on display in the Palm Gallery. Some took photographs and videos while others sketched while taking in the power of the island with all five senses.
The Napa Hall Grad Wall I will feature the whimsical work of animator Angel Quinteros, who will graduate from CSUCI's Art program in spring of 2019.
"Quality Video" is a collection of Saturday morning cartoons, infomercials, and other classic shorts he pulled from a videotape he found in his mom's basement.
"So come on in, relax, enjoy our complimentary snacks hidden within the cracks of the sofa seats and we reminisce and watch these TV classics," Quinteros said in his artist's statement.
Grad Wall II will display the work of photography student Dominique Burgos, who will also graduate in spring 2019 with a diploma in Studio Art. Burgos took a closer look at the patterns and designs nature created inside various fruits and vegetables in a show called "Slices."
Also on Grad Wall II will be the "PTSD Project" by 2018 Studio Art/photography graduate Connar L'Ecuyer, who specializes in creating photography imagery of the landscapes of Southern California and of military and first responders.
"Even though those we hold in the highest regard appear to be fine, they may be struggling inside," L'Ecuyer said. "With the 'PTSD Project,' I want to show how Post Traumatic Stress Disorder (PTSD) affects military veterans, first responders and their families."
For more information about the Art program, visit: https://art.csuci.edu/exhibitions/.