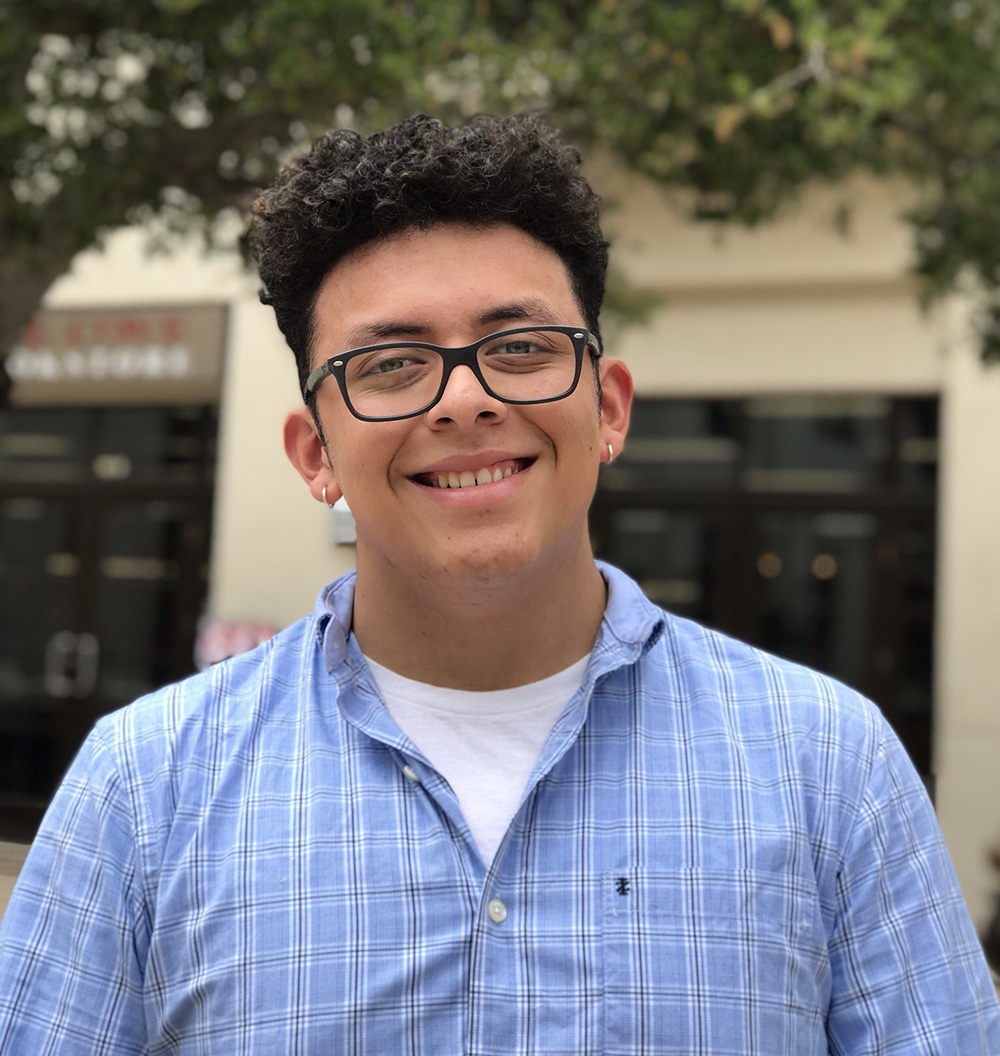 May 9, 2019 — There was a time when Biology and Global Studies double major Patricio Ruano, 19, didn't think he was college material.
"Neither one of my parents went to college," said Ruano, the youngest of four. "My mom went for one semester and dropped out because she had kids to raise. Growing up, I knew college existed but I had no idea what it was."
Now a CSU Channel Islands (CSUCI) sophomore with a 3.66 grade-point average, Ruano is one of 262 students across the nation chosen to be a 2019 Newman Civic Fellow. The winners were chosen by Boston-based Campus Compact, a non-profit organization working to advance the public purposes of higher education.
The Newman Civic Fellowship is a one-year fellowship for college students who are committed to bettering their communities. It is named for the late Frank Newman, one of Campus Compact's founders and a tireless advocate for civic engagement in higher education.
Through the fellowship, Ruano and the other fellows will get a chance to learn and network with those who can enhance their personal, professional and civic growth. They will also have the opportunity to apply for exclusive scholarship and post-graduate opportunities.
The whole thing is thrilling and overwhelming for Ruano, who was once nearly failing high school while growing up in the Silver Lake area of Los Angeles. Thankfully, his high school had a mentorship program which paired him up with a Kaiser physician who worked in international medicine, Dr. Neil Chawla. Ruano's innate curiosity resurfaced and he began to consider going into biology.
"I remember being six years old and waking up at ungodly hours to watch 'Animal Planet,'" Ruano said. "I remember asking questions like 'why does chocolate melt in my hand?'"
After Ruano was accepted at CSUCI he found other staff and faculty mentors who also believed in him.
"Patricio is an enthusiastic learner, and a motivated and determined student," said Chemistry Lecturer Mojgan Roushan, Ph.D. "He has a vision and a plan and wants to contribute constructive social change."
To help him navigate college, Ruano participated in CSUCI's Summer Bridge program through the Educational Opportunity Program (EOP) before beginning at the University. The program offers an orientation to college life, a review of basic math, writing and study skills and academic guidance.
It was EOP Assistant Director Kari Moss who nominated Ruano for the Newman Fellowship.
"During EOP Summer Bridge, Patricio shared with me his plans for becoming somebody who made a difference and for the past two years, I've watched him steadfast on that course," Moss said. "This was my way of acknowledging his dedication and essentially telling him, I see you and I believe in you even more today than yesterday."
A faculty member who helped him solidify his career plans was Professor of Biology Nitika Parmar, Ph.D., who led an eye-opening annual service-learning trip to India. During the trip, Parmar took the students to see cutting edge biotechnology firms, a self-sustaining ecovillage and elements of India's textured culture.
"It was a sobering moment when we came out of a biotech company and right outside were people living in shacks and tents," Ruano said. "Behind me were some of the smartest people I've ever met and in front of me were people who didn't have a thing."
Experiencing the wonders of modern biotechnology research and seeing the inequities in some societies solidified Ruano's career plans. He wants to use his double major to perhaps become a physician and provide health care for those in other nations living in poverty. He also wants to be a role model for other first generation students or students who think they aren't college material.
"By no means do I think do I have everything figured out, I just want to show people it can be done," Ruano said. "I kind of want to show other students that if I can do it coming from barely passing high school, then almost anyone can do it."